Published 02-09-23
Submitted by Whirlpool Corporation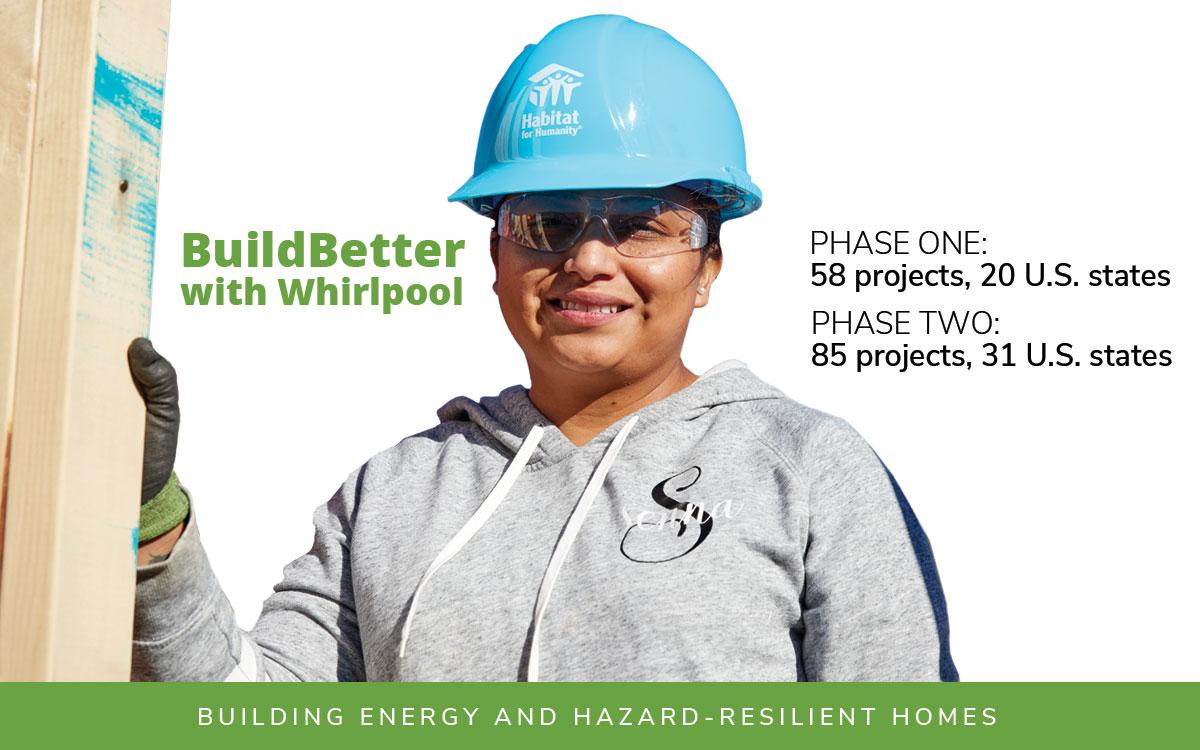 BuildBetter with Whirlpool aims to help deliver an approximate 15% increase in energy efficiency compared to homes built to current government code. Ultimately, 250 resilient, energy-efficient homes will be completed in five years, and findings from the initiative will be used to create resources that can be scaled and implemented across the U.S.
Whirlpool Corporation funds two types of grants that Habitat for Humanity affiliates use to help construct BuildBetter with Whirlpool homes:
1. BuildBetter with Whirlpool Code-Plus Grants
Used to increase the efficiency and resilience of a new home build through both energy-efficiency AND hazard-resilience measures. Construction practices or materials used in the homes will exceed building code minimum requirements. Most of the projects of this type will be funded over the three years of the program. 12 HOMES are in Whirlpool Corp. manufacturing plant communities
2. BuildBetter with Whirlpool Renewable Energy Grants
Used to install a solar power system on at least one home. For the first two years, these grants were only open to California affiliates. In the third year, any affiliate in the U.S. can apply. Nine projects will be funded over three years.
Energy resilient means the homes are designed and built to conserve energy, resulting in lower operating costs and the ability to better maintain interior temperature and function in times of energy scarcity. Examples of how homes are made energy resilient include increasing insulation, using high-efficiency heating and cooling equipment and installing energy efficient appliances.
Hazard resilient means the structures are designed and built to reduce damage caused by disasters. Adding more roof fastening hardware, tape-sealing roof deck seams, using water-resistant insulation and fire-resistant siding are examples of hazard resilient options affiliates may choose to add to homes using grant funds.
Another determinant the BuildBetter with Whirlpool homes will have to measure resiliency is through the Home Energy Rating System, or HERS, a nationally recognized energy-use rating scale for residential construction. The lower the number, the less energy used. A typical home in the U.S. is at about 100 or more. The homes in BuildBetter with Whirlpool will be 60 or below, with some going below zero due to on-site power generation, renewable energy systems.
Results from the first phase of the program have been positive. A total of 58 energy and hazard resilience projects were completed in 20 states. The average HERS rating was 54, with the lowest being 11.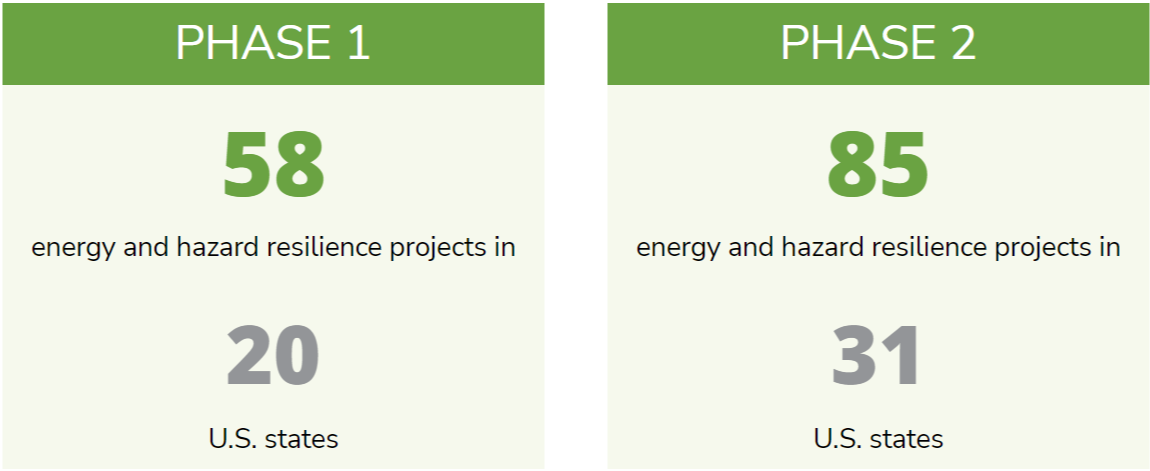 Twelve homes are in areas where Whirlpool Corporation has manufacturing plants.
The second phase of the program was built upon the success of the first phase, completing 85 energy and hazard resilience projects in 31 states, with 12 additional homes in areas where Whirlpool Corp. has plant locations.
The goals for the third phase of the program include 120 projects in 82 locations, with 70 additional U.S. markets in a minimum of 30 states, with three renewable energy installations (solar panels).
At the end of the third phase, a formal evaluation of post-occupancy energy use and performance measurement of BuildBetter with Whirlpool homes will be conducted by Habitat for Humanity's U.S. Research and Measurement (USRM) team in partnership with Auburn University Rural Studio®. The study will collect data from homeowners, including a Homeowner survey on energy use habits and utility data collection at the monthly aggregate level. Energy data collection equipment will be installed in some homes for real-time information. The results, which will be published in 2025, will be compared to non-BuildBetter with Whirlpool Habitat homes and to national Residential Energy Consumption data.
The results are expected to show that Whirlpool Corporation's investment in affordable, climate-resilient housing helps protect the planet, and passes on energy reduction cost savings to homeowners who need it most.
View original content here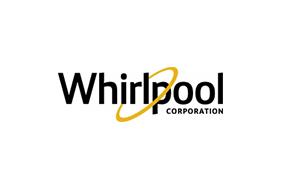 Whirlpool Corporation
Whirlpool Corporation
About Whirlpool Corporation: 
Whirlpool Corporation (NYSE: WHR) is committed to being the best global kitchen and laundry company, in constant pursuit of improving life at home. In an increasingly digital world, the company is driving purposeful innovation to meet the evolving needs of consumers through its iconic brand portfolio, including Whirlpool, KitchenAid, Maytag, Consul, Brastemp, Amana, Bauknecht, JennAir, Indesit and Yummly. In 2021, the company reported approximately $22 billion in annual sales, 69,000 employees and 54 manufacturing and technology research centers. Additional information about the company can be found at WhirlpoolCorp.com.
More from Whirlpool Corporation