Published 02-07-23
Submitted by Enbridge Inc.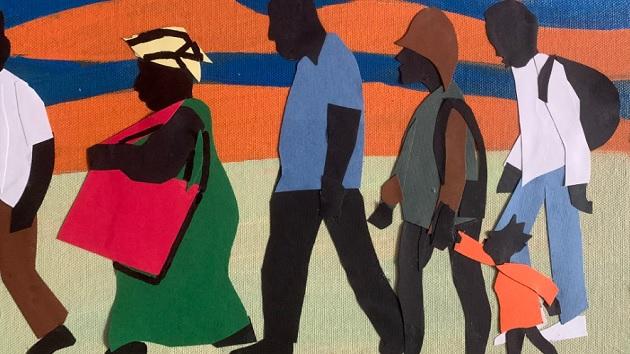 Six colorful Black figures fill the scene, standing out against a backdrop of orange and blue. The abstract characters, made of a combination of acrylic and collaged paper, are in motion, walking single file off the edge of the panel. They are leaving, heading somewhere new, somewhere unknown.
The piece is "Exodus" by award-winning Minnesota artist Christopher E. Harrison and was recently featured in the Duluth Art Institute's Contemporary Visions exhibit in mid-2022. It recalls the past, alluding to the migration of African Americans from the south to the north, and speaks to the immigration crisis facing displaced people today.
Harrison says he took inspiration from Jacob Lawrence's "The Migration Series" for his creation. "There is a synthesis between the African American migration of the past and the global migration crisis of the present day—this is the primary message of the series," he says.
The canvas prompts viewers to reflect on stories of the Black experience—stories that have been overwritten, erased, unremembered, or absent.
Art's ability to elicit empathy can help society evolve. It's why DAI is committed to illuminating the experiences of people who've been underrepresented in—or left out of—the history books.
"The power of visual art to help people dive into complex issues is unsurpassed," says Christina Woods, DAI's executive director. "(Art) helps people understand issues that aren't part of their day-to-day life. They're able to learn something new about someone's point of view."
To amplify underrepresented stories, the Minnesota non-profit supports BIPOC (Black, Indigenous or People of Color) artists as they develop their craft, and provides opportunities to show their work. Artists can participate in speaker series, leading the conversation about their lived experiences, and advance their education through programming designed to help BIPOC artists promote their work.
When absent narratives are amplified, perceptions shift. Woods recounts a moment of such transformation. After visiting an exhibit that celebrated Asian-American culture and experiences, a gallery patron observed themself release hurtful prejudices.
"They said they actually felt themself releasing stereotypes about Asian culture and people, and feeling more open to understanding on the basis of finding connection first," Woods recalls, noting that DAI had advanced the show specifically to combat the Asian American hate emerging in the Duluth area during the Covid-19 pandemic.
The patron's reflection reinforced DAI's approach to creating a vibrant, inclusive community.
Under the leadership of Woods, a member of the Bois Forte Tribal Nation, DAI has sought to decolonize the organization, not only in its exhibits and education, but also in the way the organization is run. It is led by a board whose composition is 60% BIPOC.
Like many non-profits, DAI's progress was impeded by Covid-19. The pandemic led to an increase in operating expenses as well as a loss in fundraising and grant revenue. Recognizing the DAI's work to foster a thriving and diverse community, Enbridge awarded the institute a $10,000 Fueling Futures grant to help with operational costs, including program delivery to BIPOC artists.
Significantly, the impact of funding the arts reverberates beyond the organization.
"The world to me seems to have a short attention span, repeating destructive tendencies constantly," reflected Harrison in a post on social media. "I see my work as a tool for looking back to move forward, to confront the questions head-on of how to grasp our shared humanity through the lens of Black existence."
By changing one person's point of view, one person's understanding, society can change for the better, one piece of art at a time.
(TOP PHOTO: "Exodus" by Christopher E. Harrison, 2022. 9" x 12" Paper collage, acrylic on wood panel.)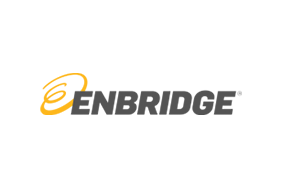 Enbridge Inc.
Enbridge Inc.
About Enbridge
At Enbridge, our name spells out our mission: a bridge to a sustainable energy future. That bridge safely connects millions of people around the world to the energy they rely on every day, fueling quality of life. Whether it's natural gas, oil or renewable power, the energy we deliver through networks spanning North America and our growing European offshore wind portfolio helps to heat homes, feed families, fuel vehicles and power industry. We're investing in modern energy infrastructure to sustain access to secure, affordable energy. We're also building on two decades of experience in renewable energy to advance new low-carbon energy technologies including hydrogen, renewable natural gas and carbon capture and storage. We're committed to reducing the carbon footprint of the energy we deliver, and to achieving net zero greenhouse gas emissions by 2050.
Headquartered in Calgary, Alberta, Enbridge's common shares trade under the symbol ENB on the Toronto (TSX) and New York (NYSE) stock exchanges. To learn more, visit us at Enbridge.com
More from Enbridge Inc.