Published 02-03-23
Submitted by Tapestry, Inc.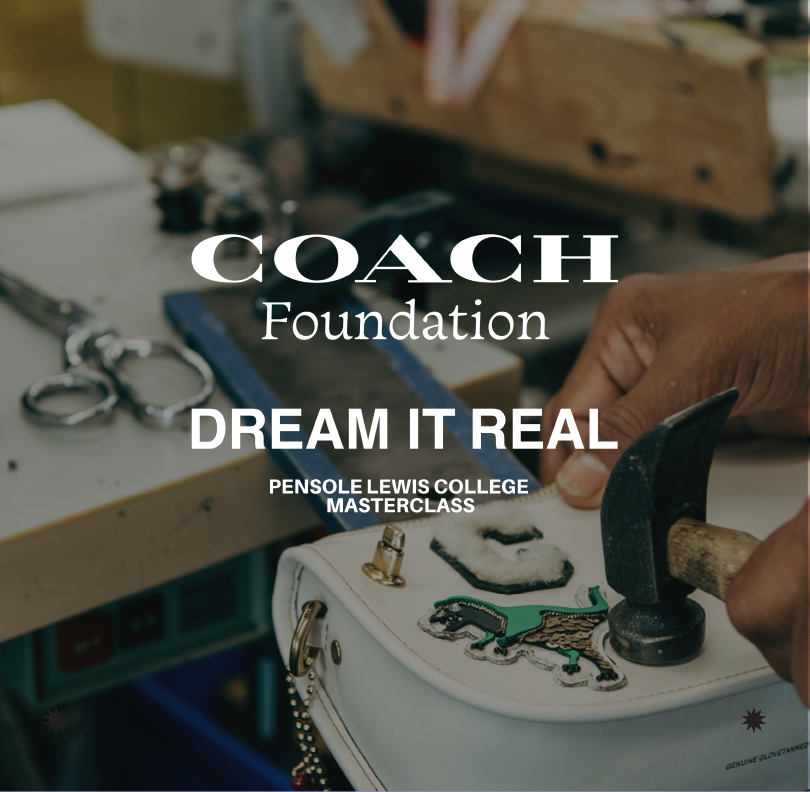 DETROIT, February 3, 2023 /CSRwire/ – Pensole Lewis College (PLC), in partnership with the Coach Foundation, today announced the debut of the Coach Dream It Real x PLC Masterclass, a new, virtual six-week program for aspiring accessories and footwear designers that will remove socioeconomic barriers for traditionally underserved communities and communities of color by offering them a unique course of study within Coach's New York City design studio. The masterclass is inspired by the Coach Foundation's Dream It Real initiative and its mission to create opportunities and remove barriers for the next generation who have the courage to dream it real.
"Coach is an iconic and legendary brand in American fashion, known for timeless style and long-lasting quality," PLC Founder and President Dr. D'Wayne Edwards said. "This masterclass was created to build a community of creative talent that may one day become a member of the Coach design team. Our goal with this program is to provide Coach talented, diverse designers who will bring new perspectives to an already esteemed brand."
The program will feature up to 10 aspiring designers, whose tuition will be covered by the Coach Foundation, who will participate in a six-week, accelerated online accessories and footwear design masterclass from March 6 – April 14, with final presentations and in-person mentoring at Coach's headquarters in New York City on April 21. Students will each create a capsule collection of a Coach branded shoe and accessories, with a focus on sustainability using leftover Coach materials with a goal of helping to reduce waste.
Registration for the inaugural masterclass opens today through https://pensolelewiscollege.com/masterclasses/
Over the course of the six weeks, students will be exposed to a variety of personal and professional development lessons to help them prepare for a career in design.
Students will receive weekly instruction, but the program will function more like a design studio. This format allows students to experience what it is like working at a brand while developing their time management, professionalism, and leadership skills. Areas of instruction include:
| | |
| --- | --- |
| Design Process | Merchandise Strategy |
| Design Sketching | Line Planning |
| Design Briefs | Market Research |
| Problem Solving | Time Management |
| Visual Communication | Business Conduct |
| Verbal Communication | Personal Branding |
| Product Terminologies | Professionalism |
| Color Strategy | Portfolio Development |
| Material Design | Professional Development |
| Material Fundamentals | Networking |
At the end of the masterclass, all students will receive a Coach Certificate of Completion by PLC.
The class is open to Black and Brown students, 18 years and older, globally.
About the Coach Foundation
The Coach Foundation supports global philanthropic initiatives focused on community to help create a better future for all. Since its founding in 2008, the Coach Foundation has given more than $65 million to nonprofit partners all over the world.
In 2018, Coach launched Dream It Real, its core mission focused on helping young people around the world pursue their paths and purpose. Dream It Real's mission is brought to life by a commitment to provide 5,000 scholarships by 2025 by partnering with nonprofits around the world working to address inequities in higher education faced by under-represented students.
About PLC
Pensole Lewis College of Business & Design is the pipeline for career education and professional development in the design industry. We are the source for creative vision and progress; bearing the torch to push the culture forward — beyond what's visible. At Pensole Lewis College, we offer a new path to break into the world of product creation. We prepare the largest talent pool of designers to enter the industry empowering them to make it better for the next generation, leaving our industry better than when we entered it.
Contact: John McIsaac
503-481-9621 (West Coast)
john@mcisaacpr.com

Tapestry, Inc.
Tapestry, Inc.
Tapestry, Inc. is a New York -based house of modern luxury lifestyle brands. The Company's portfolio includes Coach, Kate Spade and Stuart Weitzman . Our Company and our brands are founded upon a creative and consumer-led view of luxury that stands for inclusivity and approachability. Each of our brands are unique and independent, while sharing a commitment to innovation and authenticity defined by distinctive products and differentiated customer experiences across channels and geographies. To learn more about Tapestry, please visit www.tapestry.com. The Company's common stock is traded on the New York Stock Exchange under the symbol TPR.
More from Tapestry, Inc.