Published 02-03-23
Submitted by Creative Artists Agency
February 3, 2023 /CSRwire/ - During its first-ever Solutions Convening hosted at the Lawrence J. Ellison Institute for Transformative Medicine, ALL IN: WellBeing First for Healthcare announces two advancements to catalyze cross-sector investment in solutions that improve healthcare workforce well-being:
ALL IN Fund Awardees: Four healthcare systems— Alaska Native Tribal Health Consortium, Desert Sage Health Centers, Johns Hopkins Medicine and The Lundquist Institute at Harbor UCLA—receive $500,000 in funding to launch well-being programs for their workforces.
ALL IN Funders Circle: New initiative launches with three inaugural members—Johnson & Johnson Foundation, The Physicians Foundation and FIGS—to provide financial resources to healthcare organizations to implement well-being solutions and further scale promising practices.
ALL IN Fund Awardees
ALL IN continues its grant program with its latest round of awardees to build the capacity of healthcare organizations to implement systems-level change and a cultural shift that prioritizes their healthcare workforce's well-being. The latest round of funding brings the ALL IN Fund's total giving to over $1.3 million across 11 healthcare organizations that seek to address one or more of the actions within ALL IN's Healthcare Workforce Rescue Package. The four newest grant recipients are:
Alaska Native Tribal Health Consortium (ANTHC): Introducing the Leaders Taking the Lead on Wellness program for ANTHC staff working at the Alaska Native Medical Center to increase organizational leader capacity to monitor personal health, model resiliency practices, create psychological safety, advance staff well-being as a core leadership responsibility and recognize/respond to staff mental health challenges.
Desert Sage Health Centers: Launching A Multi-pronged Approach to Improve Clinician Well-Being and Team Function in a Frontier Medicine Setting to assess current burnout drivers and develop sustainable solutions that address those challenges, such as rapid improvement workshops focused on reducing administrative burden; culture work to improve workplace relationships and values; and professional coaching sessions for workers to learn strategies to improve resilience and overall well-being.
Johns Hopkins Medicine: Implementing A System Reorganization Intervention to prospectively address medication prior authorizations (PA) and pharmacy assistance in high needs primary care practices, ultimately reducing PA administrative burden for clinicians so they can focus their time on giving high value care to patients.
The Lundquist Institute for Biomedical Innovation at Harbor-UCLA Medical Center: Starting A Suicide Prevention and Depression Awareness Program at a large public teaching hospital to provide their workforce a confidential program to screen for depression and suicide, and access and utilize confidential mental health counseling services in collaboration with the American Foundation for Suicide Prevention.
"These four new ALL IN Fund recipients are each pioneering extraordinary initiatives at a local level to contribute to our greater mission where every health worker feels valued, protected and empowered to seek the care that they need," said Corey Feist, co-founder of ALL IN: WellBeing First for Healthcare and president of the Dr. Lorna Breen Heroes' Foundation. "However, we were only able to provide funding to 4% of the eligible organizations that submitted applications to the ALL IN Fund—more investment is critical for us to realize a nation where every healthcare system has the resources, responsibility and resolve to improve its workforce's well-being."
ALL IN Funders Circle
To galvanize this investment needed, ALL IN is launching a Funders Circle to scale direct financial support to healthcare organizations seeking to advance solutions to improve healthcare workforce well-being. The Funders Circle mobilizes the innovation and power in solutions being created by those who are closest to the problems and supports ALL IN's efforts to eliminate persistent mental health and well-being challenges that disadvantage health workers. The three founding members of the Funders Circle are:
Johnson & Johnson Foundation: A registered charitable organization funded by the Johnson & Johnson Family of Companies that reflects their commitment to build a healthier and more equitable future for all by supporting and championing the people who are at the heart of delivering care.
The Physicians Foundation: Nonprofit organization steadfast in strengthening the physician-patient relationship, supporting medical practices' sustainability and helping physicians navigate the changing healthcare system.
FIGS: Direct-to-consumer healthcare apparel and lifestyle brand that celebrates, empowers and serves healthcare professionals, and that has a history of creating long-lasting impact in the healthcare community through its Threads for Threads charitable giving and other advocacy initiatives.
"Since its creation, ALL IN has tackled many of the challenges harming the well-being of our healthcare workforce—but our work is far from done," says Michelle A. Williams, co-founder of ALL IN: WellBeing First for Healthcare, co-founder of #FirstRespondersFirst and dean of the Harvard T. H. Chan School of Public Health. "As healthcare workers across the country continue to struggle with burnout and stigmas around mental health needs, we must continue to move quickly and deliberately to advance, amplify and fund solutions that provide them with the support they deserve. It is on us to redesign our healthcare system in a way that ensures our care providers have access to resources that lift them up and strengthen their well-being—because health workers cannot care for others if they cannot care for themselves."
###
About ALL IN: WellBeing First for Healthcare
ALL IN: WellBeing First for Healthcare, co-founded by #FirstRespondersFirst – an initiative of Harvard T.H. Chan School of Public Health, Thrive Global, and CAA Foundation – and The Dr. Lorna Breen Heroes' Foundation, is as a coalition of leading healthcare organizations, including American Association of Colleges of Nurses, American College of Emergency Physicians, American Foundation for Suicide Prevention, American Hospital Association, American Medical Association, The Physicians Foundation, CHARM: The Collaborative for Healing and Renewal in Medicine, Johnson & Johnson: Center for Health Worker Innovation, Institute for Healthcare Improvement, American Nurse Foundation, Medicine Forward, National Black Nurses Association, Philippine Nurses Association of America and Schwartz Center for Compassionate Healthcare. We are committed to advancing a state where the healthcare workforce's well-being is prioritized, and individual health workers feel valued and supported so they can sustain their sense of purpose and meaning in their work. We work to make beneficial progress against persistent mental health and well-being challenges that disadvantage our health workers, and therefore, our healthcare systems and the future of public health. ALL IN is a campaign of the #FirstRespondersFirst fund of the Entertainment Industry Foundation (EIF), a 501(c)(3) charitable organization that meets all 20 Better Business Bureau charity standards and carries the GuideStar Platinum Seal of Transparency.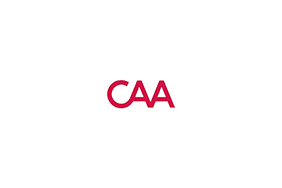 Creative Artists Agency
Creative Artists Agency
Creative Artists Agency (CAA) is a leading entertainment and sports agency, with global expertise in filmed and live entertainment, digital media, publishing, sponsorship sales and endorsements, brand consulting, media finance, consumer investing, fashion, trademark licensing, and philanthropy.  Distinguished by its culture of collaboration and exceptional client service, CAA's diverse workforce identifies, innovates, and amplifies opportunities for the people and organizations that shape culture and inspire the world. Named Most Valuable Sports Agency by Forbes for eight consecutive years, CAA represents more than 3,000 of the world's top athletes in football, baseball, basketball, hockey, and soccer, in addition to coaches, on-air broadcasters, and sports personalities and works in the areas of broadcast rights, corporate marketing initiatives, social impact, and sports properties for sales and sponsorship opportunities.
Founded in 1975, CAA is headquartered in Los Angeles, and has offices in New York, Nashville, Memphis, Chicago, Miami, London, Munich, Geneva, Stockholm, Shanghai, and Beijing, among other locations globally.  For more information, please visit www.caa.com.
More from Creative Artists Agency