Published 02-01-23
Submitted by The Chemours Company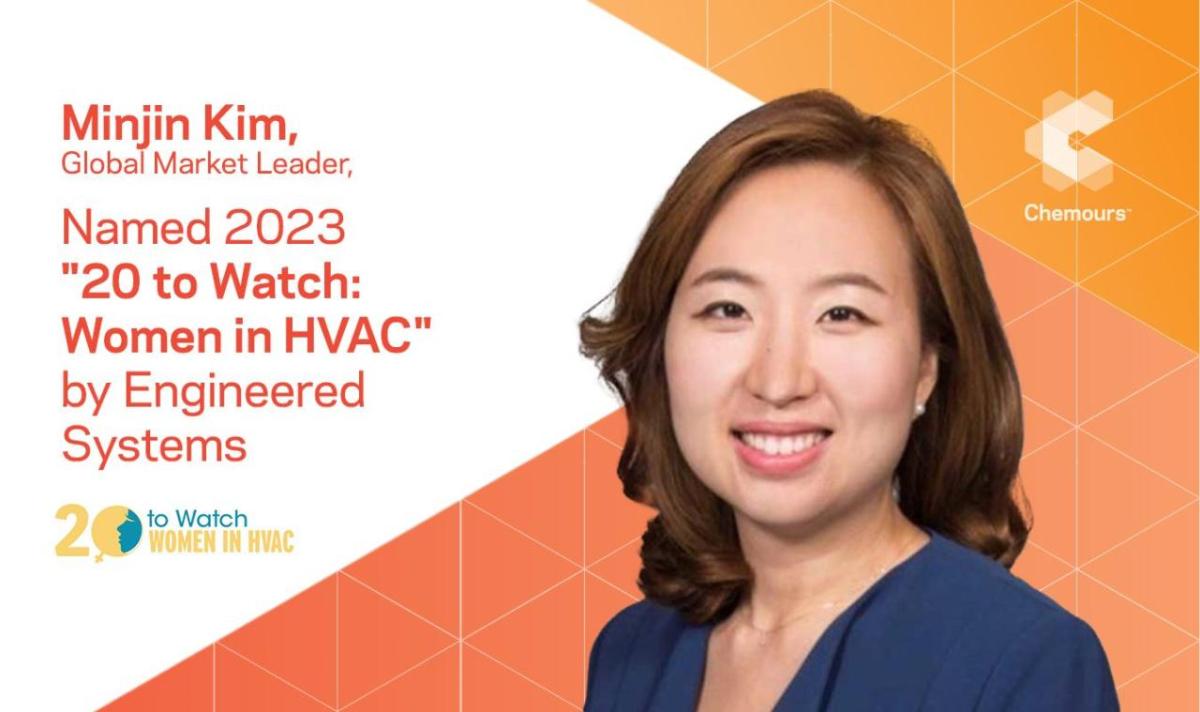 Chemours proudly celebrates Minjin Kim, Global Market Leader for Stationary Air Conditioning, Heat Pump, and Chiller Segments, for being a winner in the 2023 Engineered Systems 20 to Watch: Women in HVAC contest. Now in its fifth year, the competition works to raise the level of awareness and appreciation for women making a difference at various levels of the industry—from entry level to engineers in training to business owners and operators—by spotlighting exceptional individuals with a passion for science and their careers. This year marks the second consecutive year a member of the Chemours team has won this award, with Stefanie Kopchick, being recognized in 2022.
Below are highlights, milestones, and inspirations from Kim's career that were shared originally published by Engineered Systems as part of their annual celebration of this year's 20 to Watch: Women in HVAC.
Minjin Kim

Title: Global Market Leader for the Stationary Air Conditioning, Heat Pump, and Chiller segments, the Chemours Co.
Age: 35
Educational Experience: Bachelor's degree in chemical engineering, Sungkyunkwan University; MBA, NYU Stern School of Business
What does your day-to-day job entail?
I work with our customers, mainly stationary original equipment manufacturers (OEMs) and value chain partners, to develop new refrigerant solutions and establish new markets for our solutions. This work is a part of our long-term business vision and marketing strategy for Chemours Thermal and Specialized Solutions. I also work closely with various functions, including research and development, technology, business development, regulatory, and communications, to implement our strategy to drive innovative solutions for the HVACR industry.
What caused you to/when did you fall in love with engineering?
I grew up with engineers and scientists in my immediate and extended family. Of particular importance, my father was a civil engineer who works in urban planning and infrastructure projects. I remember he used to make detours just to see new bridges during family vacations. My older brother spent 10 years in a lab to study biotechnology. He was the type of guy who assembled his own computers in high school. I grew up reading science magazines for teenagers and looking at blueprints of car engines and tunnels on my father's desk. I loved science classes, especially chemistry and biology, and it seemed a natural choice to go to an engineering school.
What has been the most rewarding/proudest aspect of your engineering career?
The most rewarding part of my work is when a new product gets out to the market. Getting to this point, from original research to market launch, takes an army of professionals from engineering to compliance, and my job is to synthesize the requirements for (and interface between) all stakeholders along the entire journey. So, when a product we've developed for years can have a significant impact, like a low-global warming potential (GWP) refrigerant to support the HVACR industry's strides toward sustainability, it is extremely rewarding to see the years of planning materialize.
What challenges do women face in this profession? Can you give a personal example? Why aren't there more women in engineering? How can we increase the number of women in engineering?
I have a couple of poignant examples from my career that are emblematic of an industry with some work to do toward gender equality. In my first round of interviews after college, I had an interviewer tell me he wasn't interested in training female engineers because "they'll just quit when they get married."
Another time, at a plant-site visit (after I did get hired), the site did not even have a women's bathroom, so they brought me to a utility closet that had a toilet surrounded by cardboard boxes and tools, with a wide window open to/from the surrounding corn field. While I can look back at the toilet incident with a sense of humor, it is indicative that the site did not even think it was possible for a woman to work there. I'm sure women who are inclined toward engineering or STEM have felt nudges in the forms of these experiences that may have discouraged them from going further in the field. Once the potential pool of female engineers is reduced, it can reinforce stereotypes and discourage young women due to lack of representation and role models in the industry.
I think one way to encourage more women into engineering is to publicize the wide range of career opportunities available to someone with an engineering education. It's not all test tubes and robots. It helps you develop a strong and diverse skill set, such as analytical thinking, creative problem-solving, system optimization, and many more. With experience as an engineer, different roles are available when you decide on a career path. In my case, I was able to pivot my career into sales, marketing, business development, and project management in the chemical industry. You can bring value in knowing how to approach problems and bring engineering solutions to any system that lacks efficiency. So, I want to remind women and girls in school that studying engineering widens the possibilities and opportunities for their futures in many different ways. And, it's fun.
How many years have you been active in the engineering sector? What's changed the most in that time? What's changed the least?
I have been working in the chemical industry for almost 13 years with various roles and am fortunate to work for a company where leaders and managers are very mindful of inclusion and diversity in workforce.
I see more women in engineering than when I started, but the most significant change is the leadership. When I look at leadership in my business, 50% of the leadership team is women, including our business president, and 75% of them have studied engineering or chemistry. I acknowledge that the share of women in leadership is around 30%, in general, but this is a significant change compared to when I started my career.
While I have been observing some positive improvement in some ways, I still see the industry-wide change is taking time. For instance, whenever I attend a trade show or a conference in the HVACR industry, I estimate less than 15% of participants are women. To my point of view, the HVACR industry is going through a robust change in terms of technology advancement and the impact on the future of our humanity. It is one of most exciting fields to be in the next 10-15 years, and I would encourage young female engineers to join the forces!
What drives/motivates you every day?
Being curious! Curiosity has driven me since I can remember being able to think. Learning about new topics always motivates me at work and in my personal life.
What remains on your engineering bucket list — what do you aspire to do that you haven't accomplished yet?
I want to continue to work on solving problems and bringing valuable solutions to the market. The climate crisis requires us to solve one of the world's most challenging problems, preventing this planet from getting hotter, and one person or one company can't solve this. I would like to work with partners to bring holistic, sustainable solutions that benefit people, animals, and the planet.
What's one thing no one knows about you?
Before the pandemic, I used to take dance classes, especially Latin dances — rumba, salsa, bachata, and cha-cha. I danced in front of more than 300 people during our studio's showcase in 2019.
List any mentors who've helped you succeed and describe precisely how they've shaped your success.
I consider myself lucky to have a few mentors and managers who have helped me get here. I can't name all of them, but I want to specifically mention Stefanie Kopchick, who's been my manager for nearly the last three years. As a matter of fact, she was selected one of the 20 to Watch winners in 2022, so you may have seen her in this space last year. Besides her brilliant mind, she is a great example of "treat people how you want to be treated." She has been an excellent thought partner to help develop rough ideas into creative solutions. She has been an inspiration to me because she never hesitates to speak up to deliver the right voice in the room. She has supported me mentally and emotionally, so I can keep my head straight in good times and bad times. Also, the trust she's shown me over time always keeps me going through the most challenging times.
What advice do you have for prospective female engineers considering entering the field?
Please do not be afraid to go into an engineering field. Studying engineering was one of the best choices I've ever made. It will be challenging but rewarding. It will help you build analytic muscle and creative problem-solving skills that apply to not only your future career but also life's curveballs. Also, you will be ready for anything once you are able to go through such a rigorous curriculum and all of the homework.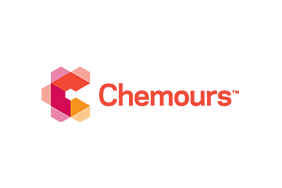 The Chemours Company
The Chemours Company
The Chemours Company (NYSE: CC) is a global leader in Titanium Technologies, Thermal & Specialized Solutions, and Advanced Performance Materials providing its customers
with solutions in a wide range of industries with market-defining products, application expertise and chemistry-based innovations. We deliver customized solutions with a wide range of industrial and specialty chemicals products for markets, including coatings, plastics, refrigeration and air conditioning, transportation, semiconductor and consumer electronics, general industrial, and oil and gas. Our flagship products are sold under prominent brands such as Ti-Pure™, Opteon™, Freon™, Teflon™, Viton™, Nafion™, and Krytox™. The company has approximately 6,600 employees and 29 manufacturing sites serving approximately 2,900 customers in approximately 120 countries. Chemours is headquartered in Wilmington, Delaware and is listed on the NYSE under the symbol CC.
More from The Chemours Company