Published 01-26-23
Submitted by Herbalife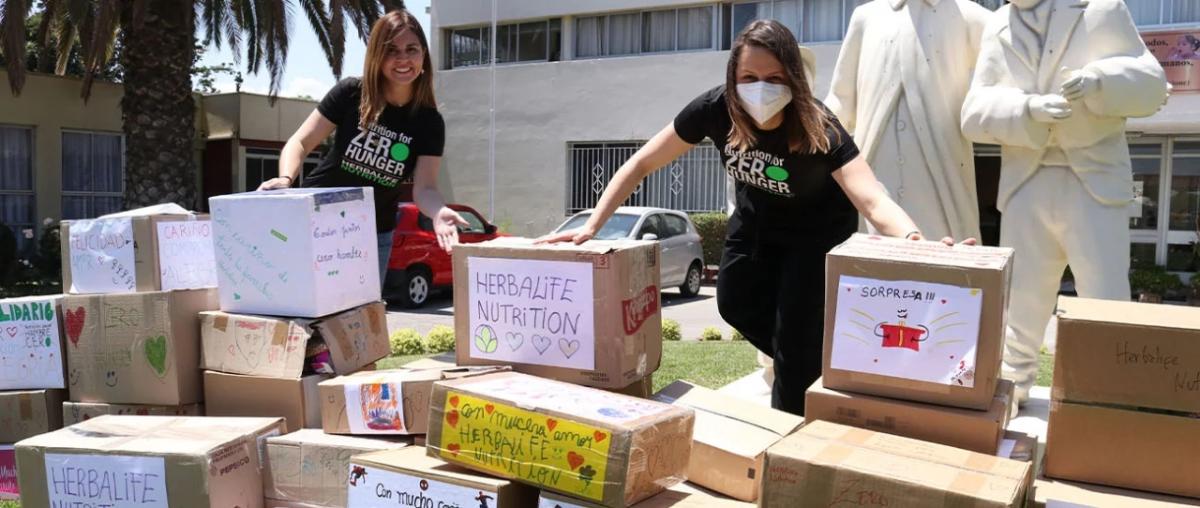 The pandemic has had a drastic toll on many people living in Central and South America and Brazil, who, as a result, are experiencing extreme poverty conditions, reaching 83.4 million people.
A recent report published by the Economic Commission for Latin America and the Caribbean and the Food and Agriculture Organization said this would entail a significant rise in hunger levels due to the difficulties these people will face in accessing food.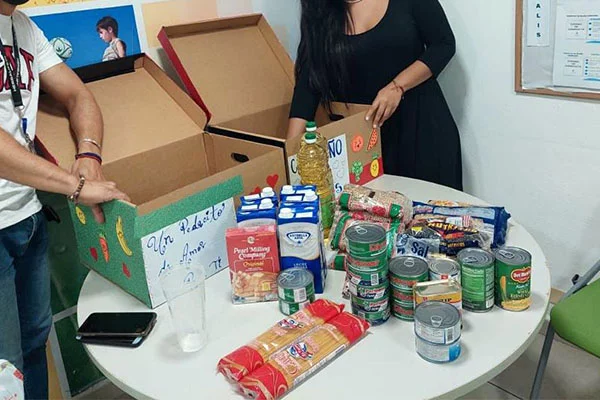 As a global leader in nutrition, we have a unique opportunity and responsibility to help those who need nutritious food and vital resources. That's why we took it upon ourselves to make a difference in a big way. Launched in 2019, our Nutrition for Zero Hunger (NFZH) initiative reflects our commitment to ending world hunger by supporting global nonprofit organizations with critical resources and expertise to ensure people in need have access to good nutrition.
To tackle a big issue like world hunger, we decided to start small and start locally by supporting our community where we live and work and the ones made vulnerable during this time of uncertainty. Through these small acts of kindness, positive impacts were adding up. And starting from 2020, we set a challenge of taking action and contributing to reducing the number of people who don't have food on their plates in our region.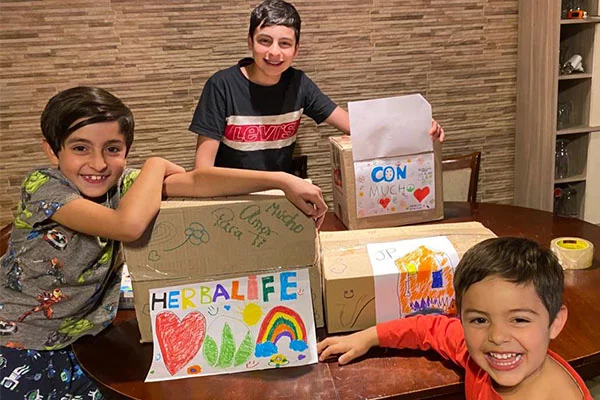 The Power of Local Food Drives: Our Employees in Action
In 2020, to commemorate the first year of our NFZH initiative, we rallied our employees in Central and South America and Brazil to give back to communities in need. Coinciding with World Food Day, we organized a regional food drive campaign to make a difference and move the needle towards reducing hunger while also raising awareness of this important issue.
At the end of 2020, our employees in Central and South America donated 216 food boxes to 15 nonprofit institutions across 13 countries. In Brazil, our employees donated 27 food boxes representing 2,126 kilograms of food to Aldeias Infantis SOS Brazil.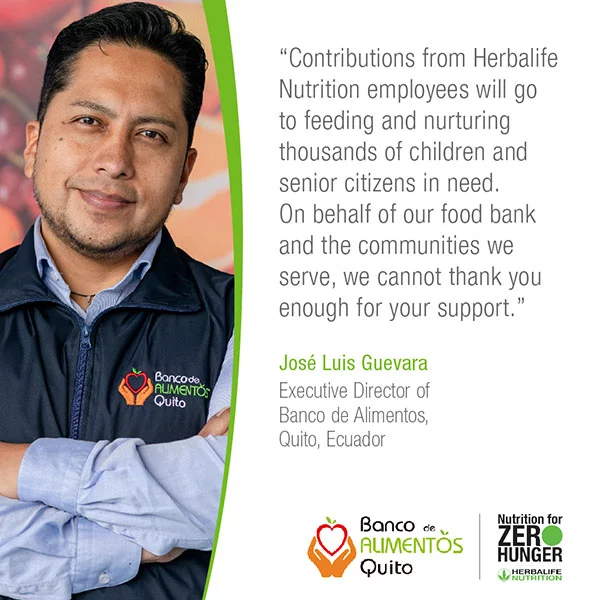 Inspired by this result, we set a challenge of doubling the number of donated boxes in 2021. We invited employees to contribute twice the food and allowed their family members, neighbors, and friends to join the challenge. We also conducted social media outreach to our community and asked employees, brand sponsors, and ambassadors to leverage the campaign's hashtag to spread the word to even more people.
As a result, our Central and South America region collected a total of 911 food boxes, equivalent to a total of 10,648 kilograms of non-perishable food donated to 18 charity organizations in Central and South America. Additionally, Brazil collected a total of 2,443 kilograms of food contributions to the partner SOS Children's Village.
Besides nourishment, we also wanted to provide joy. We encouraged our employee volunteers to decorate food boxes and include messages for recipients and drawings from employees' children and their family members.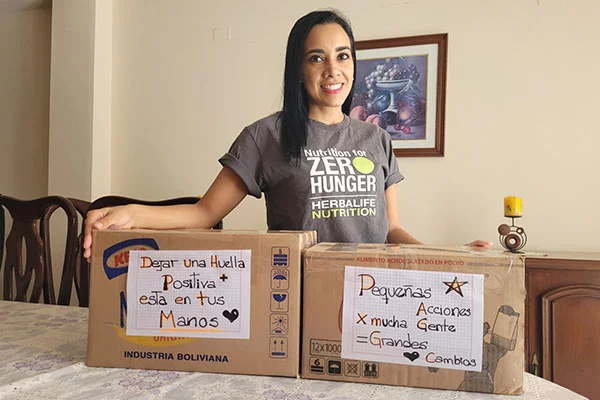 How Our Employees Are Driving Hunger to Zero in Their Communities
We are proud of these results because we know we made a positive impact in these families' lives while also making progress towards our bigger goal of bringing hunger to zero. In addition to food drives, our employees have actively sought opportunities to extend a helping hand and give back to their communities. These stories below offer a glimpse of the care and passion that motivate our employees to nourish others in need.
Ignacio Nieto Orbe, Vice President, Finance and Operations, Argentina
I started volunteering for the first time during the pandemic with my partner as part of Corazones Solidario, an organization that provides healthy food to people. We provided meals to families and children and donated meal ingredients. I also helped with logistics and transportation to deliver those meals. This is a family activity, which is what I like the most.
Carlos Rodas Arzamendia, Logistics Analyst, Paraguay
Along with my family, we volunteer at our local church, which supports the unhoused population by providing food and clothing. During celebrations, we collect presents, chocolates, sweets, and cookies and celebrate with our families.
Laura Sánchez, Communications Coordinator, Peru
I started volunteering at my church, and my husband and daughter have always come with me. Our efforts reach many communities, especially the children and the elderly, through the church, which delivers food and anything necessary. We bring canned food, milk, and groceries to those in need. Knowing that our help gets to people who may not be as fortunate as we are, is heartwarming.
Angela Soria, Senior Analyst, Peru
I've been participating in a Cooking Hope program, whereby we collect food donations and fix lunch for about 100 unhoused people. I also travel to remote communities to deliver non-perishable foods and basic cooking sets. The volunteering community feels like a family. If one has a problem, we give support immediately. Volunteering is a lovely solidarity action because our reward is not tangible; it is the other's gratitude.
Our Continued Impact with Food Drives
Our partners are providing nutritious food where it is most needed. Banco de Alimentos, for example, a local food bank in Quito, Ecuador, has been active since 2002 and provides for 485 families and 45 institutions, such as schools.
By coming together to organize multiple food drive programs and partnering with local organizations to support other community activities, our employees are maximizing their reach. These efforts have produced significant results, which we are proud to share with our larger community, to increase the momentum and encourage others to do the same or more.
In 2022, we plan to hold the third edition of this food drive campaign in October to mark World Food Day, with a target goal of increasing our contributions by 20 percent! This is a feat we cannot achieve without the help and passion of our employees. We encourage other regions and companies to join the cause to bring hunger down to zero.
View original content here

Herbalife
Herbalife
Herbalife (NYSE: HLF) is a premier health and wellness company and community that has been changing people's lives with great nutrition products and a business opportunity for its independent distributors since 1980. The Company offers science-backed products to consumers in more than 90 markets through entrepreneurial distributors who provide one-on-one coaching and a supportive community that inspires their customers to embrace a healthier, more active lifestyle in order to live their best life.
More from Herbalife