Published 01-24-23
Submitted by Bloomberg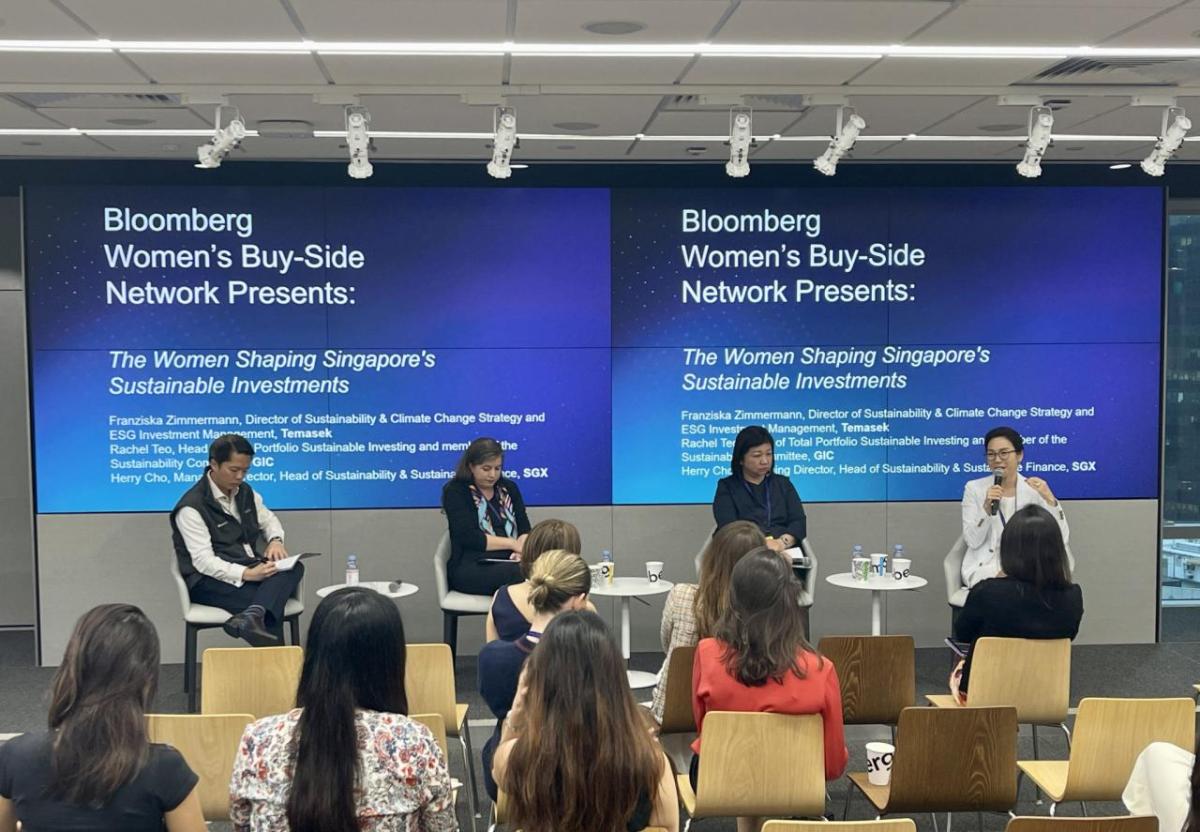 Originally published by the Bloomberg Women's Buy-Side Network
The Bloomberg Women's Buyside Network (BWBN) Singapore chapter recently hosted The Women Shaping Singapore's Sustainable Investments, an in-person event that brought together senior female practitioners and BWBN members at the crossroads of sustainability and finance. The featured speakers included:
Franziska Zimmermann, Director of Sustainability & Climate Change Strategy and ESG Investment Management, Temasek
Rachel Teo, Head of Sustainability & Head of Total Portfolio Sustainable Investing, Economics and Investment Strategy Department, GIC
Herry Cho, Managing Director, Head of Sustainability & Sustainable Finance, SGX Group
With several of the speakers returning from critical COP27 discussions in Egypt, the urgency around climate change has never been more pressing. Takeaways from Sharm El-Sheikh, such as the climate loss-and-damage fund to support developing nations faced with the ramifications of natural disasters, highlight the importance of building strong partnerships between nations, governments and businesses, to each do their part in combating climate change.
COP27 key takeaways
Panelists shared their views about the global climate conference, both on the ground at Sharm El-Sheikh and from the outside looking in. Key takeaways included:
A necessary mindset shift in expectations is needed for our climate transition journey. We should look to better understand the reality that every country is at different stages of meeting the 1.5C Paris Agreement target, and they will get there at different speeds. There is no 'one size fits all' approach to reducing our global carbon output.
There is wider acceptance that both climate adaptation and managing transition risks will be important for governments and firms. The transition towards greater energy and food security have come into sharper focus in recent years due to rising climate change-related physical risks.
While still in the early stages for many markets, carbon markets and carbon credits were a hot topic at COP27. Although the world is still exploring their viability, the current consensus is that they can be a useful carbon management solution that is here to stay for the long term.
Data will continue to play an integral role in the journey towards net zero and will serve as a guiding light to direct the formation of actionable transition plans. The sophistication and harmonization of data in the climate change space is advancing quickly. An open public data utility (read more about the Net-Zero Data Public Utility (NZDPU) here) and making it available to everyone is critical, if we want to ensure decisionmakers have access to reliable, consistent and comparable data to make more informed and sustainable decisions.
Embedding sustainability into the investment process
Many of Singapore's most important companies are stepping up, pushing for positive change within their businesses and supporting the goals set out by the Paris Agreement. Home to some of the fastest growing economies in the world, all eyes are on the Asia Pacific region to do their part.
As a key global economic engine, the finance industry in particular plays a fundamental role in the world's transition to a net zero future. In their respective roles, Franziska, Rachel and Herry shared how they were proactively championing sustainable investments within their own firms to make a lasting impact.
At GIC, three core beliefs drive the organization's approach to sustainability. Firstly, they believe that companies with good sustainability practices will deliver good risk-adjusted returns in the long run. Rachel mentioned that with this approach, the "relationship between sustainability and returns will continue to strengthen over time". The second belief is that it is more constructive to continue actively engaging with companies who may have low sustainability credentials rather than choosing blunt divestment, because in doing so, you are creating value through decreasing a company's carbon footprint. Thirdly, GIC adopts a holistic approach where sustainability is taken on and integrated across different levels of investment decision-making rather than a standalone metric.
At Temasek, Franziska shared a few additional ways they champion sustainable investing, one of which is through building powerful alliances within the industry to accelerate change. She cited partnerships that Temasek recently built. These include Decarbonisation Partners with BlackRock to scale late stage growth companies with sustainable solutions, or Pentagreen Capital alongside HSBC, Clifford Capital and the Asian Development Bank, to catalyze sustainable infrastructure projects around the region. Temasek established a wholly-owned investment platform called GenZero, dedicated to accelerating decarbonization globally through technology-based solutions, nature-based solutions and carbon ecosystem enablers.
Herry explained that on the regulatory front, Singapore Exchange Regulation (SGX RegCo) recently mandated climate reporting after requiring sustainability reporting for all listed companies since 2016. At the same time, SGX Group wants to support companies on their sustainability journeys overall; reporting is a good channel to help corporates better understand how they are faring and identify areas in need of improvement. On top of this, Herry added that SGX Group is committed to helping evolve the sustainable investing ecosystem by going beyond low carbon products and into climate action solutions that are "forward-looking, and built on methodologies backed by science". Lastly, as an exchange, it also means bringing together more participants in the investing ecosystem, partnering with the likes of Temasek, GIC, and Bloomberg because the journey to net zero cannot be achieved alone.
The steps that GIC, Temasek and SGX Group are taking highlight only a portion but important part of Asia's unique contribution to the climate change conversation. BWBN aims to hold this conversation in other network chapters in Asia-Pacific later this year.
Pivoting your career into sustainable finance
While all three leaders came from diverse backgrounds and experiences, there was one thing they each agreed on – their career path into sustainable finance was anything but linear. Franziska has a background in law, Rachel in economics and Herry trained in biochemistry and finance. The industry was in its nascent stages when each of them started out, but the trio expressed in unison that there is "still a lot of ground left to cover" in the space. They provided actionable advice for those interested in pivoting their careers into sustainable finance:
It's very important to remain curious and build a network – one that is not just within the sector and community of enthusiasts, but also in the 'non-traditional' sectors such as the sciences and with key representatives from different industries and companies. Being multidisciplinary and branching out of the finance industry helps one develop a varied understanding of the space.
Do engage with emerging data and connect the dots using alternative data across the investment portfolio. Keeping abreast and applying the most updated and available sustainability data will help build knowledge and skills required for robust sustainable investing.
Before looking outside your company, start looking within. If you're committed to digging deep into sustainable finance and getting technical, explore the possibilities within your current organization. That might mean moonlighting in a different role to begin with, but that will potentially open up doors within the firm, or help build your credentials for your next role.
For more insights by Bloomberg on sustainability investing, please visit the Bloomberg Professional Services blog at https://www.bloomberg.com/professional/blog/. If you would like to join the BWBN Singapore chapter and stay updated on its events and activities, please visit https://www.bloomberg.com/company/stories/press-tag/bloomberg-womens-buyside-network/ and message us at bwbnhk@bloomberg.net.
About BWBN 
The Bloomberg Women's Buy-Side Network (BWBN) is an informal community for women in asset management in Asia. Launched in 2018 in Singapore, the network has expanded to local chapters in India, Japan, Hong Kong, and Australia/New Zealand and is helmed by some of the most influential buy-side leaders in the region. The BWBN convenes women in the buy side on global investment trends, serves to promote inclusion in the industry, and, through active mentorship, educates the younger generation on the diversity of buy-side careers.

Bloomberg
Bloomberg
Bloomberg delivers business and markets news, data, analysis, and video to the world, featuring stories from Businessweek and Bloomberg News.
More from Bloomberg