Published 01-20-23
Submitted by Paychex, Inc.
Originally published in Paychex ESG Report
Highlights of our FY22 ESG Governance efforts:
We have expanded our ESG strategic framework from four to nine pillars as we believe pursuing a robust ESG strategy is critical for the continued success of Paychex. These pillars are: Ethics; Governance; Privacy and Security; Diversity, Equity, and Inclusion; Employees; Environment; Community; Empowering Businesses; and Occupational Safety.
Our Board of Directors remains focused on the long-term sustainability of our business. Effective in the fourth quarter of FY22, the Board divided the responsibilities of the Governance and Compensation Committee into two separate Board committees: The Compensation and Leadership (C&L) Committee and the Nominating & ESG (N&E) Committee.
The C&L Committee assists the Board by providing oversight of the design and administration of the company's executive and director compensation plans; and evaluates and determines compensation of members of the Board, Chief Executive Officer, and senior executive officers. The N&E Committee provides oversight of the company's risks, reporting and disclosures with respect to ESG matters, including an update on the annual assessment of environmental or climate-related risks facing the company. The N&E Committee also oversees policies and programs related to environmental sustainability and philanthropic and political activities. In addition, the N&E Committee assists the Board with attracting, developing, promoting, and retaining directors and executives from diverse backgrounds with the talents and skills critical to the long-term success of the company.
In FY22, a portion of the CEO's qualitative goals was based on DEI and ESG program improvements. Going forward in FY23, DEI and ESG program improvement goals have been included as a qualitative component to cash incentive plan metrics for all executives.
In FY22, our MSCI ESG Rating improved from BBB to A and our FTSE Russell ESG Rating improved from 2.8 to 3.3
Paychex is included in FTSE4GOOD Index Series.
To learn more about Paychex's commitment to corporate social responsibility, visit our website https://www.paychex.com/corporate/corporate-responsibility
, filtered_html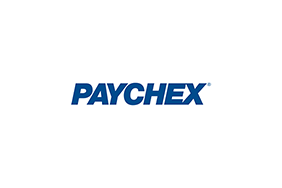 Paychex, Inc.
Paychex, Inc.
Paychex, Inc. (Nasdaq: PAYX) is a leading provider of integrated human capital management solutions for human resources, payroll, benefits, and insurance services. By combining innovative software-as-a-service technology and mobility platform with dedicated, personal service, Paychex empowers business owners to focus on the growth and management of their business. Backed by 50 years of industry expertise, Paychex serves more than 730,000 payroll clients as of May 31, 2022, in the U.S. and Europe, and pays one out of every 12 American private sector employees. Learn more about Paychex by visiting www.paychex.com and stay connected on Twitter and LinkedIn.
More from Paychex, Inc.