Published 01-18-23
Submitted by Keysight Technologies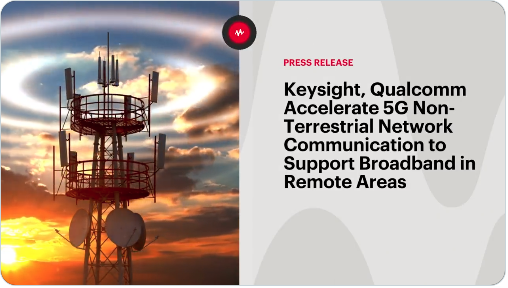 Collaboration used satellite channel and 5G base station emulation platforms to establish a 5G NTN connection with a Qualcomm Technologies 5G mobile test platform
NTN using satellite-to-ground communication brings complete global 5G coverage
Successful NTN connection enables faster development of 3GPP Release 17 compliant designs
SANTA ROSA, Calif., January 18, 2023 /CSRwire/ - Keysight Technologies, Inc. (NYSE: KEYS), a leading technology company that delivers advanced design and validation solutions to help accelerate innovation to connect and secure the world, announced it has collaborated with Qualcomm Technologies, Inc. to establish an end-to-end 5G non-terrestrial network (NTN) connection. Based on this successful demonstration of call signaling and data transfer using orbit trajectory emulation, Keysight and Qualcomm Technologies aim to accelerate 5G NTN technology to provide affordable broadband connectivity in remote areas.
NTNs based on 5G satellite-to-ground communication bring secure, reliable, and high bandwidth connectivity to remote areas that do not have terrestrial network coverage. Widespread 5G NTN deployments can provide critical health, safety, and financial benefits to rural populations while improving economic conditions for industrial sectors such as agriculture, energy, health, and transportation.
The end-to-end 5G NTN connection, based on modelling constellations of Low Earth Orbit (LEO) satellites, was made in Qualcomm Technologies' San Diego laboratory by combining Keysight's 5G base station and aerospace emulation solutions with a Qualcomm Technologies 5G mobile test platform (MTP). The Qualcomm Technologies MTP is a smartphone reference design that acts as a proven test device for implementing and verifying the most advanced features available from Qualcomm Technologies research labs. The collaboration enables device makers to speed development and verification of 3GPP Release 17 compliant designs.
Keysight's high-performance emulation capabilities make it possible to compensate for high Doppler effect and time delay as satellites move at speeds up to 7,500 kilometers per second and at altitudes as high as 750 kilometers. The aerospace industry uses Keysight's software-centric design and validation solutions to launch thousands of satellites that are used for aeronautical, maritime, and mission-critical communications as well as environmental monitoring.
Keysight integrates 5G network and real-world channel emulation hardware and software to create an end-to-end mixed terrestrial and space lab-based test bed to realistically simulate a wide range of orbit trajectories. The solution uses dynamic multipath propagation to emulate ground-to-satellite, satellite-to-ground, and ground-to-ground satellite links. This provides holistic performance verification of terrestrial and non-terrestrial infrastructure as well as 5G NTN devices.
Tingfang Ji, Vice President of Engineering at Qualcomm Technologies, Inc., said: "Our research with Keysight drives many innovations with significant positive impact across a multitude of sectors that rely upon robust wireless connectivity. We are pleased to leverage Keysight's expertise in 5G emulation platforms to help the validation of our research and development for satellite-driven 5G NTN communications."
Cao Peng, Vice President and General Manager for Keysight's Wireless Test Group, said: "Together with Qualcomm Technologies, Keysight is making significant leaps in digitally connecting the world's unconnected areas where deploying terrestrial cellular networks is not a viable option. Keysight is excited to provide industry-first emulation capabilities to Qualcomm Technologies, enabling the world-leading wireless technology innovator to comprehensively address a wide range of complexities that arise as advanced space and terrestrial technologies are combined onto a single modem platform."
About Keysight Technologies
Keysight delivers advanced design and validation solutions that help accelerate innovation to connect and secure the world. Keysight's dedication to speed and precision extends to software-driven insights and analytics that bring tomorrow's technology products to market faster across the development lifecycle, in design simulation, prototype validation, automated software testing, manufacturing analysis, and network performance optimization and visibility in enterprise, service provider and cloud environments. Our customers span the worldwide communications and industrial ecosystems, aerospace and defense, automotive, energy, semiconductor and general electronics markets. Keysight generated revenues of $5.4B in fiscal year 2022. For more information about Keysight Technologies (NYSE: KEYS), visit us at www.keysight.com.
# # #
Additional information about Keysight Technologies is available in the newsroom at https://www.keysight.com/go/news and on Facebook, LinkedIn, Twitter, and YouTube.
Keysight Contact:
Geri Lynne LaCombe, Americas/Europe
+1 303 662–4748
geri_lacombe@keysight.com
Fusako Dohi, Asia
+81 42 660–2162
fusako_dohi@keysight.com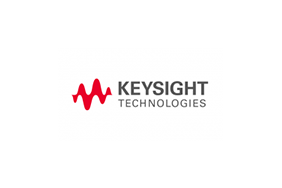 Keysight Technologies
Keysight Technologies
At Keysight (NYSE: KEYS), we inspire and empower innovators to bring world-changing technologies to life. As an S&P 500 company, we're delivering market-leading design, emulation, and test solutions to help engineers develop and deploy faster, with less risk, throughout the entire product lifecycle. We're a global innovation partner enabling customers in communications, industrial automation, aerospace and defense, automotive, semiconductor, and general electronics markets to accelerate innovation to connect and secure the world. Learn more at Keysight Newsroom and www.keysight.com.
More from Keysight Technologies