Published 01-18-23
Submitted by Enbridge Inc.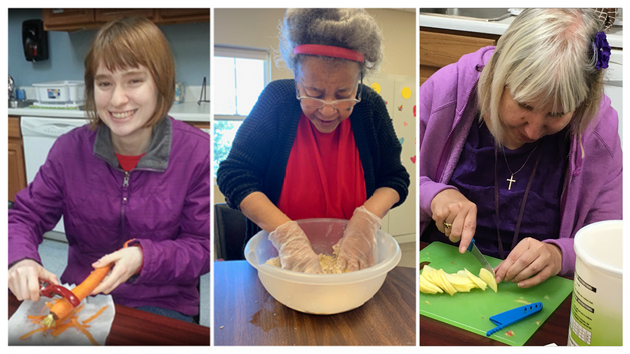 The cooking class looks like something you'd see on TV. Ten students at workstations chopping, whisking, sautéing, the sounds and smells of home cooking filling the air.
But if you look closely at the kitchen tools in hand, you'll see some adaptive equipment at work, like safety knives. And soon, more adaptive equipment will arrive—including a peeler that can be operated with just one hand; a slicer safe for someone with visual impairments; and larger utensils that are easy to hold and maneuver for those with coordination issues.
The cooking class is a favorite learning activity offered as part of the curriculum at Opportunity Enterprises (OE), a non-profit operating in three counties in northwest Indiana.
By going through the process of following a recipe and preparing ingredients, OE's clients—individuals with disabilities—develop cooking skills, learn about nutrition, socialize with peers, and take important steps toward self-sufficiency.
Based in the city of Valparaiso, OE delivers programs and support to around 1,000 people with disabilities in the region every year. Each week alone, more than 250 clients attend their in-demand day programs, operated in a classroom-like setting. Clients are enrolled in a range of courses and activities, such as the cooking class, depending on the client's learning stream and goals.
The proof of OE's success is in the proverbial pudding.
"We keep outcomes on the learning goals of all our clients," says Shannon Keaton, OE's curriculum director. "Right now we're showing that approximately 87% of our clients are meeting their individualized learning goals."
Operating since 1967, OE originally focused on supporting adults; in recent years they've expanded youth programming to include school partnerships, an eight-week summer camp for school-aged youth of all abilities, and monthly weekend camps.
As word of their accomplishments spreads, the number of clients increases, and so do programming costs. Government funding covers some support for people with disabilities, but not to the extent of programming and support OE offers.
"OE is not willing to compromise on our mission of enriching the lives of individuals with disabilities," says Alison Martin, OE's development director, noting that OE also relies on donations and grants from the community to fill the gaps in funding.
At Enbridge, we're committed to helping create vibrant and sustainable communities near our operations. Recognizing the immediate need to expand educational programs, we awarded OE a $7,500 Fueling Futures grant to support OE's educational curriculum day programming, including the purchase of adaptive equipment, computer software, art supplies, and tools to help develop fine motor skills.
All of these supplies contribute to the growth and independence of clients, OE's ultimate goal.
"When our clients achieve their learning goals, they're one step closer to self-sufficiency, one step closer to our mission," Martin says.
She adds: "It all contributes to a vibrant community."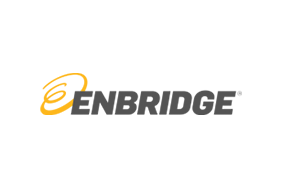 Enbridge Inc.
Enbridge Inc.
About Enbridge
At Enbridge, our name spells out our mission: a bridge to a sustainable energy future. That bridge safely connects millions of people around the world to the energy they rely on every day, fueling quality of life. Whether it's natural gas, oil or renewable power, the energy we deliver through networks spanning North America and our growing European offshore wind portfolio helps to heat homes, feed families, fuel vehicles and power industry. We're investing in modern energy infrastructure to sustain access to secure, affordable energy. We're also building on two decades of experience in renewable energy to advance new low-carbon energy technologies including hydrogen, renewable natural gas and carbon capture and storage. We're committed to reducing the carbon footprint of the energy we deliver, and to achieving net zero greenhouse gas emissions by 2050.
Headquartered in Calgary, Alberta, Enbridge's common shares trade under the symbol ENB on the Toronto (TSX) and New York (NYSE) stock exchanges. To learn more, visit us at Enbridge.com
More from Enbridge Inc.