Published 01-19-23
Submitted by Forum for the Future
January 19, 2023 /CSRwire/ - The changes are designed to enable Forum to deliver its new 2023-2025 strategy, For a just and regenerative future, through which the organisation will look to enable deep transformation in three potentially game-changing areas for sustainability: how we think about, produce, consume and value both food and energy, and in the purpose of business in society and the economy.
Effective from January 2023, key changes are as follows:
Hannah Pathak takes on the new role of International Managing Director, leading Forum's operations in its four offices as well as a newly-created international 'Impact Team'. Hannah joined Forum in 2019 as Director (UK/ EU) and has almost two decades of experience in the non-profit sector, delivering on multi-sector partnerships in sustainability, development and humanitarian action.
Anna Biswas, previously Associate Director (India) and Sumi Dhanarajan, previously Associate Director (APAC), are now Managing Director, India and Managing Director, Southeast Asia, respectively. Anna will continue leading Forum's team in India, including providing strategic direction for the ground-breaking Responsible Energy Initiative India. She will also continue to work with the team to build interventions to shape the food transition in India. Sumi similarly continues to lead Forum's team in Southeast Asia, presently based in Singapore, providing strategic leadership on flagship programmes Responsible Energy Initiative Southeast Asia and Protein Challenge Southeast Asia, among others. She has over three decades of experience as an international development practitioner and joined Forum in 2018, while Anna joined Forum in 2007.
Ariel Muller, previously Managing Director (Asia), is now Director of Futures and Strategic Initiatives. Having joined Forum in 2012, Ariel will now advance Forum's futures thinking practice and propositions across its four regions. She will provide support to the organisation and its partners in managing emerging risks while delivering to long-term transition goals in energy, food and the purpose of business.
Samantha Veide, previously Associate Director (US), has been leading Forum's strategic planning process and organisational development work since May 2022. Samantha joined Forum in 2018 and is now Director of Organisational Transformation, set to support Forum in change management. Samantha brings over two decades of experience in strategy setting, learning and development, and communications.
The appointments set the foundation for Forum to deliver on a strategy, announced in September 2022, that recognises the progress already made to tackle key sustainability challenges—from the climate emergency and intensifying inequality to crashing biodiversity—but notes continued shortfalls. The strategy calls on key sectors to go much further and act much faster if we are to create a 'just and regenerative future', in which both people and the planet thrive.
Other changes in the leadership team include Lesley Mitchell, Associate Director, Sustainable Nutrition and James Payne, Associate Director, Transformational Strategy, now taking on the roles of Global Strategic Lead, Food, and Global Strategic Lead, Purpose of Business, respectively. The appointments of a Global Strategic Lead (Energy), Global Director of Impact and a Development and Communications Director will be announced in due course.
Dr Sally Uren, Forum's Chief Executive, said: "As an organisation working on futures and system change in critical sustainability issues, Forum often challenges others to think about what genuine, deep and positive transformation looks like. Over the last 12 months, we have asked these questions of ourselves. The world has made some progress in tackling key sustainability issues, but we are not yet going far enough or acting fast enough. This needs to change. We need systemic solutions capable of tackling the root causes of our social, environmental and economic crises—and I believe our renewed leadership team is now best positioned to enable this as we look to create a just and regenerative future."
Rita Clifton CBE, Chair of Forum's Board of Trustees, added: "These leadership changes reflect Forum's new and ambitious strategy and will set the organisation up to deliver the greatest impact at this most critical period for sustainability. The new structure enables Forum to make the most of our extraordinary knowledge and experience of what really works to transform sectors and systems. We are fortunate to have so many talented and committed leaders across our offices, and I am very much looking forward to working with the teams and the board to support future growth and development."
Hannah Pathak, International Managing Director, said: "In the past few years, there has been a growing understanding of the interconnected, global nature of sustainability challenges. As the new International Managing Director at Forum, I am excited to further deepen my grasp on these issues while leading an international body of work in four very distinct parts of the world. I hope that my new role will strengthen Forum's systemic capabilities, and I look forward to learning from the diverse perspectives we have."
Sumi Dhanarajan, Managing Director (Southeast Asia), said: "Southeast Asia as a region will experience the more devastating impacts of the climate crisis. Governments, businesses and civil society will need to demonstrate high levels of ambition in transforming our food, energy and economic systems if Southeast Asians are to enjoy an ecologically safe and socially just future. Our team works to support deep and urgent transformations towards just and regenerative systems, and I look forward to supporting my colleagues in their efforts at this pivotal moment for the sustainability movement."
Anna Biswas, Managing Director (India), added: "Our pioneering work on the Responsible Energy Initiative has contributed to a renewed sense of agency in Forum's new strategy. There is no question that the transitions in energy, food and the purpose of business must happen, especially here in India, but it remains a choice how we transition and whether we achieve a deep or shallow set of outcomes. I am humbled to be taking on the position of Managing Director for Forum in India, especially in this critical year as India takes on the G20 presidency, and look forward to building a stronger and more impactful organisation with everyone."
Ariel Muller, Director of Futures and Strategic Initiatives, said: "Our new strategy recognises that we're in a new operating environment–one in which we need to be agile enough to respond to disruptive short-term risks while simultaneously delivering to long-term sustainable development goals. I'm looking forward to collaborating with our teams and partners to use futures thinking to deliver on the challenges of this decade."
Samantha Veide, Director of Organisational Transformation, said: "As Forum worked on its 2023-25 strategy in the past year, it became clear that we also needed to create the enabling conditions internally to deliver on it. Particularly as the world emerges from COVID-19, questions on what it means to be a nimble and agile international organisation are more pertinent than ever. I am excited to continue on in this role as Director of Organisational Transformation, and apply my background in Organisational Communication and Psychology to bring out the best in this courageous, adaptive and diverse team."
Forum was founded in 1996 and began its international expansion in the 2010s. Its new strategy envisions a world in which:
Our social and environmental systems are capable of adapting to and addressing challenges of the future with flexibility and resilience.
The world has moved beyond artificial divides between people, nature and economy—integrating ways to stabilise the planet, restore and replenish our ecosystems, and promote dignity, fulfilment and equity for all.
The meaning of a 'prosperous' economy is redefined as one that meets the needs of everyone in society, enabling them to thrive, distributes value fairly, and operates in harmony with nature and planetary boundaries.
The root causes of today's biggest challenges—the climate emergency, nature in crisis and systemic inequality—have been tackled by dramatically reconfiguring the systems on which we rely.
- ENDS -
NOTES TO EDITORS
Biographies
Full biographies of the leadership team are available on our website.
For media enquiries, please contact:
Fern Yu Communications and Marketing Manager pf.yu@forumforthefuture.org
About Forum for the Future
Forum for the Future is a leading international sustainability non-profit. For more than 25 years we've been working in partnership with business, governments and civil society to accelerate the shift towards a just and regenerative future in which both people and the planet thrive. As our environmental, social and economic crises intensify, the world is rapidly changing, with multiple transitions already reshaping how we all live and work. But will we go far enough, and fast enough? Forum is focused on enabling deep transformation in three game-changing areas: how we think about, produce, consume and value both food and energy, and the role of business in society and the economy.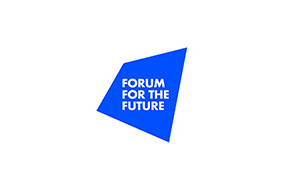 Forum for the Future
Forum for the Future
Forum for the Future is a leading international sustainability non-profit. For 25 years we've been working in partnership with business, governments and civil society to accelerate the transformation toward a just and regenerative future. 

We use our systems change and futures expertise to help tackle critical global challenges: the climate emergency, transforming our food and farming systems, and ensuring supply chains are more resilient and more equitable. We also enable long-term, transformative change by equipping individuals and organisations to act more systemically. Find out more at https://www.forumforthefuture.org/
More from Forum for the Future