Published 01-18-23
Submitted by GlobeScan

DAVOS, Switzerland, January 18, 2023 /CSRwire/ - More than ever, companies are being pushed by regulators, investors, customers, and employees to operate more sustainably. The challenge that many face is how to operate responsibly and profitably over the long-term. Sustainable Business Now is a new platform launching today that showcases how leading companies are tackling sustainability challenges. The platform, introduced by GlobeScan, Leaders on Purpose and SAP, shares insights and replicable, scalable best practices from leading companies around the world with the purpose to help others do sustainability better and faster.
Sustainable Business Now (SBN) features case studies across a spectrum of industries with companies that have embedded sustainability into their long-term strategy and day-to-day operations. SBN launches with analysis of Anglo American, Natura, Ørsted, and Unilever with more being added regularly.
"We are excited about this timely resource that will help the tens of thousands of companies that are beginning their sustainability journey to learn from recognized leaders. We have been examining global sustainability leadership for years, and with Sustainable Business Now we have a new way of sharing more case studies and building a community to work together and drive more change at pace and scale," said Chris Coulter, CEO of GlobeScan.
"Transforming companies to run sustainably is challenging. Executives across industries are looking for guidance and examples of what's working. We need to learn from each other. SAP is proud to support Sustainable Business Now and share these current, credible case studies that can help educate, engage and inspire business leaders so they have the confidence to accelerate their sustainable business investments," said Michael McComb, Global Head of Sustainability Communications at SAP.
To learn more about Sustainable Business Now please visit www.sustainablebusinessnow.org 
And watch: https://www.youtube.com/watch?v=NvE6HujAxWc
Hear more from our supporting partners and featured companies here: https://www.sustainablebusinessnow.org/sustainable-business-now-showcasing-how-sustainability-works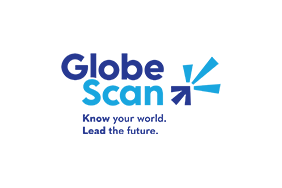 GlobeScan
GlobeScan
GlobeScan is an international insights and advisory consultancy working at the intersection of brand purpose, sustainability, and trust. We partner with leading businesses, NGOs, and governmental organizations to deliver insights that guide decision-making and build strategies that contribute to a sustainable and equitable world.
Established in 1987, we have offices in Cape Town, Hong Kong, London, Mumbai, Paris, San Francisco, São Paulo and Toronto. GlobeScan is a participant of the UN Global Compact and a Certified B Corporation.
Learn more at www.GlobeScan.com
More from GlobeScan