Published 12-19-22
Submitted by AllianceBernstein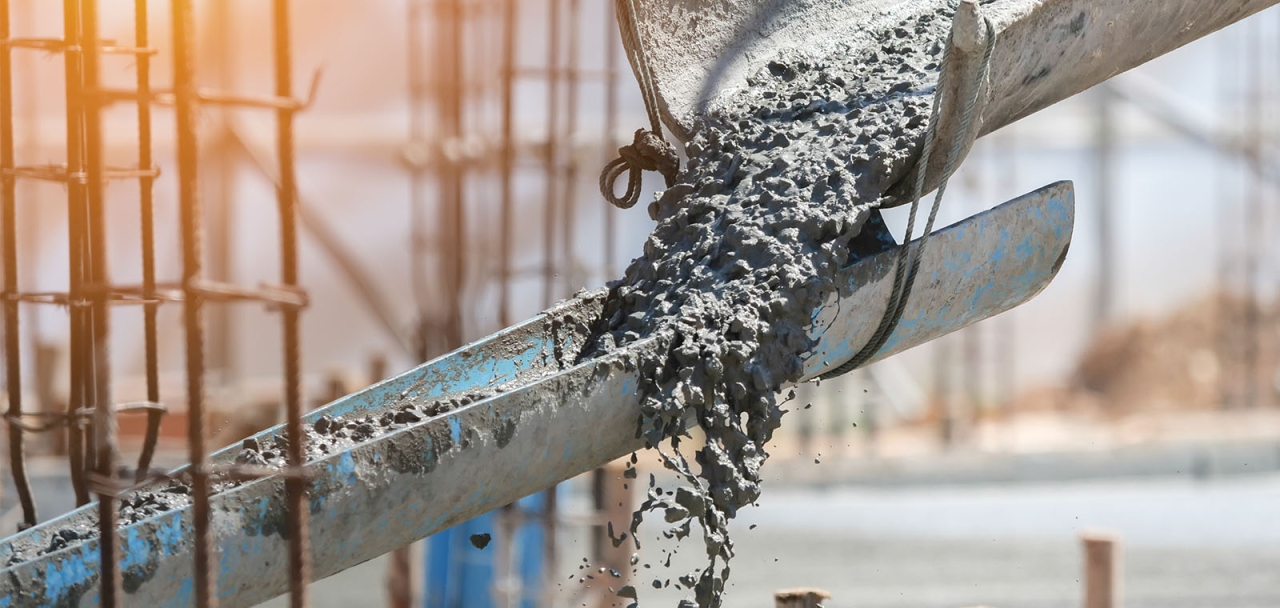 You want to make a difference where it matters, like social or environmental conditions or both, by deploying capital to communities that need it. Impact investing is one way.

Muni managers may bill themselves as impact investors. But their approaches could be other forms of ESG investing in disguise—some just greenwashing or social washing—or they don't have the roadmap, experience and resources to meet your impact goals. We've developed a list of five hard-hitting questions to help sort the wheat from the chaff.
1. What's your approach to ESG investing in the municipal bond market?
Their answer may include integration, screening or a little of both. They're valid approaches, but each takes a different ESG tack compared to impact investing. ESG integration assesses ESG factors for every holding to gauge risk and return potential more accurately across portfolios. ESG screening weeds out issuers that investors want to avoid, such as tobacco, gambling or oil.

However, if your objective is to go beyond just a financial return through the evaluation of additional risk factors and negative screens, the best answer is impact investing.
2. What's your definition of impact investing?
Be wary of loose-fitting responses, such as defining an impact investment based only on investing in muni sectors that benefit society at large. Such answers don't pinpoint meaningful impact, and any definition should be more specific.

Instead, look for exactly how the proceeds from their investments are used to promote social and environmental progress through programs or projects with a specific purpose and result in mind. Intentionality is key and is equal parts philosophy and investment discipline. Making an impact is not about investing in just any school bond, but rather in school districts that are addressing root-cause issues. These include schools that provide students with wraparound access to mental health services, medical and dental care, and access to nutritious food, as well as safe playgrounds and community centers.

Intentional doesn't mean overly constrained to one form of impact either, because different types of muni issuers underwrite a variety of projects intended to reduce certain societal disparities specific to their core purpose (Display).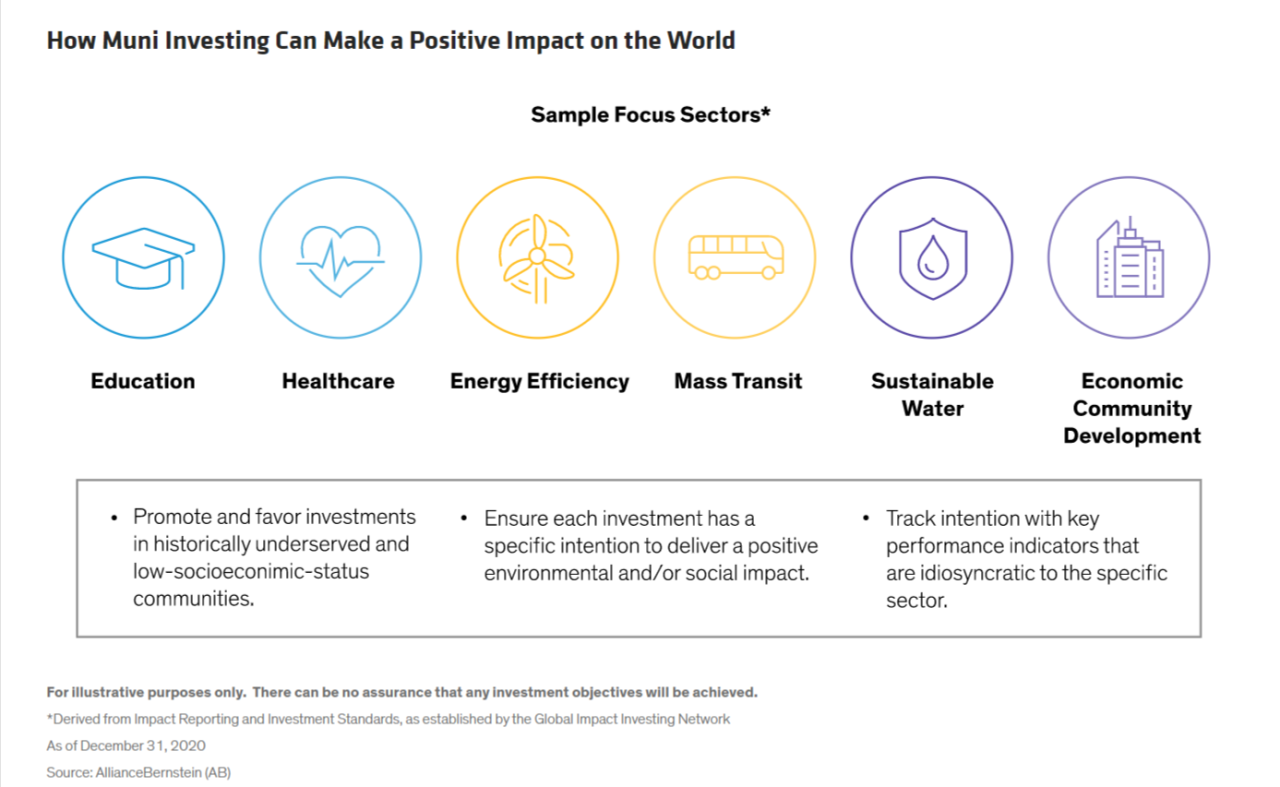 3. How do you choose where to focus impact investments?
A manager may tell you that screening out certain sectors (alcohol, fossil fuels, firearms) is what guides their impact path. But subjective exclusions like these aren't impact investing. Instead, impact investing works through measures of inclusion—it's for something, rather than in opposition only.

Find out the manager's parameters around what qualifies for inclusion in their impact investment universe. It's one thing to be environmentally, socially and financially productive. But you'd have more impact by focusing on historically marginalized communities—even more so if the goal is to shrink gaps in areas like academic achievement, clean water, economic development and healthcare.

Then, look for clearly stated core measures of inclusion. A manager should set minimum thresholds that issuers need to meet in each sector, so they know they're targeting communities most in need. For example, a threshold for education bonds could require at least 60% of students in the system to be receiving free and reduced priced meals. Likewise, hospital issuers would need to show at least 20% of their gross revenues coming from Medicaid patients and charity care. And the universe could be narrowed from there, based on local demographics and needs.
4. How do you know you're making a true impact?
Measuring actual impact is hard work, because data isn't standardized. So be wary of managers who claim it's a simple process or defined with broad parameters. Instead, managers should identify key performance indicators specific to each impact bond's sector, then measure the issuer's progress toward such goals.

In mass transit, for instance, trends in greenhouse gas emissions, mechanical failures and low-income ridership really matter to a community's progress. Improve these factors and you're working toward making a true impact.
5. Beyond research, what other resources do you leverage for impact investing?
It's very important to constantly apply the basic principles of municipal investing: staying well-diversified and conducting thorough quantitative and fundamental research. Technology is also supportive, especially in today's highly fragmented muni market in which the faster you navigate, the better your alpha generation or tax-loss harvesting.

When it comes to impact investing, don't let your manager coast on reputation. Expect thoughtfulness and experience, which can make all the difference between greenwashing and meaningfully uplifting under-resourced communities.
The views expressed herein do not constitute research, investment advice or trade recommendations and do not necessarily represent the views of all AB portfolio-management teams. Views are subject to change over time.
Learn more about AB's approach to responsibility here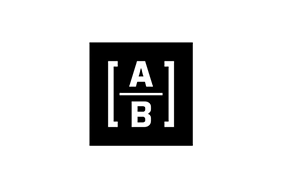 AllianceBernstein
AllianceBernstein
AllianceBernstein (AB) is a leading global investment management firm that offers high-quality research and diversified investment services to institutional investors, individuals, and private wealth clients in major world markets. We believe corporate responsibility, responsible investing and stewardship are intertwined. To be effective stewards of our clients' assets, we strive to invest responsibly—assessing, engaging on and integrating material issues, including environmental, social and governance (ESG), and climate change considerations in most of our actively managed strategies. We also believe that being a responsible firm allows us to be more responsible investors. Our stewardship practices, investment strategy and decision-making are guided by our purpose, mission and values.
Our purpose—pursue insight that unlocks opportunity—inspires our firm to act responsibly. While opportunity means something different to each of our stakeholders; it always means considering the unique goals of each stakeholder that go beyond the desire for financial returns. AB's mission is to help our clients define and achieve their investment goals, explicitly stating what we do each day to unlock opportunity for our clients. We became a signatory to the Principles for Responsible Investment (PRI) in 2011. This formalized our commitment to identify responsible ways to unlock opportunities for our clients through ESG integration in most of our actively managed equity and fixed-income client accounts, funds and strategies.
Because we are an active manager, our differentiated insights drive our ability to deliver alpha and design innovative investment solutions. ESG and climate issues are key elements in forming insights and in presenting potential risks and opportunities that can have an impact on the performance of the companies and issuers that we invest in and the portfolios that we build.
Our values provide a framework for the behaviors and actions that deliver on our purpose and mission. Values align our actions. Each value emerges from the firm's collective character—yet is also aspirational. Each value challenges us to become a more responsible version of AB.
Invest in One Another means that we have a strong organizational culture where diversity is celebrated and mentorship is critical to our success. When we invest in one another, we empower our employees to reach their potential, so that they can help our clients realize theirs. This enables us to partner with clients to design and deliver improved investment outcomes.
Strive for Distinctive Knowledge means that we collaboratively identify creative solutions to clients' economic, ESG and climate- related investment challenges through our expertise in a wide range of investment disciplines, close collaboration among our investment experts and creative solutions.
Speak with Courage and Conviction informs how we engage our AB colleagues and issuers. We seek to learn from other parts of our business to strengthen our own views. And we engage issuers for insight and action by sharing ideas and best practices.
Act with Integrity—Always is the bedrock of our relationships and has specific meaning for our business. Unlike many other asset managers, we're singularly focused on providing asset management and research to our clients. We don't engage in activities that could be distracting, or create conflicts—such as investment banking, insurance writing, commercial banking or proprietary trading for our own account. We are unconflicted and fully accountable.
As of December 31, 2022, AB had $646B in assets under management, $445B of which were ESG-integrated. Additional information about AB may be found on our website, www.alliancebernstein.com.
More from AllianceBernstein