Published 11-30-22
Submitted by Acre
What do we talk about in Episode 1: The Future of the CSO - APAC?​
With the role of the Chief Sustainability Officer (CSO) ever-evolving, Acre has the duty of uncovering the skills, knowledge and insights from our network of current leaders in the industry to share with the next generation of change-makers. This year, Acre has teamed up with Patricia Dwyer, Founder and Director at The Purpose Business and former CSO for the Shangri-la hotels, to interview sustainability leaders across Asia to share their insight into what it takes to be a CSO in the region. 'The Future of the CSO - APAC' series will bring you an insight into how the role has changed, how it will continue to evolve, the skillset required and the challenges that will be faced. It is important that we keep learning, sharing and developing. 
Who is Eric Lim?
​To kick start the 'Future of the CSO - APAC' series, we were joined by Eric Lim, Chief Sustainability Officer and Managing Director for UOB. With diverse global experience across 20 countries; a special focus in Asia including Japan, Hong Kong, Thailand & Singapore, Eric has strong leadership skills, highly developed executive communication skills, and is a specialist in finance. As the CSO for one of the world's top banks, Eric leads a dedicated Corporate Sustainability Office and focuses on achieving the Bank's sustainability objectives of helping businesses to advance responsibly, steering consumer wealth to sustainable investments, and fostering social inclusiveness and environmental well-being. His role as CSO is an extension of his role as Head of Group Finance, where he oversees financial strategy, capital management, regulatory and financial reporting, tax management, business finance, and performance management. Eric opened up the series with his extensive knowledge, advice, and experience on what it takes to become a CSO.​
Who is Patricia Dwyer?​
Joining us as the host for the 'Future of the CSO - APAC' is ​Pat Dwyer, an internationally-respected sustainability expert, passionate about sharing her 20+ years of experience and leadership to help businesses in Asia thrive through responsible growth. She has guest lectured, spoken and moderated across global platforms including The Obama Foundation, The World Economic Forum, The Thomson Reuters Foundation, The University of Cambridge and The Climate Competent Boards Certificate Program, sharing her insights in sustainability, purpose, leadership and governance.
Pat and her team of globally-experienced sustainability and business practitioners across the industry, academia, NGOs and government at The Purpose Business, guide companies to activate purpose, address ESG impacts and scale sustainability responsibly in order to future-proof their business. Pat has advised and worked with blue chip companies including MTR, The Hongkong and Shanghai Hotels, Marsh Asia, Cathay Pacific, Jardine Matheson, Swire Properties, Universal Robina, Metro Pacific Investment Corporation, and Ayala. ​​
Who is Andy Cartland?
​Andy, Acre's founder joined the conversation as the first host for the 'Future of the CSO - APAC' series. Andy founded Acre in 2003 and today continues to drive forward our commercial growth and our commitment to drive significant social and environmental impact. He works closely with our delivery, marketing, and support teams to ensure Acre's services offer the most effective recruitment and talent development solutions to our customers around the globe.
Andy's commitment to developing the leading recruitment business in the field of sustainability has seen the company grow year-on-year at a rate that has significantly out-performed the recruitment sector since 2007. In 2014 the business was awarded Recruitment Agency of the Year at the UK Recruiter Awards for Innovation, transparency and positive disruption. Andy is the co-chair of Global Action Plan, an environmental change charity, and is a trustee & director with the NGO, Ocean Generation.
In August 2022, Andy relocated to Singapore as part of Acre's expansion into Asia Pacific, and with the dedicated team, he will help to maxmise our impact across the region.​​
Please watch the full interview series on the Acre Vimeo Channel to learn more.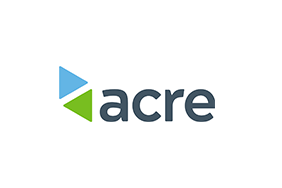 Acre
Acre
​About Acre
At Acre, we work with the most aspirational businesses with potential to make real change; from those who are just starting out to those who are well on the journey to crafting a legacy.

Our 18 years' experience in sustainability recruitment, combined with our extensive global network, enables us to provide talent solutions that are designed to deliver this change.

Through our unique behavioural assessment technology, we understand the types of people, skills and behaviours required to create impact. We can develop these qualities within your existing teams too.

We find talented people and develop their skills to ensure they make a true impact in ambitious, progressive organisations.

Acre. Making companies ready for tomorrow.
More from Acre