Published 11-29-22
Submitted by Las Vegas Sands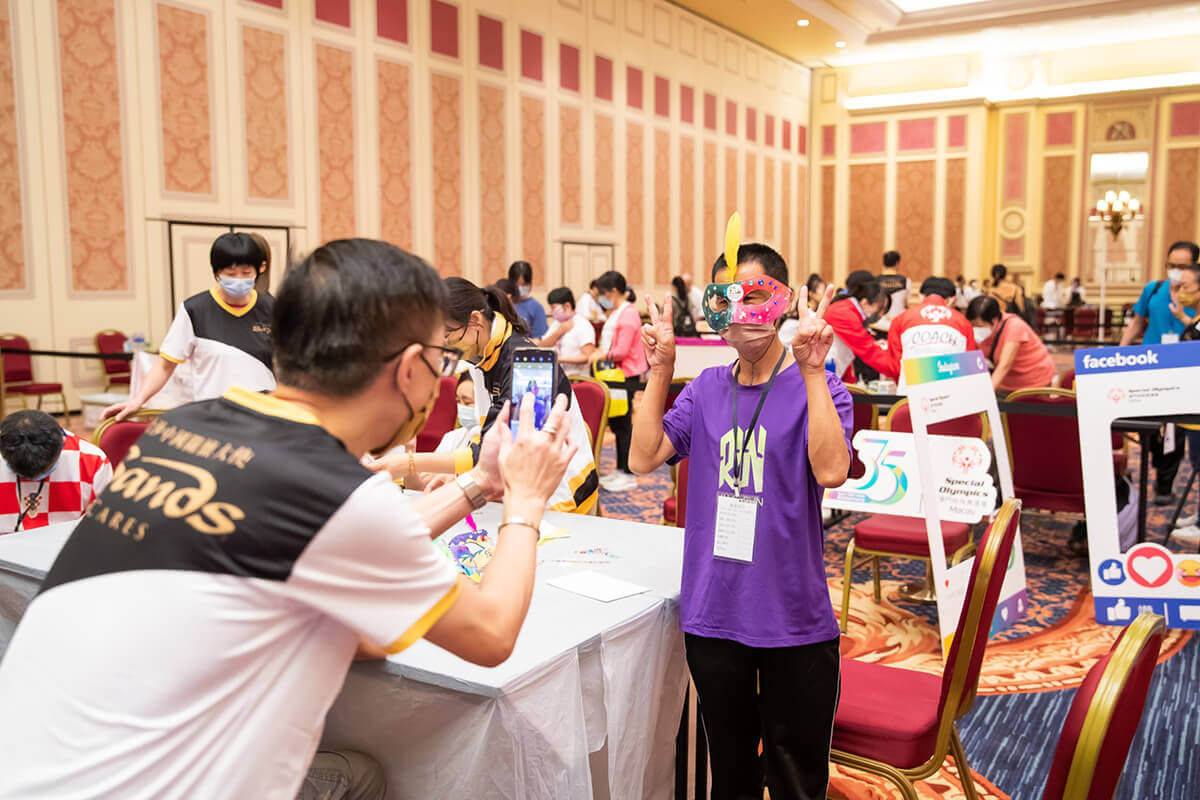 In September, Sands China was awarded the Golisano Health Leadership Award by the Special Olympics for its long-term sponsorship of the Macau Special Olympics' Healthy Athletes Program. The Golisano Health Leadership Award is the highest honor the Special Olympics gives to health partners and individuals, and Sands China was one of only seven recipients in 2022.
Sands China co-founded the Healthy Athletes Program with the Macau Special Olympics in 2014 to expand access to health screenings for people with intellectual disabilities. The program aims for early detection of health problems to inform care and treatment decisions. Since its inception, the Healthy Athletes Program has provided more than 5,500 health screenings to more than 500 individuals.
Since 2014, Sands China has contributed more than $200,000 to the Healthy Athletes Program, including a recent donation made in conjunction with 15th anniversary of the opening of The Venetian Macao. In addition to financial contributions, Sands China has provided extensive Team Member volunteer support to the program. Sands Cares Ambassadors, the company's Team Member volunteer corps, often assist in screening events and other efforts such as the annual Health Check day.
"The long-term partnership with Macau Special Olympics and the Healthy Athletes program is one of our company's most highly regarded community engagement initiatives," said Dr. Wilfred Wong, president of Sands China Ltd. "Helping people living with intellectual disabilities achieve their highest potential is one way we contribute to the strength of our community and the well-being of our local residents. This award goes to all of the Team Members who enable the Healthy Athletes Program to make an impact on so many lives."
Sands China's support for the Macau Special Olympics goes beyond the Healthy Athletes Program. Since 2005, the company has contributed more than $630,000 to the Macau Special Olympics, combining Healthy Athletes funding and contributions to an emergency fund to address COVID-19 impact. Sands Cares Ambassadors also regularly volunteer to accompany Macau Special Olympics athletes at competitions and other enriching events and activities.
The Special Olympics established the Golisano Leadership Award to recognize local health champions who demonstrate extraordinary efforts toward fulfilling the goals, values and mission of the organization's global health program, which promotes equal access to healthcare and wellness and fitness for people with intellectual disabilities. Distributed every two years, the Golisano Health Leadership Award was presented to recipients on September 19 at the Golisano Global Inclusion Health Leadership Summit in New York during the United Nations General Assembly.
Sands China's support for the Macau Special Olympics is part of Sands Cares, the company's global community engagement program, which aims to keep regions strong through corporate giving, volunteerism and capacity building for local partners and nonprofit organizations.
To learn more about Sands Cares, please visit https://www.sands.com/responsibility/communities/#our-program-sands-cares

Las Vegas Sands
Las Vegas Sands
Las Vegas Sands Corp. (NYSE: LVS) is the world's pre-eminent developer and operator of world-class Integrated Resorts that feature luxury hotels; best-in-class gaming; retail; dining and entertainment; Meetings, Incentives, Convention and Exhibition (MICE) facilities; and many other leisure and business amenities.  We pioneered the MICE-driven Integrated Resort, a unique, industry-leading and extremely successful model that serves both the leisure and business tourism markets.
Our properties include The Venetian and The Palazzo resorts and Sands Expo in Las Vegas, Sands Bethlehem in Eastern Pennsylvania, and the iconic Marina Bay Sands in Singapore. Through majority ownership in Sands China Ltd., LVS owns a portfolio of properties on the Cotai Strip in Macao, including The Venetian Macao, The Plaza and Four Seasons Hotel Macao, Sands Cotai Central and The Parisian Macao, as well as the Sands Macao on the Macao Peninsula.
LVS is dedicated to being a good corporate citizen, anchored by the core tenets of delivering a great working environment for 50,000 team members worldwide, driving impact through its Sands Cares corporate giving and community engagement program and leading innovation with the company's award-winning Sands ECO360 global sustainability program as well as providing leadership for critical social issues through Project Protect, the company's commitment to industry-leading practices that safeguard our patrons, partners, employees and neighbors around the range of issues that are unique to our business including responsible gaming, money laundering and human tra­fficking. To learn more, please visit www.sands.com.
More from Las Vegas Sands