Published 11-29-22
Submitted by America's Charities
WASHINGTON, November 29, 2022 /CSRwire/ - In celebration of National Scholarship Month/National Education Month, which takes place in November each year, America's Charities is excited to unveil its new Scholarship Program, designed to help organizations provide educational opportunities for students, support professional advancement for employees, and build a better-educated workforce for the community.
Leveraging its more than 40 years' experience and expertise in charitable funds management, employee assistance fund application administration, and relief fund grant distribution, America's Charities will administer scholarship programs for organizations who want to provide tax-free awards that can be used to assist scholarship awardees with expenses such as, tuition and fees required for enrollment or attendance at an educational institution, or for fees, books, supplies, and equipment required for courses at an educational institution.
The cost of higher education is an enormous barrier for individuals hoping to advance their educations and careers, particularly for working adults and non-traditional students. As reported by Forbes, "in 1980, the price to attend a four-year college full-time was $10,231 annually—including tuition, fees, room and board, and adjusted for inflation—according to the National Center for Education Statistics. By 2019-20, the total price increased to $28,775. That's a 180% increase."
As a recent report from Georgetown University highlights, "Today, two out of three jobs require postsecondary education and training, while three out of four jobs in the 1970s required a high school diploma or less. Yet while young people today need more education than ever to compete in the labor market, a college education is more expensive than in the past."
"Recognizing the necessity of making educational opportunities more affordable and attainable for individuals, employers and nonprofit organizations alike have stepped up to the plate to provide assistance – and more and more organizations are looking to America's Charities' expertise to help facilitate and scale these types of programs," said Jim Starr, president and CEO of America's Charities. "We've been honored to power workplace giving, matching gift, volunteering, disaster relief, and employee assistance fund programs for some of the country's most reputable organizations since our founding in 1980. Bringing employers, their employees, and nonprofits together to help the community and each other is at the heart of everything we do, and we have seen firsthand the appetite among companies large and small for providing financial assistance to their employees and individuals in the community. Adding scholarship application and grant management to our service offerings just seems like a natural progression towards achieving our own mission, as well as the broader social responsibility goals of the organizations we serve."
Whether organizations are looking to scale their existing scholarship programs, need to outsource administration of their program from tax or legal purposes, or simply want to get started and create a scholarship fund from scratch, America's Charities' new Scholarship Program aims to make it easy by providing direction on scholarship policy, managing the scholarship application process, providing donation technology to secure scholarship funding, distributing scholarship money to educational institutions, and offering marketing and communications support.
Visit www.charities.org/scholarships for more information about America's Charities' Scholarship Program.
About America's Charities
As a 501(c)(3) tax-exempt public charity, America's Charities has raised and distributed more than $800 million for more than 25,000 nonprofits globally through the workplace giving, matching gifts, disaster relief, and volunteer programs it manages each year for corporate, federal, state, and local government employers. These campaigns provide a critical source of unrestricted, sustainable funding nonprofits rely on each year to keep their doors open and address a wide range of causes including education, environmental protection, human and civil rights, hunger, poverty, research and health services, animal welfare, veteran assistance, and disaster relief. In addition to facilitating charitable giving initiatives that support nonprofits, America's Charities helps companies support their workforce financially through Employee Assistance Funds (EAFs). Since piloting its EAF services to a handful of businesses in 2019, America's Charities has grown this new service substantially facilitating more than 150 new Employee Assistance Funds (EAFs) for employers to date, managing more than $20 million in grants designated to help employees cope with unexpected hardships. More information about America's Charities is at www.charities.org, as well as on our social media networks.
###
Media Contact:
Sarah Ford
Marketing Director, America's Charities
sford@charities.org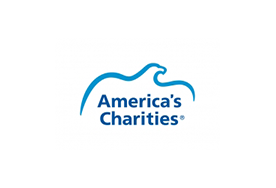 America's Charities
America's Charities
America's Charities inspires employees and organizations to support the causes they care about. We help nonprofits fundraise unrestricted, sustainable dollars through the workplace, and we help employers achieve their giving, engagement, and social impact goals. We do this to bring more resources to the nonprofits that are changing our world.
Who we serve:
Charities ­– We help charities fundraise recurring, unrestricted, sustainable dollars through the workplace. Click here for a printable list of our members.
Employers – We help employers achieve their giving, engagement, and social impact goals. Employers seeking to build or boost a strong culture; engage their employees and help them find purpose and meaning; attract, recruit, and retain talent; and ultimately achieve better corporate profitability and social impact, partner with America's Charities to launch or revitalize their workplace giving programs. We offer employers a suite of employee giving software packages, tools, and resources.
Employee Donors – Through our work with charities and employers, we inspire individual donors to connect with great causes, support nonprofits in a recurring, sustainable manner, and make a personal, social impact.
Core Services:
We offer a full suite of employee giving and engagement tools, including easy-to-use workplace giving technology platforms ranging from a straightforward, out-of-the-box option, to a comprehensive platform that integrates matching gifts, employee volunteering, cause campaigns, and more. Each of our solutions is tailored to fit an employer's specific needs and social impact goals, and deliver personalized, highly social online giving experiences.
We generate sustainable unrestricted financial support for member charities through the Combined Federal Campaign (CFC), state and local giving campaigns and private sector workplace giving campaigns.
We provide charitable funds management services to nonprofits and private and public sector employers while maintaining a resolute commitment to transparency and accountability.
We provide comprehensive consulting services with expertise in employee engagement, corporate social responsibility (CSR), workplace giving program and strategy development, benchmarking, analysis, and more.
We help companies support their employees in times of distress and hardship through Employee Assistance Funds (EAFs), also known as Employee Relief Funds or Employee Crisis Funds. By working with us, a company increases its flexibility around the types of hardships the fund can cover and lowers its administrative burdens.
Since 1980, our collective experience and ability to provide the highest level of personal service and expert consulting to our member charities and employer clients has resulted in more than $750 million for more than 25,000 nonprofits through federal, state and local government, and corporate workplace giving programs.
More from America's Charities