Published 11-28-22
Submitted by Las Vegas Sands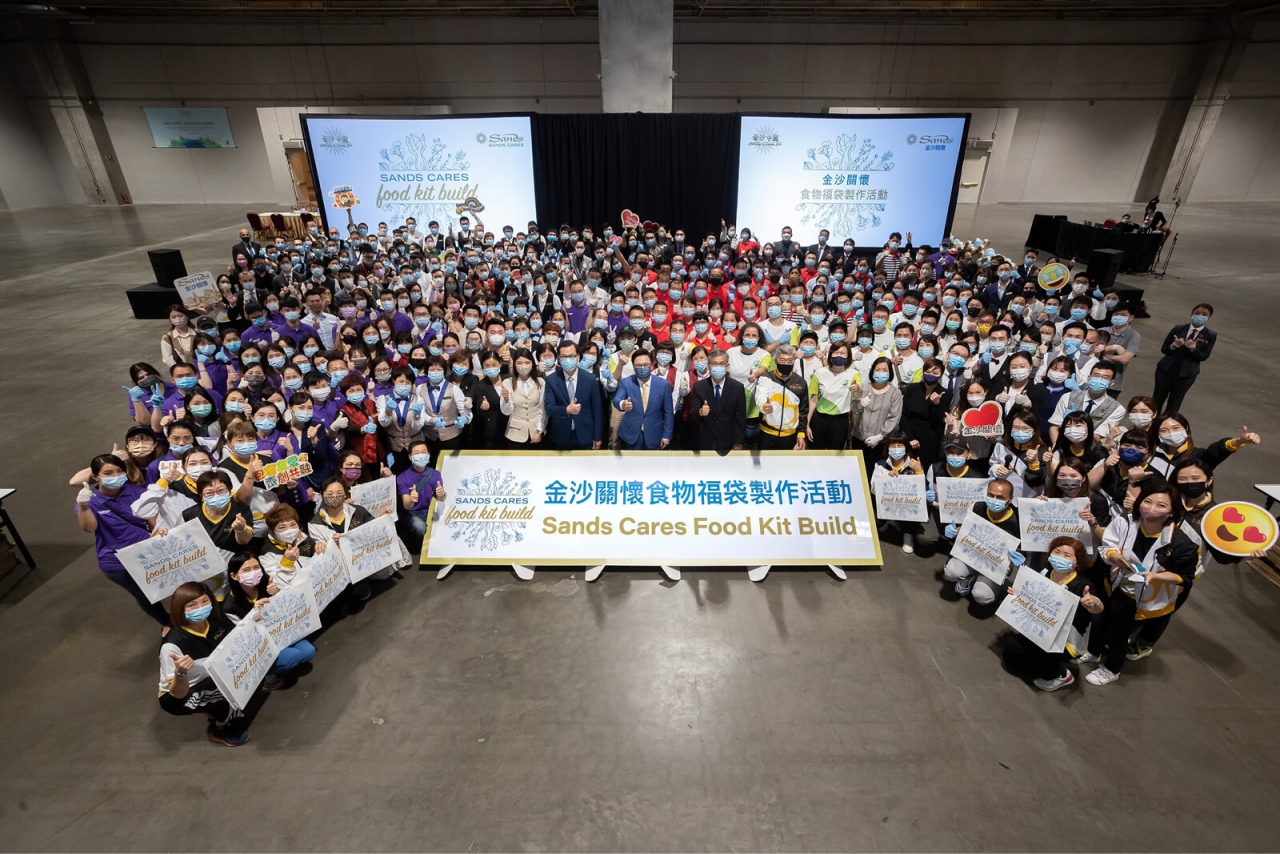 Earlier this year, Sands released its 2021 Environmental, Social and Governance (ESG) Report, which detailed plans for its corporate responsibility program for the next five years, including three new ambitions the company aims to achieve by 2025. Under the program's Communities pillar, Sands aims to contribute 150,000 Team Member volunteer hours as its key focus for accelerating impact in local regions over the next five years.
Team Member volunteerism is a key tenet of Sands' culture and one of the primary ways the company helps its regions maintain their strength and resiliency and address critical social issues. Sands provides Team Members with opportunities to volunteer at company-coordinated community events, as well leverage their talents and expertise in mentoring and consulting capacities for nonprofit partners. Team Members also are encouraged to participate in community activities and causes they care about to encourage an overall spirit of giving back.
Volunteerism Unites Sands Team Members Around the World
One of the company's largest volunteer activations is the annual Sands Cares Global Hygiene Kit Build with long-term partner Clean the World, in which Team Members assemble thousands of kits containing soap, shampoo and toothbrushes to support people around the world who are facing natural disasters or personal hardship. Clean the World aims to lessen the instance of potentially fatal hygiene-related illnesses such as acute respiratory infection (pneumonia) and diarrheal diseases (cholera). In 2021 alone, Sands Team Members created 40,000 hygiene kits for Clean the World.
This year, Sands added another global volunteer activation with the inaugural Sands Cares Food Kit Build as part of the company's effort to address hunger and food insecurity in its regions. In May, hundreds of Sands Team Members and volunteers in Macao and Singapore joined together to assemble nearly 9,000 kits containing food staples for distribution to people facing hardship, including vulnerable seniors, families and migrant workers.
As part of the Sands Cares Accelerator, the company's global three-year membership program to provide capacity building for rising nonprofits, Sands is focused on providing skills-based volunteer support through mentoring, consulting and guidance on the projects members are working on developing through the program. Sands Team Members have helped Green Our Planet and Art Outreach Singapore develop facets of new initiatives in a consulting and strategic counselor role and began providing one-on-one mentoring to select staff at member organizations this year.
Sands China Volunteers to Benefit Host Communities
In addition to corporate initiatives, Sands China has long-standing volunteerism efforts that make substantial impact for its host region. In Macao, Sands Cares Ambassadors represent the company in an array of volunteer activities throughout the year, many of them benefiting long-term partnerships. For example, Sands China has supported Macau Special Olympics since 2005, with Sands Cares Ambassadors accompanying and hosting athletes and their families at health screenings and other life-enriching events and activities. Other long-time engagements include volunteer initiatives with Caritas Macau and its annual Charity Bazaar and Charity Run and cleaning the homes of elderly residents before Lunar New Year.
Providing support for the elderly and other vulnerable communities is also a focus for Team Member volunteerism at Marina Bay Sands. The resort's largest volunteer effort comes during the annual Sands for Singapore Charity Festival, which utilized 1,100 Team Member volunteers for activities before and during the festival, including painting Transitional Shelter Units for social service agency AWWA, assembling and delivering food kits to The Food Bank Singapore's beneficiaries, and donating blood to boost Singapore's low blood bank supply with Singapore Red Cross. In other efforts, Marina Bay Sands Team Members have also donated, packed and distributed food items for the Towards Zero Hunger food-collection drive; participated in Neighbour Cares, a program spearheaded by social service agency Care Corner to help isolated seniors gain access to social services; and supported the community's National Day celebration by creating greeting cards and recording well-wishes and activity videos to spread cheer to seniors and health care workers in nursing homes and community hospitals.
"The culture of Team Member volunteerism is a hallmark of Sands and our resorts around the world," said Ron Reese, senior vice president of global communications and corporate affairs, who spearheads corporate responsibility initiatives at Sands. "Beyond the philanthropic funding we provide through Sands Cares, we know that our people can and want to have a transformative impact in our communities. Accelerating our commitment to Team Member volunteerism through our five-year ambition recognizes the value of their time, expertise and commitment as the place where we can contribute significantly to the strength of our regions."
To learn more about Sands' five-year ambitions and volunteer initiatives, read the 2021 ESG Report: https://www.sands.com/content/uploads/2022/04/LVSC_ESG-Report-2021_spreads.pdf

Las Vegas Sands
Las Vegas Sands
Las Vegas Sands Corp. (NYSE: LVS) is the world's pre-eminent developer and operator of world-class Integrated Resorts that feature luxury hotels; best-in-class gaming; retail; dining and entertainment; Meetings, Incentives, Convention and Exhibition (MICE) facilities; and many other leisure and business amenities.  We pioneered the MICE-driven Integrated Resort, a unique, industry-leading and extremely successful model that serves both the leisure and business tourism markets.
Our properties include The Venetian and The Palazzo resorts and Sands Expo in Las Vegas, Sands Bethlehem in Eastern Pennsylvania, and the iconic Marina Bay Sands in Singapore. Through majority ownership in Sands China Ltd., LVS owns a portfolio of properties on the Cotai Strip in Macao, including The Venetian Macao, The Plaza and Four Seasons Hotel Macao, Sands Cotai Central and The Parisian Macao, as well as the Sands Macao on the Macao Peninsula.
LVS is dedicated to being a good corporate citizen, anchored by the core tenets of delivering a great working environment for 50,000 team members worldwide, driving impact through its Sands Cares corporate giving and community engagement program and leading innovation with the company's award-winning Sands ECO360 global sustainability program as well as providing leadership for critical social issues through Project Protect, the company's commitment to industry-leading practices that safeguard our patrons, partners, employees and neighbors around the range of issues that are unique to our business including responsible gaming, money laundering and human tra­fficking. To learn more, please visit www.sands.com.
More from Las Vegas Sands