Published 11-14-22
Submitted by 3M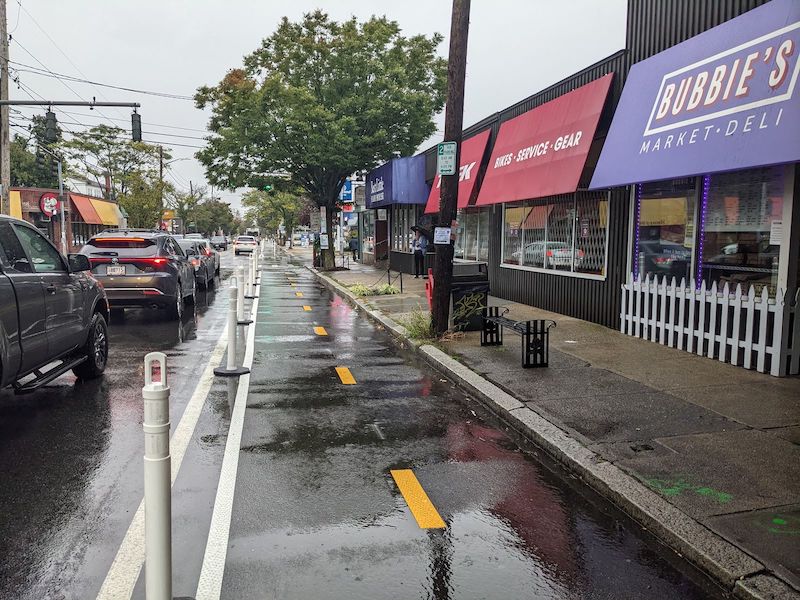 Originally published on 3M News Center
In 2021, each of 3M's business groups made a commitment to use their unique capabilities to advance equity in our communities. That included the company's Transportation & Electronics Business Group's (TEBG) commitment to support urban safety and mobility, working to ensure everyone has access to safe, affordable and sustainable transportation options.
When TEBG heard that an urban trail was one of the most requested projects in a Providence, Rhode Island, city survey, they knew they were ready to help.
From Oct. 1 to 8, TEBG and 3Mgives, in partnership with the Providence Streets Coalition, Thriving Places Collaborative, Rhode Island Bicycle Coalition, SPIN Streets and AARP, worked to install the Hope Street Temporary Trail. The project was a community-led effort that consolidated parking to the west side of Hope Street in Providence and created a one-mile trail for walking, jogging, rolling and biking.
The project specifically aimed to serve the multicultural community in the Mount Hope neighborhood, which is the most culturally and racially diverse neighborhood on the East Side of Providence. Creating infrastructure in the neighborhood for biking, scooters, pedestrians and school-aged children would allow for improved mobility options for these historically underserved and low-income populations.
"As cities like Providence prioritize multi-modal transportation options with sustainable, more equitable designs, 3M is working hard to make these options safer and more visible for everyone," said Dr. Dan Chen, president, 3M Transportation Safety Division (TSD). "We want to be a part of positive outcomes for all members of our communities."
To further drive awareness of transportation inequities, residents of Providence were invited to attend a free outdoor screening of "The Street Project" documentary – an inspiring story of the movement to reclaim the streets as a public space. 3M helped fund the making of the film in 2021 as part of TEBG's equity commitment.
The data and community feedback collected before, during and after the project will help inform future infrastructure planning for safer, more sustainable and more inclusive city streets.

3M
3M
About 3M
At 3M, we apply science in collaborative ways to improve lives daily as our employees connect with customers all around the world. Learn more about 3M's creative solutions to global challenges at www.3M.com or on Twitter @3M or @3MNews.
More from 3M