Published 11-11-22
Submitted by Logitech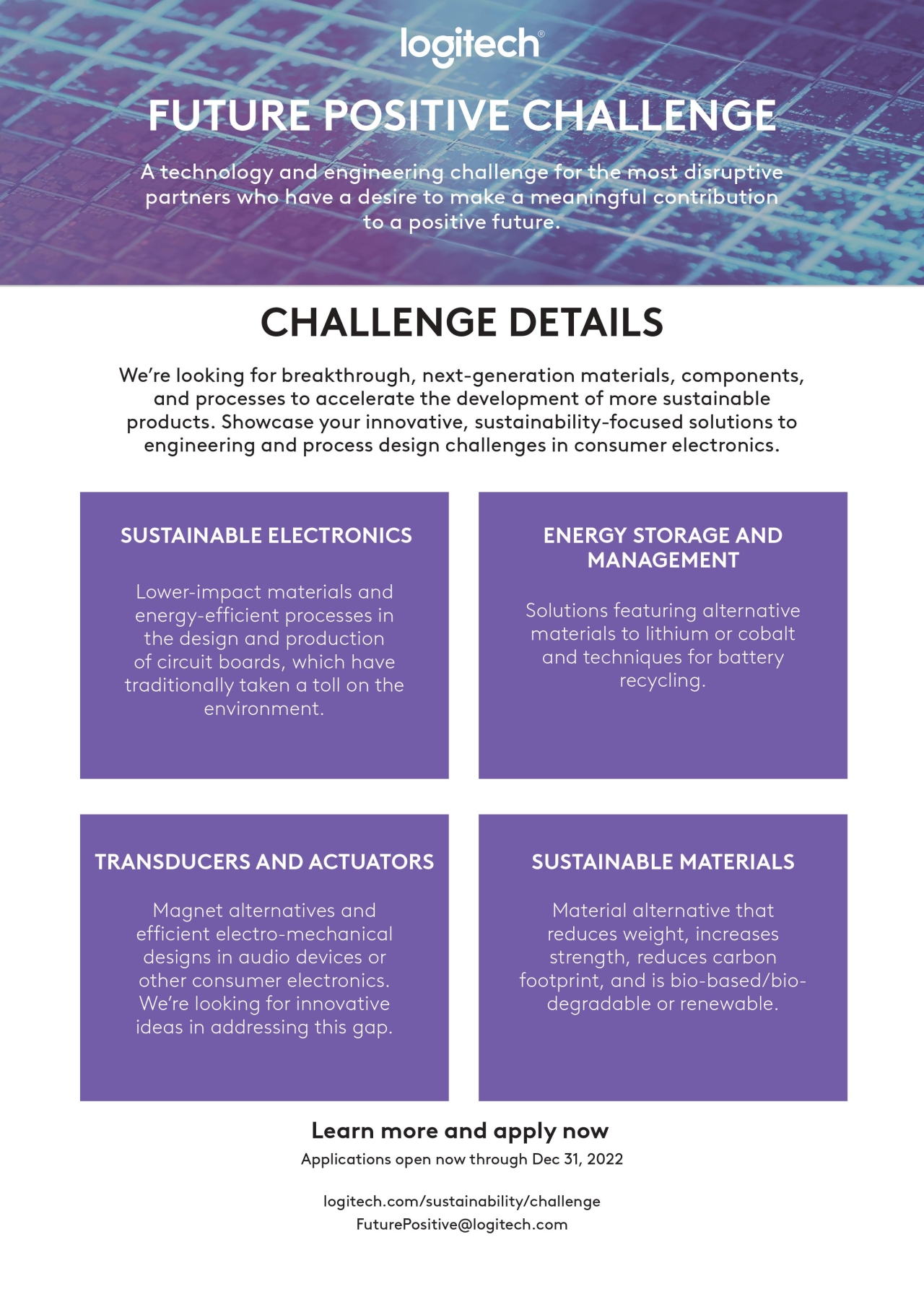 Logitech recently launched The Future Positive Challenge, a technology and engineering challenge for disruptors who have a desire to make a meaningful contribution to a positive future. Companies with breakthrough, next-generation materials, components, and processes to accelerate sustainable engineering and design challenges in consumer electronics are encouraged to apply.
Technology companies and engineering entrepreneurs who are looking for ways to scale their ideas now have the opportunity to strategically partner with Logitech. A Swiss company focused on innovation and quality, Logitech designs products and experiences that have an everyday place in people's lives. We focus on how our customers connect and interact with the digital world and we keep sustainability and design at the center of everything we create.
The Future Positive Challenge encompasses four categories: Electronics, Energy Storage and Management, Transducers and Actuators, and Materials. At least 12 companies will be selected from the application pool to pitch their innovative ideas to an esteemed selection panel in the combined four categories.
Electronics: Solutions that use lower-impact materials and energy-efficient processes in the design and production of circuit boards.

Energy Storage and Management: Safer, scalable, and cost-effective electronic solutions for high-capacity batteries and energy storage.

Transducers and Actuators: Magnet alternatives and efficient electro-mechanical designs for audio devices or other consumer electronics.

Materials: Alternative solutions that reduce weight, increase strength, reduce carbon footprint, and is bio-based/biodegradable or renewable.
Sustainability-minded partners looking to make an impact on the world are encouraged to apply. The consumer electronics industry needs to balance available resources with environmental impact and Logitech is looking to partner with promising companies to drive change.
The application is now open with Round 1 pitch sessions starting in January, 2023. The deadline for applications is December 31, 2022. Visit Logitech.com to learn more and apply. Further information and inquires, please email: FuturePositive@logitech.com.

Logitech
Logitech
Logitech designs products that have an everyday place in people's lives, connecting them to the digital experiences they care about. More than 35 years ago, Logitech started connecting people through computers, and now it's a multi-brand company designing products that bring people together through music, gaming, video, and computing. Brands of Logitech include Logitech, Logitech G, ASTRO Gaming, Streamlabs, Ultimate Ears, Jaybird, and Blue Microphones. Founded in 1981, and headquartered in Lausanne, Switzerland, Logitech International is a Swiss public company listed on the SIX Swiss Exchange (LOGN) and on the Nasdaq Global Select Market (LOGI). Find Logitech at www.logitech.com, the company blog, or @Logitech.
More from Logitech