Published 11-08-22
Submitted by Logitech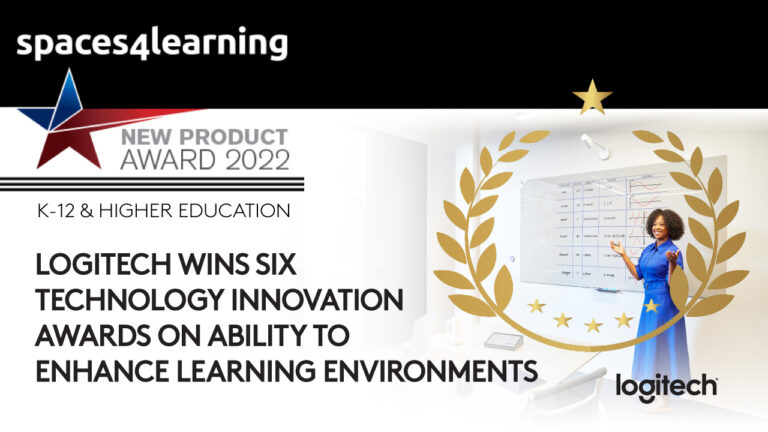 Virtual learning is booming. According to the 2022 EDUCAUSE Horizon Report, words like 'remote work' are appearing more frequently in academic contracts and job descriptions. In fact, institutions that embrace flexible learning may actually attract and retain talent over fully on-campus institutions. Portland State University (PSU) is experimenting with an 'Attend Anywhere' model that leans into the philosophy that educational opportunities should be accessible to anyone, anywhere.
Still, while many institutions are embracing digital experiences, remote education can't succeed unless students can see and hear what's happening in the classroom. Virtual schooling fails when teachers are tasked with managing complicated technology that doesn't perform as it should.
Institutions are looking for ways to meet the growing demand for remote learning while providing emotional support to students and teachers and alleviating teacher burden. It's a lot to ask, and they're doing it by deploying technology that is intentionally designed to enhance education regardless of the learning environment.
In July, Spaces4Learning honored Logitech, among others, with the 2022 New Product Award, which recognizes outstanding product development achievements. Spaces4Learning identified Logi Dock and Logitech Scribe as two products particularly noteworthy for enhancing learning in both K-12 and higher education environments.
Logi Dock – the Heart of the Instructor Studio – Platinum Winner
Teachers are burning out. With everything from developing lesson plans and instructional decision making to professional development, time is a resource they can't afford to lose.
Logi Dock, Logitech's all-in-one docking station, complete with meeting controls, gives teachers greater control over their virtual classrooms. With just a tap, teachers can launch a class and control their sound. Plus, the built-in speakerphone and mic ensures that every student can hear and be heard clearly without tethering the instructor to the desk.
Logi Dock is the heart of the instructor studio and serves as the perfect control center for personal workspaces. With the ability to connect and charge up to five USB peripherals, like a webcam, mouse, keyboard, or wireless headset, Logi Dock declutters workspaces. This provides educators with more room for lesson planning, grading, and brainstorming while offering a perfect configuration for counselors conducting online wellness check-ins to serve the mental health needs of students.
When teachers have the right tools, they worry less about how their classes are run and focus more on student needs and achievement. When virtual counselors have the right tools, they can focus on providing personalized and compassionate care.
Logitech Scribe – Creating Classroom Equity – Platinum and Gold Winner
Performance breakdowns are not equal across classrooms. Take a highly visual subject like mathematics or chemistry; without the right technology, retention and understanding can quickly plummet.
There are many reasons why online learners fall behind, however, in courses where letters and numbers become more abstract, basic concepts can be more difficult to grasp without strong visualizations. For these courses, educators need to be able to share material in a way that engages learners visually and shows the sequence of steps to help them understand cause and effect.
With strong visuals, students can gain a greater understanding of the material they've learned and solve problems.
For these subjects, the Logitech Scribe whiteboard camera is a powerful tool to enhance learning by providing remote students with an unobstructed, clear, up-close-and-personal view of written content. Scribe helps improve retention rates by enabling the educator to interact naturally with the content in a way that increases student alertness, especially for visual learners.
Scribe also allows educators to take or teach professional development courses from anywhere. Traditionally, courses are attended in person, but Scribe gives institutions and teachers greater flexibility and autonomy when it comes to unpaid, off-the-clock coursework.
Scribe is easy to set up and use in professional classrooms and in instructor studios–making equitable, flexible learning obtainable from anywhere.
Logitech for educators
Technology is no longer supplemental to the classroom. The success of virtual learning depends greatly on the availability, dependability, and flexibility of the technology that powers it.
Logitech is proud to design products that empower teachers and drive more equitable learning opportunities.
You can touch, test, and tinker with Logi Dock and Logitech Scribe at one of our upcoming education events. Stop by to experience how these solutions can improve your teaching and learning environments.
Join us at Logitech's EDUCAUSE Welcome Reception on Oct 25 from 6:30 to 9:30 to discover how Logi Dock and Logitech Scribe can enhance your teaching, learning, and administrative environments. Register here.

Logitech
Logitech
Logitech designs products that have an everyday place in people's lives, connecting them to the digital experiences they care about. More than 35 years ago, Logitech started connecting people through computers, and now it's a multi-brand company designing products that bring people together through music, gaming, video, and computing. Brands of Logitech include Logitech, Logitech G, ASTRO Gaming, Streamlabs, Ultimate Ears, Jaybird, and Blue Microphones. Founded in 1981, and headquartered in Lausanne, Switzerland, Logitech International is a Swiss public company listed on the SIX Swiss Exchange (LOGN) and on the Nasdaq Global Select Market (LOGI). Find Logitech at www.logitech.com, the company blog, or @Logitech.
More from Logitech