Published 11-04-22
Submitted by GoDaddy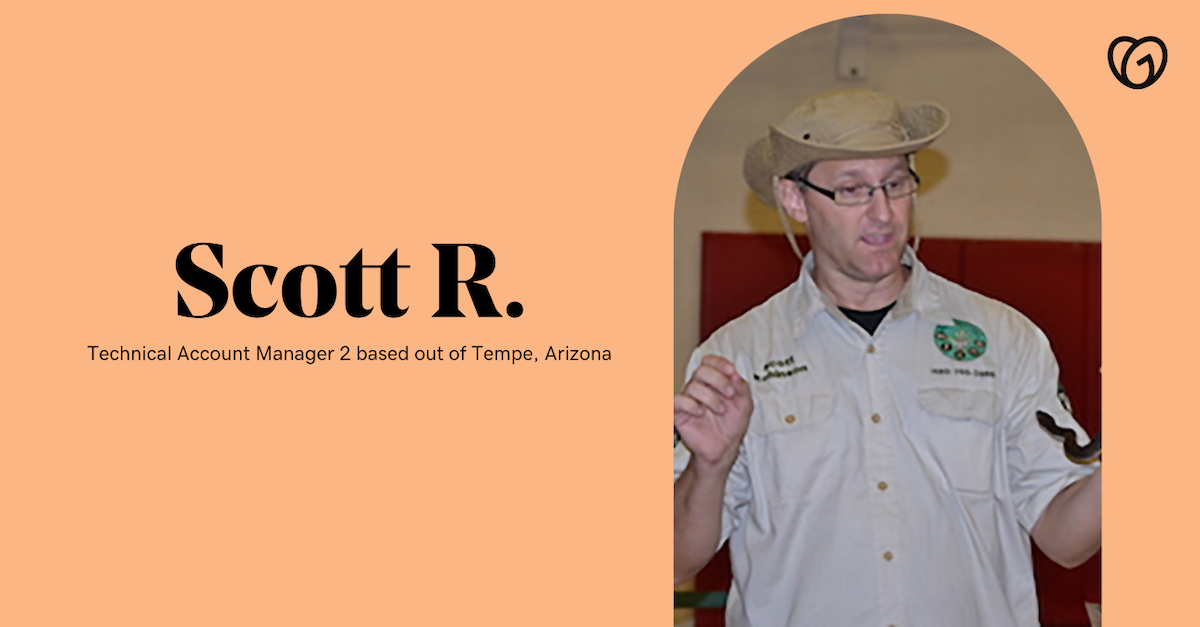 Originally published on GoDaddy Life
Tell us a little bit about yourself and what you currently do at GoDaddy?
My name is Scott "The Critterman" Robinson. I am a zoologist, author, and Technical Account Manager 2 — for the Fully Managed Server Dept., here at GoDaddy.
I have over 45 years of critter experience to my credit and hundreds of zoology teaching hours to people around the world. With this, I have amassed not only a continuing thirst for critter knowledge but a desire to teach others all I can about the majesty and wonder of our natural world.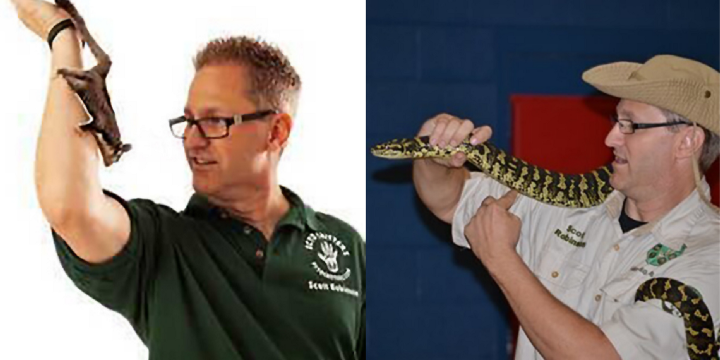 I am married and have 5 kids. 4 are adopted — 3 of those from foster care. My kids are 23, 18, 14, 13, and 11. One girl and four boys. As a family, we like to hike, take trips, and go to sporting events. We also our own animals to take care of, including 3 dogs, 1 cat, 1 hamster, 1 hedgehog, several fish, and 2 axolotls.
At GoDaddy, I am a server administrator and have been for around 7 years.
Outside of work, you have an Animal Education business. Would you mind sharing more about it and how it came to be?
For nearly 8 years, I have been running a website/blog called Critter Science. Critter Science is an online educational website dedicated to teaching people of all ages about zoology. I also taught zoology for numerous years, in person. I got the chance to teach people, all over the world, about critters of all kinds. I was featured on numerous TV stations, like NBC and more. At one time, I had 32 different species of animals in my house! I have always been fascinated by animals and have consistently taken opportunities to teach others about them.
Once I stopped travelling around, I decided to create the blog, in order to continue teaching. I have also written 2 books: Predators and Rainforest Critters. I sell my books on my site, through Amazon.
What are your biggest goals for your business, throughout the remainder of this year?
My primary goal is to continue writing and selling my books. A third book is currently underway! I have also recently done some upgrades to the website, too, that will make it even more interactive. Things like an online word search, tooltips — for terms that people might be confused on, and quizzes. I have also upgraded my studio with things like a higher end mic in which to record new content for YouTube. This will hopefully drive business my way.
How has GoDaddy assisted you to build out your company?
Starting out, I used GoDaddy's shared hosting for many years; eventually moving to Business Hosting. The support was great, and the service was able to handle my traffic. I currently have a VPS server, with GoDaddy. The speed is awesome, and the cost is competitive.
What's your motto or personal mantra?
I live by the saying, "Life is so brief, and time is a thief when you're undecided. And like a fist full of sand, it will sift right through your hands." That being said, I know from personal experience how fast life can change. If you don't take life head on and get as much out of it that you can, time will keep rolling along with or without your participation. Make the most of your time that you can and learn something new everyday.
Are you enjoying this series and want to know more about life at GoDaddy? Check out our GoDaddy Life social pages! Follow us to meet our team, learn more about our culture (Teams, ERG's, Locations), careers, and so much more. You're more than just your day job, so come propel your career with us.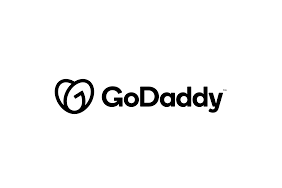 GoDaddy
GoDaddy
GoDaddy is empowering everyday entrepreneurs around the world by providing all of the help and tools to succeed online. GoDaddy is the place people come to name their idea, build a professional website, attract customers, sell their products and services, and manage their work. Our mission is to give our customers the tools, insights and the people to transform their ideas and personal initiative into success. To learn more about the company, visit www.GoDaddy.com.
GoDaddy focuses on making opportunity more inclusive for all in the communities where we work, live and play across the globe. We rally behind inclusive entrepreneurship and other critical local needs that empower people to succeed through philanthropic and in-kind donations, volunteerism, strategic partnerships and advocacy.
Empower by GoDaddy is GoDaddy's global community and philanthropic program equipping entrepreneurs in underserved communities with training, tools and peer networks to accelerate their journeys. GoDaddy rallies behind entrepreneurs in underserved communities by building their confidence and skills to strengthen their small business' digital presence.  Entrepreneurs engage in customized learning experiences, work 1-1 with GoDaddy volunteer coaches and local mentors, and gain access to wrap-around services, in-kind products and networks boosting their small businesses success.
More from GoDaddy