Published 11-02-22
Submitted by Presidential Awards for Excellence in Science, Mathematics and Engineering Mentoring (PAESMEM)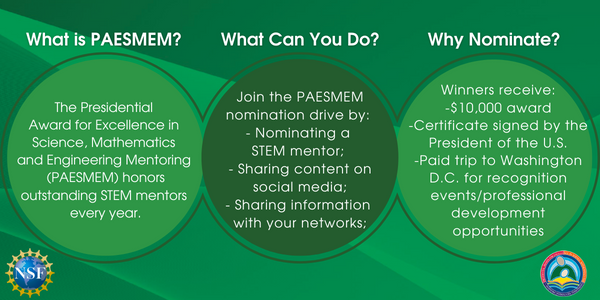 WASHINGTON, November 2, 2022 /CSRwire/ - The Nomination Drive for the Presidential Awards for Excellence in Science, Mathematics and Engineering Mentoring (PAESMEM) is this week. Participate in our annual Nomination Drive by nominating a deserving STEM mentor in your community for PAESMEM today! The process to nominate is quick and easy to complete.
What is PAESMEM?

This prestigious award was created in 1995 to identify and recognize individuals and organizations that have contributed outstanding efforts in mentoring and have enhanced the participation of individuals across a wide demographic array. The award is administered by the National Science Foundation (NSF) on behalf of the White House Office of Science and Technology Policy (OSTP).

Why apply?
Recipients of the award receive the following:
A certificate signed by the President of the United States
A paid trip to Washington, D.C., to attend a series of recognition events and professional development opportunities
A $10,000 award from NSF
An opportunity to join a cadre of over 300 award-winning individuals and organizations from across the nation
Being recognized as a PAESMEM awardee is a tremendous honor. You can learn about our most recent cohort of awardees here.
"The individuals and organizations who win this award are crucial to the present and future of STEM careers in the United States," said Robert Mayes, Program Director of the Excellence Awards for Science and Engineering (EASE) Program at NSF. "Past winners have made significant contributions, especially for those who might not otherwise had access to opportunities in STEM."
Who can apply?
Individuals and organizations who are engaged in STEM mentorship in industry, government, corporations, military, nonprofits, foundations, or academia are all eligible to be honored for their outstanding work.
Who can nominate?
Anyone—administrators, mentees, colleagues, or members of the general public—may nominate exceptional STEM mentors. Mentors may also self-nominate.
The 2022–2023 nomination deadline is January 1, 2023, and the application deadline is February 1, 2023. The annual Nomination Drive is the perfect time to submit a nomination, so consider nominating a mentor using the PAESMEM website today. The process to nominate is quick and easy to complete.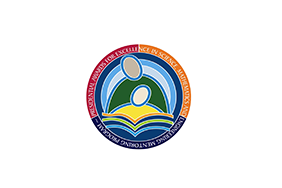 Presidential Awards for Excellence in Science, Mathematics and Engineering Mentoring (PAESMEM)