Published 10-28-22
Submitted by Logitech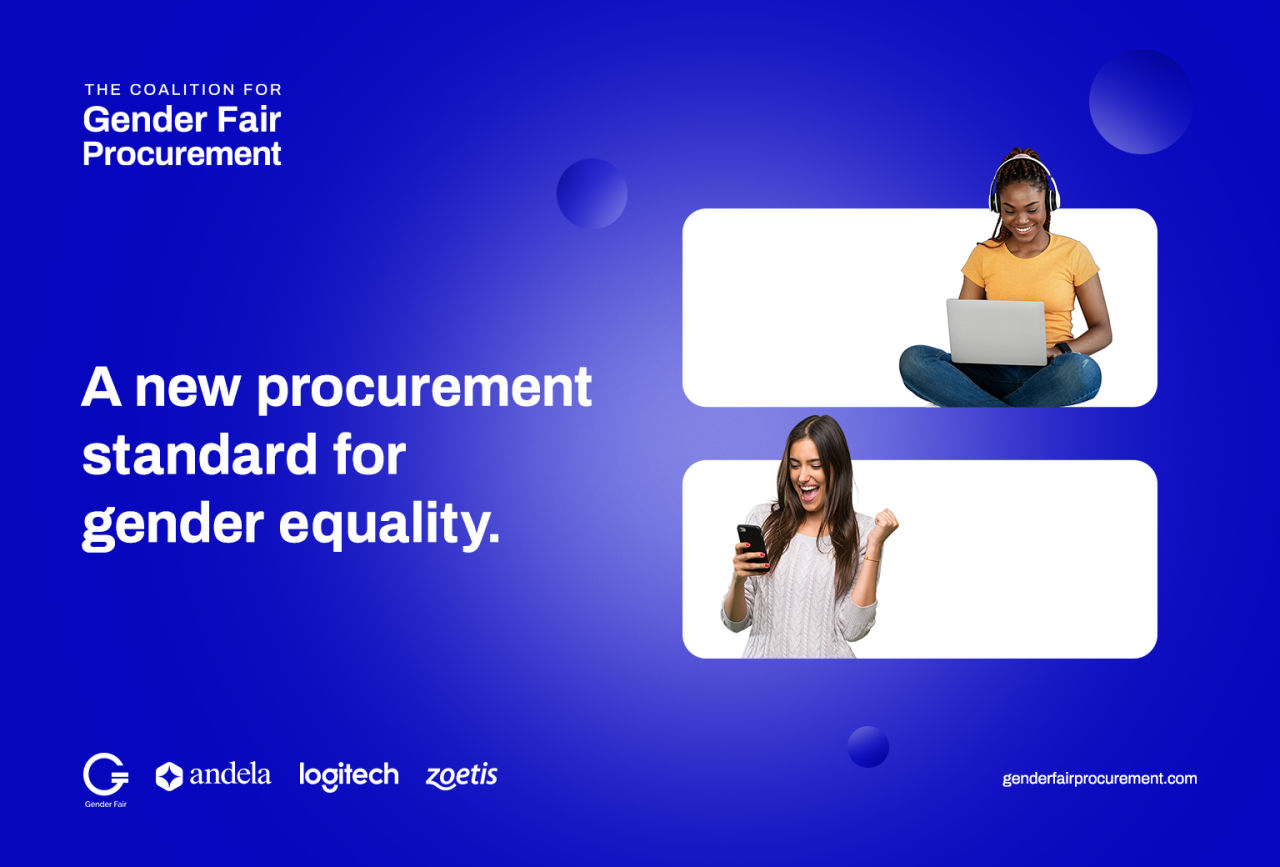 Like-minded organizations Logitech, Andela, and Zoetis have formed The Coalition for Gender Fair Procurement to advance gender equity by leveraging the untapped power of trillions of dollars in corporate procurement. To crystallize this exciting new partnership and inspire others, The Coalition for Gender Fair Procurement will host "Procurement for Equality" on November 2, 2022 - a global virtual event for procurement leaders, Chief Diversity Officers, and anyone looking to make an impact within and beyond their company
In recent years, gender equity has stalled, and it's time for bold action, not just by consumers but by corporations whose buying power and influence exceed that of consumers.
An ally for gender equality, Logitech president and CEO Bracken Darrell says, "Becoming a Gender Fair company helps remove biases and establishes common metrics to drive positive momentum towards gender equality. There are trillions of dollars of spending power embedded within suppliers and by activating gender fairness across more companies we can move the whole world."
Focused on action, the Coalition invites any organization to join this effort, by assessing themselves on gender, asking their suppliers to do the same, and becoming a member of Gender Fair (if eligible) to activate their commitment more broadly.
"Zoetis is thrilled to be part of the Coalition for Gender Fair Procurement, as an important way to encourage our suppliers to focus on gender equity in their organizations. We believe our supply chain provides significant opportunity to extend our diversity aspirations – which can lead to greater innovation and in turn, a better world for our colleagues, our customers, and the communities in which we work," says Evelyn Ortiz, Chief Talent, Diversity, Equity & Inclusion Officer at Zoetis.
To join the Coalition, members agree to ask suppliers to report on gender--just as many do for compliance or cybersecurity. Gender Fair created an important new standard for gender reporting based on UN Women Empowerment Principles that rates the country's largest employers and provides a self-assessment tool for companies.
Other supporters of the coalition include: BT Sourced and Open Comp as well as important organizations in the procurement industry such as SIG and Globality which are embedding gender ratings into their platforms. Supporter Ethisphere developed the reporting tool.
"When more progressive procurement leaders link arms with coalitions like ours to make their spend count, we know we can get to gender equity faster," says Johanna Zeilstra, CEO of Gender Fair.
EVENT DETAILS
The Coalition for Gender Fair Procurement invites more allies to provoke global change. So join together on November 2nd for PROCUREMENT FOR EQUALITY and register today.
Speakers include David Latten (Head of Global Indirect Procurement at Logitech), Mary Ann Sieghart (author of the "Authority Gap"), Julia Gillard Former Prime Minister of Australia; Carly Lehner (Senior Director of Revenue Operations & Enablement at Andela), James Nguyen (Global Head of Indirect Procurement at Zoetis), Dawn Tiura (CEO & President of SIG), Clive Govender (Founder & CEO of CGC Consulting), Neha Shah (President & Co-Founder of GEP), Darren Woolley (Founder & Global CEO at Trinity P3), and Mory Ware, (Procurement ESG Leader at Cisco) Amy Cross (Founder of Gender Fair).
For further information about Gender Fair or to learn more about the event, contact press@genderfair.com

Logitech
Logitech
Logitech designs products that have an everyday place in people's lives, connecting them to the digital experiences they care about. More than 35 years ago, Logitech started connecting people through computers, and now it's a multi-brand company designing products that bring people together through music, gaming, video, and computing. Brands of Logitech include Logitech, Logitech G, ASTRO Gaming, Streamlabs, Ultimate Ears, Jaybird, and Blue Microphones. Founded in 1981, and headquartered in Lausanne, Switzerland, Logitech International is a Swiss public company listed on the SIX Swiss Exchange (LOGN) and on the Nasdaq Global Select Market (LOGI). Find Logitech at www.logitech.com, the company blog, or @Logitech.
More from Logitech