Published 10-27-22
Submitted by Tetra Tech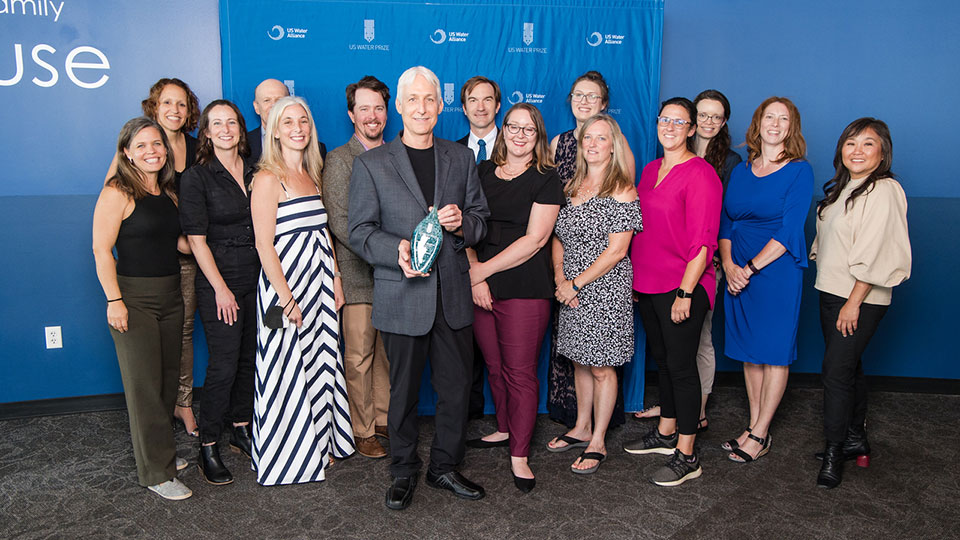 Tetra Tech and its partners won a prestigious U.S. Water Prize for our work supporting the formation of the Jordan Lake One Water (JLOW) coalition in North Carolina.
The U.S. Water Prize recognizes organizations leading the way with sustainable, integrated, and inclusive solutions to U.S. water challenges and was announced at the U.S. Water Summit on September 13, 2022. The JLOW coalition received a prize in the Outstanding Cross-Sector Partnership category for facilitating cooperation and integrated water resource management in the Jordan Lake watershed.
We congratulate all finalists and our team on this recognition for their innovative approach in Leading with Science® to help our clients solve complex water issues.
Restoring water quality within Jordan Lake
More than 1.4 million people reside in the Jordan Lake Watershed, which encompasses 10 counties and 27 municipalities in central North Carolina. Jordan Lake serves as a critical regional resource for safe drinking water. Water quality and supply challenges continue to intensify due to increased pressure from the growing population and increased development.
The increasing water resource management challenges prompted state policymakers, regulatory agencies, local governments, and a range of other stakeholders to look for ways to reevaluate water resource management in the region.
Incorporating One Water principles
Tetra Tech supported the formation of the JLOW coalition, advising the growing organization on One Water principles and management approaches. Our team of engineers and scientists helped facilitate raising awareness and achieving consensus on how One Water strategies could be applied to the watershed. The JLOW coalition now encompasses more than 350 engaged stakeholders working to identify cross-sector innovative management projects and strategies.
"We seek to change the culture of water management to treat all water as a resource—integrating water, wastewater, and stormwater planning and solutions—and to be a model for this approach across North Carolina and the nation."
– JLOW Advisory Committee
By 2065 the population relying on Jordan Lake as a drinking water source is expected to be more than three million. This underscores the critical importance of JLOW's innovative work to improve the public health, ecosystem health, and financial health of this growing region.
Images courtesy of Jon Armstrong Photography

Tetra Tech
Tetra Tech
Tetra Tech is a leading provider of high-end consulting and engineering services for projects worldwide. With 27,000 associates working together, Tetra Tech provides clear solutions to complex problems in water, environment, sustainable infrastructure, renewable energy, and international development. We are Leading with Science® to provide sustainable and resilient solutions for our clients. For more information about Tetra Tech, please visit tetratech.com or follow us on LinkedIn and Facebook.
More from Tetra Tech