Published 10-24-22
Submitted by 3BL Forum
The stage is set for the 3BL Forum, bringing together senior leaders from top-tier brands and organizations to discuss how the past 2 ½ years of constant change has altered stakeholder priorities and expectations, creating urgent dialogues and asking the question, "Now What?" The Forum will also highlight new perspectives on sustainability, ESG (environment, social and governance) and business transformation.
Two sessions will close out the high octane day:
Special Announcement: Responsible Business Initiative for Justice will announce the launch of its new initiative "Unlock Potential" that includes participation from major brands. Senior leaders from Walmart.org's Center for Racial Equity, Greyston, and RBIJ founder Celia Ouellette will announce this ground-breaking hiring program. Unlock Potential addresses the very critical need to provide meaningful career opportunities to young people at the greatest risk of justice system-involvement.
Finale: The day will conclude with a live performance by Rachel Schur, now appearing as Roxie in the Broadway show Chicago. As the Broadway Green Alliance's Green Captain for her theatre, Schur is also responsible for implementing and encouraging sustainable practices and initiatives. Rachel is also the owner of Schur Thing Media, a digital marketing agency focusing on social media marketing and content creation for brands large and small.
Sponsors and Partners
3BL Forum's valued sponsors make this event possible – Hormel Foods, SAP, P&G Fabric Care, Paramount Global (formerly ViacomCBS), AEG, Oportun, Whirlpool, Land Betterment, Zeno Group, Idealist, Ørsted, Submittable, and GCI Health.
Partners of the 3BL Forum include WSJ Sustainable Business Forum, Paramount Global, Guardian News & Media, Ceres, CECP, ACCP, Blackbaud, Governance & Accountability Institute, Goodvertising, 3BL Media, and TriplePundit.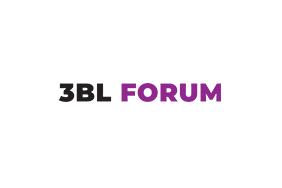 3BL Forum
3BL Forum
THE NEW YORK STAGE IS SET.
3BL Forum will continue its newly established tradition of bringing corporate leaders together on a fast-paced main stage, keenly focused on the 'why' and 'how' as business amplifies its leadership and elects to lead on environmental, social and governance issues.
Our main stage will feature legacy companies, sustainable businesses, NGOs and leading agencies. This 2-day conversation will be curated to bring forth new perspectives, nuances in thinking, candid insights, and revelations above and beyond the ordinary. 
3BL Forum is produced by 3BL Media, the world's leading communications partner for purpose-driven organizations.
More from 3BL Forum