Published 10-19-22
Submitted by Kohler
KOHLER, Wis., October 19, 2022 /CSRwire/ – Kohler Co., a global leader in the design and manufacture of kitchen and bath products, and DigDeep, a human rights non-profit addressing water and sanitation challenges in the U.S., celebrate the one year milestone of their Water Is Life microgrant program and the two organizations' ongoing partnership. Launched in 2021, the microgrant program helps local community leaders and groups on the Navajo Nation develop innovative ideas to increase access to clean water and sanitation.
In its first year, the Water Is Life program awarded grants to ten individuals and organizations to support 13 unique projects. These projects provide access to water solutions for 243 Navajo households across Arizona, Utah and New Mexico through:
Installation of 11 home off-grid cistern systems, bringing clean, running water for the first time
Supplying 55 families without easy access to a water source with regular water deliveries, including the purchase of a truck and dump trailer to facilitate deliveries
Delivery of 50 water tanks to the most at-need families on the Navajo and Hopi reservations
Providing 28 families with water access supplies like water filters and insulation materials
Engaging 89 families and youth with education and training in safe water practices
Providing 10 students with real-life experience in building solar water systems and installation

Kohler and DigDeep continue the Water Is Life program in 2022 with grants awarded to five recipients:
Western Navajo Fairgrounds Water Project: Install of water stations with sinks, faucets and grey water run-off to provide clean water for drinking and handwashing to drive community hygiene goals.
Community Strong Water Delivery Truck Repairs: Keeping vehicles maintained for regular water deliveries to over 100 families with elders and those unable to haul their own water through grassroots organization, Community Strong.
To Dine Bah (Water for the People): Mutual aid and water hauling services to over 50 families in the Dzil Yijiin region and resources continuation like food, PPE, and sanitation necessities through its partnerships.
The White Jug: Support operations and maintenance costs for safe drinking water hauling for family, veterans, and elderly community members in and around Window Rock.
Red Feather Development Group Navajo/Hopi Community Water Storage and Delivery Rapid Response: Water-delivery tanks and 200-gallon storage tanks will support families stretching across the Navajo Nation and Hopi Reservation to help close the drinking-water access gap.
About Kohler Co.
Founded in 1873 and headquartered in Kohler, Wisconsin, Kohler Co. is one of America's oldest and largest privately held companies comprised of more than 40,000 associates. With more than 50 manufacturing locations worldwide, Kohler is a global leader in the design, innovation and manufacture of kitchen and bath products; engines, power systems and clean energy solutions; luxury cabinetry, tile and lighting; and owner/operator of two, five-star hospitality and golf resort destinations in Kohler, Wisconsin, and St. Andrews, Scotland, as well as Lodge Kohler in Green Bay, Wisconsin's Titletown district. The company also develops solutions to address pressing issues, such as clean water and sanitation, for underserved communities around the world to enhance the quality of life for current and future generations. For more details, please visit kohlercompany.com.

About DigDeep
DigDeep is a human rights nonprofit working to ensure every American has access to clean running water and sanitation. Its community-led and region-specific solutions have helped install clean running water inside hundreds of homes through its award-winning Navajo Water Project (Arizona, New Mexico and Utah), Appalachia Water Project (West Virginia), and Colonias Water Project (Texas). DigDeep is leading the U.S. WaSH sector in research, workforce development and advocacy that informs public policy. It has authored two groundbreaking reports, "Closing the Water Access Gap in the United States: A National Action Plan" and "Draining: The Economic Impact of America's Hidden Water Crisis," which revealed over 2.2 million Americans live without a toilet or tap at home, costing the US economy a staggering $8.65 billion each year.
For more information, please visit digdeep.org and follow on Twitter (@DigDeepH2O), Facebook and Instagram (@DigDeepWater).
Kohler Media Contact
Vicki Valdez Hafenstein
Kohler Public Relations
victoria.valdezhafenstein@kohler.com
DigDeep Media Contact
Caroline Goggin
press@digdeep.org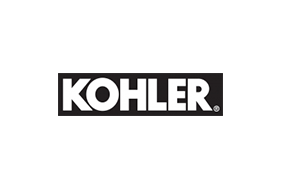 Kohler