Published 10-20-22
Submitted by 3BL Forum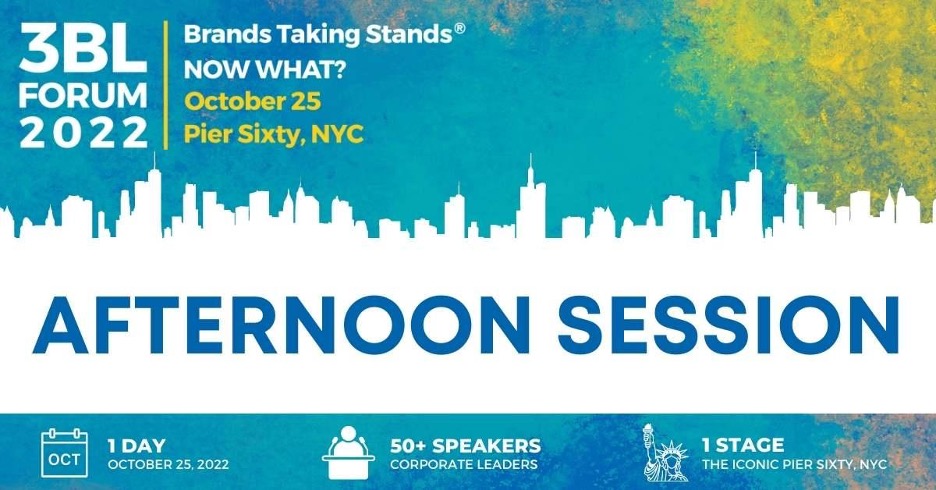 After releasing the full event agenda, 3BL Forum: Brands Taking Stands® –Now What? takes a closer look at the second half of the Forum - along with session speakers - taking place from 12:00 pm to 6:00 pm on October 25 at Pier Sixty, New York. The event closes with a gourmet culinary experience and networking reception for all event attendees and speakers, set to sweeping views of the Hudson River.
Is Corporate Purpose Doing What It's Supposed to Do? One Woman's Journey of Resilience and Purpose
Speakers include:
Geralyn Ritter, Head of External Affairs and ESG, Organon and Author "Bone by Bone – A Memoir of Trauma and Healing"
Interviewer: Joann S. Lublin, Author, "Power Moms: How Executive Mothers Navigate Work and Life" and longtime Wall Street Journal career columnist
Two Conversation: Focus on Forgotten Populations and Initiatives To Engage Corporate Leaders
Speakers include:
Mark Jensen, Executive Chairman, Land Betterment
Joshua Arce, President and CEO, Partnership with Native Americans
Interviewer: Aileen McManamon, Founder and Managing Partner, 5T Sports Group
Non-Traditional Pathways: Rethinking Access and Opportunity
Speakers include:
Keisha Katz, Director of Workforce and External Partnerships, Reel Works
Alia Jones-Harvey, Associate Commissioner, Workforce Development and Educational Initiatives, NYC Mayor's Office of Media and Entertainment
Facilitator: Melissa Potter, Vice President, Strategy and Impact – Content for Change, Paramount
Are There Still Idealists?
Speakers include:
Ami Dar, Executive Director, Idealist
Interviewer: Natalya DeRobertis-Theye, Dir. of Product Marketing, Submittable
It's Not a Sustainability Strategy: A Holistic View of Strategy and Transformation
Speakers include:
Vivek Bapat, Senior Vice President, Purpose and Sustainability Marketing and Solutions, SAP
Wesley Spindler, Managing Director, Sustainability & Global Circular Economy Lead, Accenture
Salomon S. Salinas, EVP, Americas Sustainability Lead – North America, Capgemini
Facilitator: Omar Mitchell, Vice President, Sustainable Infrastructure and Growth Initiatives, National Hockey League
Purpose – Does It Really Boost Business?
Speakers include:
Armando Turco, Executive Director, Brand & Creative (NA), Oatly
Stephanie Slingerland, Senior Director Philanthropy and Social Impact, Kellogg's
Antonella Babino, Global Marketing Director, Corona
Facilitator: Thomas Kolster, Marketing and Sustainability Advisor, Goodvertising Agency
It's Enterprise-Wide and It's the Ultimate Silo = ESG + Sustainability + Purpose
Speakers include:
Pam Klyn, Senior Vice President, Corporate Relations and Sustainability, Whirlpool
Interviewer: Carol Cone, CEO, Carol Cone ON PURPOSE
Now What? The Transformation of Legacy Brands
Speakers include:
Gina Asoudegan, Vice President, Mission and Regenerative Agriculture, Applegate
Jeffrey Whitford, Head of Sustainability & Social Business Innovation, MilliporeSigma
Chris Fox, Chief Sustainability Officer, HanesBrands
Facilitator: Rachel Hutchisson, VP, Global Social Responsibility, Blackbaud
Health is Everything. Without It, What Do You Have?
Speakers include:
Trey Watkins, EVP, Global Health and Corporate Responsibility, GCI Health
Carmen Villar, Vice President of Social Business Innovation, Merck
Joan Steinberg, President, Morgan Stanley Foundation and CEO, Morgan Stanley Alliance for Children's Mental Health's Advisory Board
Facilitator: Brian Letts, Vice President of ESG Programs, 3BL Media
Women Who Lead with Voice and Vision
Speakers include:
Crystal Barnes, SVP, Corporate Social Responsibility and ESG, Paramount
Sofi Armenakian, Head of Sustainability, Atlanta Hawks/State Farm Arena
Savaria Harris, VP Law, Patient Engagement & Customer Solutions, Johnson & Johnson
Facilitator: Sara Adams, Senior Director, Communications and Marketing, CECP
Public Policy and Advocacy: 'Now What?'
Speakers include:
Nan Gibson, Executive Director, Policy Center, JPMorgan Chase & Co.
Matthias Stausberg, Global Advocacy Director, Virgin
Interviewer: Carolyn S. Berkowitz, President and CEO, ACCP
3BL FORUM SPECIAL ANNOUNCEMENT: Companies Can and Must Work to Prevent Incarceration
Speakers include:
Celia Ouellette, Founder and CEO, Responsible Business Initiative for Justice
Dr. Marvin Carr, Director, Walmart.org's Center for Racial Equity
Joseph Kenner, President and CEO, Greyston
Facilitator: Rachel L. White, Executive Vice President, Philanthropic and Strategic Partnerships, Guardian News & Media
See the full agenda here.
Seating is limited. Reserve yours today.
Register here with code 35FORUM2022 for 35% off.
Sponsors and Partners
Our valued sponsors make this event possible – Hormel Foods, SAP, P&G Fabric Care, Paramount Global (formerly ViacomCBS), AEG, Oportun, Whirlpool, Land Betterment, Zeno Group, Idealist, Ørsted, Submittable, and GCI Health.
Partners of the 3BL Forum include WSJ Sustainable Business Forum, Paramount Global, Guardian News & Media, Ceres, CECP, ACCP, Blackbaud, Governance & Accountability Institute, Goodvertising, 3BL Media, and TriplePundit.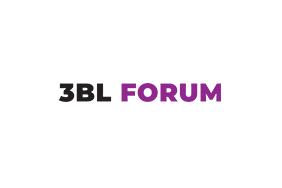 3BL Forum
3BL Forum
THE NEW YORK STAGE IS SET.
3BL Forum will continue its newly established tradition of bringing corporate leaders together on a fast-paced main stage, keenly focused on the 'why' and 'how' as business amplifies its leadership and elects to lead on environmental, social and governance issues.
Our main stage will feature legacy companies, sustainable businesses, NGOs and leading agencies. This 2-day conversation will be curated to bring forth new perspectives, nuances in thinking, candid insights, and revelations above and beyond the ordinary. 
3BL Forum is produced by 3BL Media, the world's leading communications partner for purpose-driven organizations.
More from 3BL Forum