Published 10-12-22
Submitted by Yum! Brands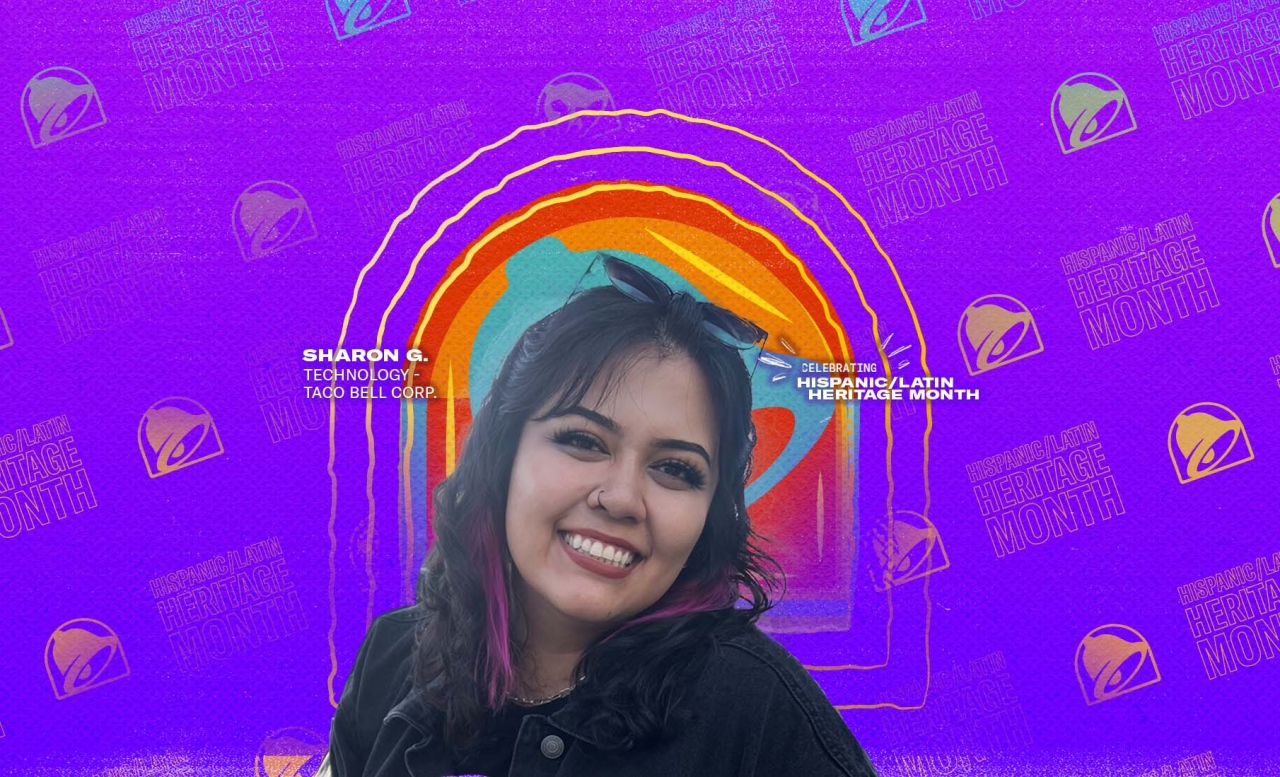 To celebrate and honor this month, we're amplifying the voices of those within the Hispanic+Latin community. They will share their journey and experiences that led them to where they are today. Read Sharon's story below.
Meet Sharon! She leads the Digital Menu Management Team and brings tacos to fans across the web via app, kiosk and delivery. Not only that, but she also empowers restaurant teams with the product data behind many of our back-of-house technologies. Sharon believes in being your own biggest fan and that instead of hiding what makes us different and being ashamed of those differences, we should celebrate them and use them as opportunities to offer a unique perspective. "It's hard for others to recognize you as a leader when you don't seeyourself as a leader in the first place – so take pride in being yourself and lead with confidence," she said.
But how did she get to that point? Born and raised in Santa Ana, CA, Sharon is a graduate of UC Santa Cruz (UCSC). She enjoys people and technology, so she earned her BS in Cognitive Science, choosing the Human-Computer Interaction and Artificial Intelligence discipline. When she isn't working, you might find her at a local brewery, shopping at a pop-up market or listening to live music. This rollerblading adventurist is proud of her roots and excited to share a piece of her journey with us all.
Both of her parents emigrated from Jalpa, Zacatecas, Mexico; however, they didn't meet until they both arrived in California. Her mother headed to Los Angeles and her dad went to Santa Ana. Which brings us to the funny story about how she got her name… when her parents started dating, her dad would commute to LA twice a week and every time he drove past a certain department store with the name Sharon in it, he would think to himself, "I like that name. If I ever have a daughter, I'm naming her Sharon."
And one day, that daughter was born. Sharon grew up with Taco Bell playing an important part of her family's lifestyle. "Money was tight growing up, so we often visited Taco Bell for the $2 deals." She shares that several of her childhood memories are at a particular Taco Bell in Santa Ana. One of her favorites is when her sister graduated from high school in 2016. "We gave her free reign to choose ANY restaurant for her celebratory dinner and she chose Taco Bell."
Can you believe that it was a wild accident that brought her to the company? After graduating UCSC, she was working as a cashier at a retail store and felt defeated from the several job applications that didn't align with her career goals or turned out to be dead ends. Five weeks into working the cashier job, she fell down her apartment stairs and broke her big toe to the point of reconstruction surgery. She had to resign from being a cashier and took time to focus on her recovery. It was while on her way to physical therapy that she drove by the Taco Bell HQ and was surprised to see that they were in Irvine. As soon as she got home, she opened the careers site and applied for the IT Service Desk position.
While she is fortunate enough to love the work that she does now, her past challenges made her current reality a hard one to imagine. She reflects on high school and how transferring to a new school district right before her freshmen year nearly derailed her plans for her future. "I didn't know anyone and was just one of a couple Latin students at the school." She experienced outwardly racist remarks from students and occasional stereotypical remarks from teachers, too. "The subliminal remarks were the ones that would leave me hurt and confused, like, 'Is it just me? Am I overreacting? That was a compliment, right?'" At the same time, others doubted or discouraged her from applying to four-year colleges.
Despite coming home upset most days, Sharon did not let the cruel remarks set her back. She still remembers her mom's advice and the simplest, yet powerful question asked of her, "Why are you listening to them?"
It was at that moment when Sharon made the decision never to allow anyone else to make her feel bad about herself. She has kept that rule close to her and is actively encouraging others to find a community that supports them and be that community for someone else. "It was an extremely challenging time but I'm grateful for the lessons learned, I wouldn't be a 'mujer fuerte' [strong woman] otherwise."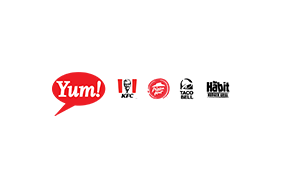 Yum! Brands
Yum! Brands
Yum! Brands, Inc., based in Louisville, Kentucky, has over 54,000 restaurants in more than 155 countries and territories, operating the Company's brands – KFC, Pizza Hut and Taco Bell – global leaders of the chicken, pizza and Mexican-style food categories. The Company's family of brands also includes The Habit Burger Grill, a fast-casual restaurant concept specializing in made-to-order chargrilled burgers, sandwiches and more. Yum! Brands was named to the 2021 Dow Jones Sustainability Index North America and was ranked on Newsweek's list of 2021 America's Most Responsible Companies. In 2022, Yum! Brands was named to 3BL Media's 100 Best Corporate Citizens.
More from Yum! Brands