Published 10-06-22
Submitted by Rayonier

Rayonier 2021 Sustainability Report
Third-Party Certifications
We are dedicated to meeting the highest standards of sustainable forestry established by SFI, Forest Stewardship Council® (FSC®), and the Programme for the Endorsement of Forest Certification™ (PEFC™). These voluntary certification programs each consist of a rigorous and comprehensive set of environmental principles, objectives, and performance measures. Criteria under these programs are designed to ensure that various standards are met, including: (1) forest management plans are associated with long-term sustain able harvest levels, (2) biological diversity is conserved, (3) appropriate measures are taken to protect water resources, (4) laws and regulations are complied with, (5) workers' rights and employment conditions meet certain standards, and (6) the rights of Indigenous Peoples are recognized and respected.
Our 2.7 million acres1,2 of timberlands are managed to these certification standards, and our compliance is periodically evaluated through independent third-party audits. In the U.S., 96%1,4 of our timberlands are certified by SFI, and in New Zealand, 99%1,4 of our timberlands are certified by FSC and PEFC. In the U.S., uncertified lands are generally held in our real estate segment, which are typically slated to be sold as rural residential properties or sold as part of our community development projects in Florida, Georgia, or Washington, and are therefore not eligible for certification. In New Zealand, uncertified lands consist of more recently acquired lands that have not yet completed the certification process or properties where land tenure precludes a long-term commitment to the principles of FSC or PEFC. In both the U.S. and New Zealand, uncertified lands are still managed pursuant to the same standards as certified lands, unless their land use is changed.
These certification programs are regularly reviewed and revised as best practices continually evolve. To this end, SFI has developed the 2022 SFI Forest Management Standard, and our third-party audits under these new standards are slated to begin in 2023. Among other enhancements under the new standards, SFI organizations will now be required to ensure forest management activi ties address climate change adaptation and mitigation measures, along with fire resilience and awareness.
| | |
| --- | --- |
| 2.7 | TOTAL ACRES1,2 (MM) |
| 10.3-11.1 | SUSTAINABLE YIELD2,3 (MM TONS) |
| 10.0 | HARVESTED VOLUME2 (MM TONS) |
| 91.6 | TOTAL MERCHANTABLE TIMBER INVENTORY2,5 (MM TONS |
% of Acres Certified to Third-Party Standard1,4
U.S. 96%
SFI
N.Z. 99%
FSC and PEFC
96%
COMBINED
Forestry Regulations and Compliance
We operate under an internal Environmental Management System (EMS), pursuant to which we monitor our com pliance with the third-party certification standards described earlier, as well as state-specific forest practice rules and best management practices. Employees receive training to help ensure compliance with the practices, policies, and forestry certification requirements incor porated within our EMS.
We also maintain a rigorous internal audit process to regularly assess how well we implement these standards and to evaluate ways to improve our performance. Any issues or instances of non-compliance identified through this audit process are documented and promptly followed up with remedial action. Our Senior Leadership Team has ultimate responsibility for our EMS and annually reviews our performance against forest certification standards, governmental regulations, and internal benchmarks.
Read the full 2021 Sustainability Report.
1 Represents Rayonier owned, leased, and/or managed acres, excluding "look-through" acres in the Timber Funds business.
2 Disclosed in Rayonier's Annual Report on Form 10-K.
3 Sustainable yield is defined in Rayonier's Annual Report on Form 10-K. The sustainable yield excludes "look-through" acres in the Timber Funds business.
4 In the U.S., 2.19 million acres or 96% were certified by Sustainable Forest Initiative® (SFI). In N.Z., 415,959 acres or 99% were certified by Forest Stewardship Council® (FSC) and 415,959 acres or 99% were certified by the Programme for the Endorsement of Forest Certification™ (PEFC).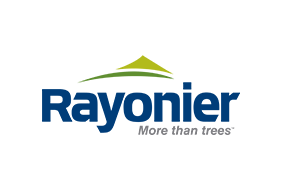 Rayonier
Rayonier
Rayonier (NYSE:RYN) is a leading timberland real estate investment trust with assets located in some of the most productive softwood timber growing regions in the United States and New Zealand. We own or lease under long-term agreements approximately 2.8 million acres of timberlands located in the U.S. South, U.S. Pacific Northwest and New Zealand. We are More than trees because we recognize that our 90+ years of success in the timberland industry comes from our people, an empowering culture and the courage to constantly challenge "the way it's always been done." Get to know us at www.rayonier.com.
More from Rayonier