Published 10-06-22
Submitted by Enbridge Inc.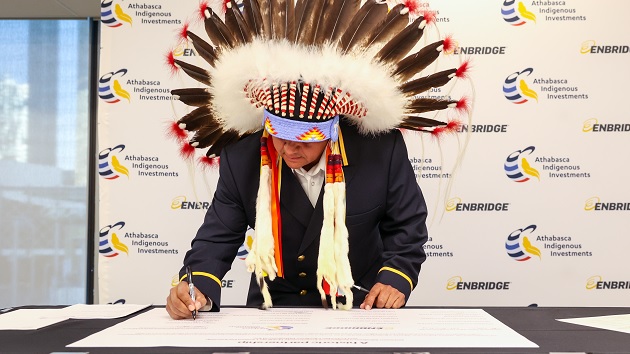 Enbridge and partners proudly unveiled the largest energy-related Indigenous economic partnership transaction in North America to date today in Edmonton.
North America's leading energy infrastructure company and 23 First Nation and Métis communities made the announcement at Enbridge Centre, describing the landmark agreement that sees the communities acquire, collectively through a newly created organization called Athabasca Indigenous Investments (Aii), an 11.57 per cent interest in seven Enbridge-operated pipelines in the Athabasca region of northern Alberta for $1.12 billion.
The investment by Aii fits with commitments Enbridge made in its recently released Indigenous Reconciliation Action Plan (IRAP), building on a growing track record of engagement with Indigenous communities and employees. The IRAP incorporates advice into facility siting, environmental and cultural monitoring, employment, training and procurement opportunities and financial partnerships.
"We are very pleased to be joining our Indigenous partners in this landmark collaboration," said Al Monaco, President and Chief Executive Officer of Enbridge. "We believe this partnership exemplifies how Enbridge and Indigenous communities can work together, not only in stewarding the environment, but also in owning and operating critical energy infrastructure. We are looking forward to working with the Aii and deepening our relationship well into the future. This also fully aligns with our priority to recycle capital at attractive valuations, which can be used to fund numerous growth opportunities within our conventional and low carbon platforms."
Alberta Indigenous Opportunities Corporation (AOIC) assisted Aii with the transaction's financing. The Alberta Crown corporation, formed in 2019, bridges the gap between Indigenous groups seeking commercial partnerships in major projects and their financial capacity. The AOIC was delegated the authority to provide $1 billion in loan guarantees to reduce the cost of capital for Indigenous groups and to support their ability to raise capital to invest in natural resources, agriculture, telecommunications and transportation projects.
"This is an historic day for Alberta, for Canada, for reconciliation, for Indigenous People, and for our economic future," said Alberta Premier Jason Kenney. "This is a game-changing deal that shows the way to the future of shared prosperity."
Assets included in the transaction are:
The assets are underpinned by long-life resources and long-term contracts, which provide highly predictable cash flows.
Athabasca Indigenous Investments is a partnership of 23 diverse Treaty 6 and Treaty 8 First Nations and Métis communities, located in northern Alberta. Participating communities include: Beaver Lake Cree Nation; Cold Lake First Nation; Frog Lake First Nation; Heart Lake First Nation; Athabasca Chipewyan First Nation; Chard Métis Nation; Chipewyan Prairie First Nation; Conklin Métis Local 193; Kehewin Cree Nation; Buffalo Lake Métis Settlement; Onion Lake Cree Nation; Saddle Lake Cree Nation; Whitefish Lake First Nation (Goodfish); Fort Chipewyan Métis Local 125; Fort McKay First Nation; Fort McKay Métis Nation; Fort McMurray 468 First Nation; Kikino Métis Settlement; Elizabeth Métis Settlement; Fishing Lake Métis Settlement; McMurray Métis Local 1935; Mikisew Cree First Nation; and Willow Lake Métis Nation.
"Our partner logo theme—Seven Pipelines, Seven Generations—speaks to the long-term value potential of these assets, which will help enhance quality of life in our communities for many years to come," said Justin Bourque, Aii President.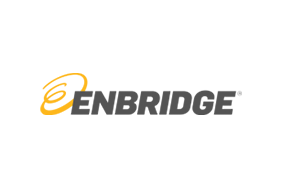 Enbridge Inc.
Enbridge Inc.
About Enbridge
At Enbridge, our name spells out our mission: a bridge to a sustainable energy future. That bridge safely connects millions of people around the world to the energy they rely on every day, fueling quality of life. Whether it's natural gas, oil or renewable power, the energy we deliver through networks spanning North America and our growing European offshore wind portfolio helps to heat homes, feed families, fuel vehicles and power industry. We're investing in modern energy infrastructure to sustain access to secure, affordable energy. We're also building on two decades of experience in renewable energy to advance new low-carbon energy technologies including hydrogen, renewable natural gas and carbon capture and storage. We're committed to reducing the carbon footprint of the energy we deliver, and to achieving net zero greenhouse gas emissions by 2050.
Headquartered in Calgary, Alberta, Enbridge's common shares trade under the symbol ENB on the Toronto (TSX) and New York (NYSE) stock exchanges. To learn more, visit us at Enbridge.com
More from Enbridge Inc.