Published 10-04-22
Submitted by Deckers Brands
Natural Fiber Welding Solutions (NFW) is driving the footwear industry towards sustainability and circularity through their plastic-free performance material solutions. Deckers Brands is proud to join NFW's Footwear Collective, alongside New Balance, Wolverine, Camper, and Allbirds. NFW's Footwear Collective strives to promote widespread adoption of low carbon, biobased materials that are safe to return to the earth at the end of a product's life.
"At Deckers, we strive to make products that are mindful of our environmental resources. We recognize that if we want to significantly reduce our environmental footprint, we must focus on prioritizing preferred materials including recycled, renewable, regenerated, and natural. Our relationship with NFW is a natural evolution of this commitment," says Brooke Beshai, Sr. Director of Sustainability and Compliance at Deckers Brands. "We're innovating to help combat the challenges of climate change by designing mindful products and collaborating across the industry to reduce our collective footprint."
One of the most exciting aspects of the Footwear Collective is the buy-in of multiple major footwear brands. Together, the brands aim to lessen their environmental footprint and work towards a healthy planet.
ABOUT NFW
Natural Fiber Welding (NFW) is a material science innovation company giving industries categorically new material solutions to create responsibly. NFW invents and manufactures shockingly sustainable products from nutrients. Beginning with naturally circular, biobased ingredients, NFW is making a material-rich, plastic-free future possible. NFW was founded in 2015 and is based in Peoria, Illinois.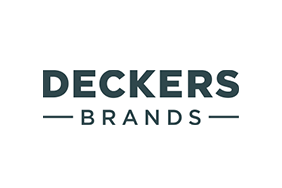 Deckers Brands
Deckers Brands
Deckers Brands is a global leader in designing, marketing and distributing innovative footwear, apparel and accessories developed for both everyday casual lifestyle use and high performance activities. The Company's portfolio of brands includes UGG®, KOOLABURRA®, HOKA®, Teva®, and Sanuk®. Deckers Brands products are sold in more than 50 countries and territories through select department and specialty stores, Company-owned and operated retail stores, and select online stores, including Company-owned websites. Deckers Brands has a 40-year history of building niche footwear brands into lifestyle market leaders attracting millions of loyal consumers globally. For more information, please visit www.deckers.com.
More from Deckers Brands