Published 10-04-22
Submitted by 3BL Forum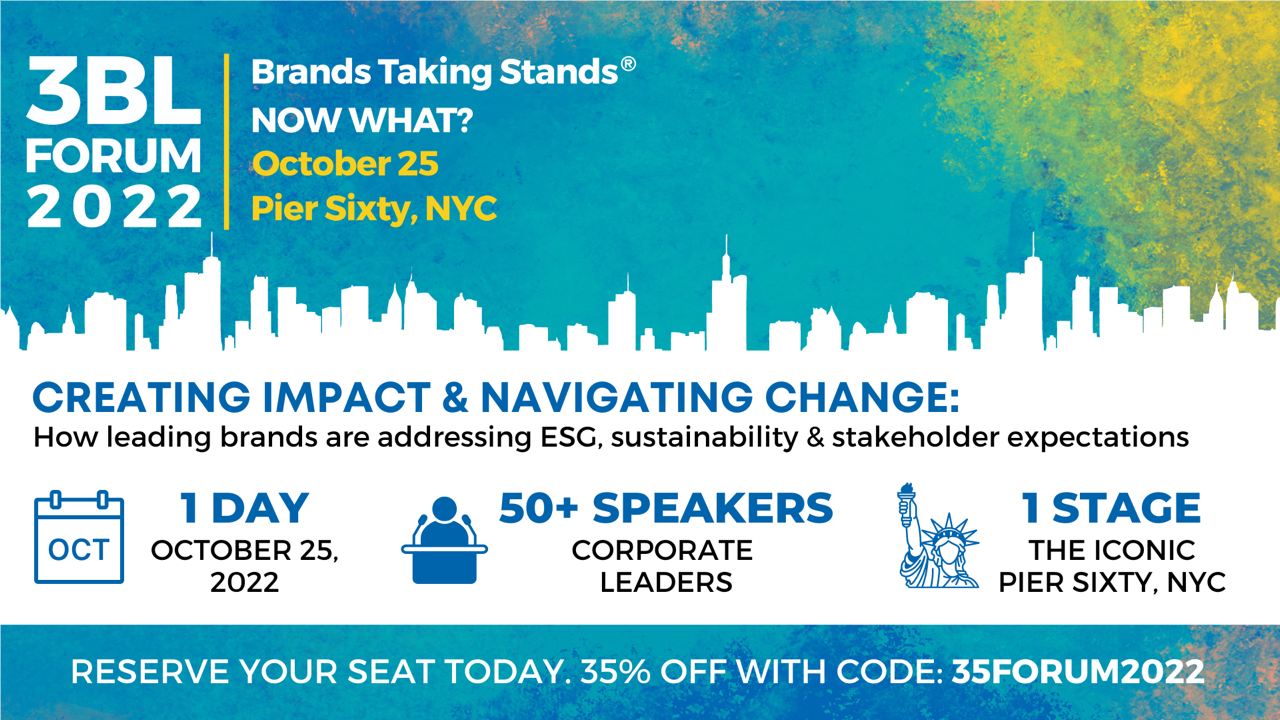 If you're like many other leaders charged with planning an ESG strategy for 2023, the expectations of your brand's stakeholders are presenting real challenges. Their expectations are evolving rapidly, spurred on by a bevy of external pressures – and they expect brands to respond.
How are leading brands addressing these challenges?
Find out at the 3BL Forum: Brands Taking Stands on October 25, 2022. More than 60 senior leaders and experts from top-tier brands, media, and specialist organizations will offer insights and ideas you can take back to your team for addressing changing stakeholder expectations.
"I have great admiration for business leaders who are recommitting to corporate purpose in the face of the climate crisis, political divisiveness, war and a looming recession," said Dave Armon, CEO of 3BL Media. "Our welcome mat is out at 3BL Forum, where attendees will engage with successful and innovative companies that have the greatest capacity to act in a transformative way."
1 Day – 60 Speakers – 1 Stage
Stakeholder expectations are evolving rapidly – and they expect brands to respond. Hear how corporate leaders are responding to that challenge.
3BL Forum's fast paced main stage will deliver a packed agenda with 20 main stage sessions, panel discussions, one-on-one interviews and more at the iconic Pier Sixty in New York.
Click to view the 3BL Forum's OFFICIAL AGENDA.
These leaders work every day to navigate change, have significant impact and re-imagine transformative business models. Here are some of questions you can expect to be answered:
How Do We Shift the Mindset of Boards and Shareholders?
Can Purpose Do More Than It's Supposed to Do?
Is Purpose the First to be Cast Aside in Economic Choppy Waters?
Do Businesses Recognize the Urgency of Action to Meet ESG Imperatives?
How is Sustainability Built into Product Innovation?
If it's not a sustainability strategy, then what is it?
Legacy brands ask, now what?
Seating is limited, and you don't want to miss out on these high-octane conversations.
Register today
DATE, LOCATION, SCHEDULE:
The 3BL Forum: Brands Taking Stands® – Now What?
Tuesday, October 25, 2022
Pier Sixty, located at Pier 60, Chelsea Piers, New York City 10011
https://piersixty.com/visit/
Breakfast and espresso bar open at 8:00 am ET
Main stage starts at 9:00 am ET
Mid-morning networking/refreshment break at 10:30 am
Lunch at 12:15 pm
Afternoon sessions resume at 1:30 pm
Mid-afternoon networking/refreshment break at 3:15 pm
Sessions run until 6 pm ET
Reception immediately follows until 7:30 pm ET
Our valued sponsors make this event possible – Hormel Foods, SAP, P&G Fabric Care, Paramount Global (formerly ViacomCBS), AEG, Oportun, Whirlpool, Zeno Group, Land Betterment, Idealist, Ørsted, Submittable, and GCI Health.
Partners of the 3BL Forum include Paramount, WSJ Sustainable Business Forum, Guardian News & Media, Ceres, Chief Executives for Corporate Purpose, Association of Corporate Citizenship Professionals, Blackbaud, Governance & Accountability Institute, Goodvertising, 3BL Media, and TriplePundit.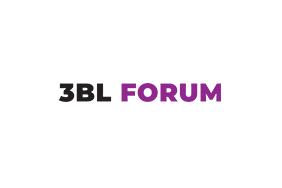 3BL Forum
3BL Forum
THE NEW YORK STAGE IS SET.
3BL Forum will continue its newly established tradition of bringing corporate leaders together on a fast-paced main stage, keenly focused on the 'why' and 'how' as business amplifies its leadership and elects to lead on environmental, social and governance issues.
Our main stage will feature legacy companies, sustainable businesses, NGOs and leading agencies. This 2-day conversation will be curated to bring forth new perspectives, nuances in thinking, candid insights, and revelations above and beyond the ordinary. 
3BL Forum is produced by 3BL Media, the world's leading communications partner for purpose-driven organizations.
More from 3BL Forum