Published 10-03-22
Submitted by T-Mobile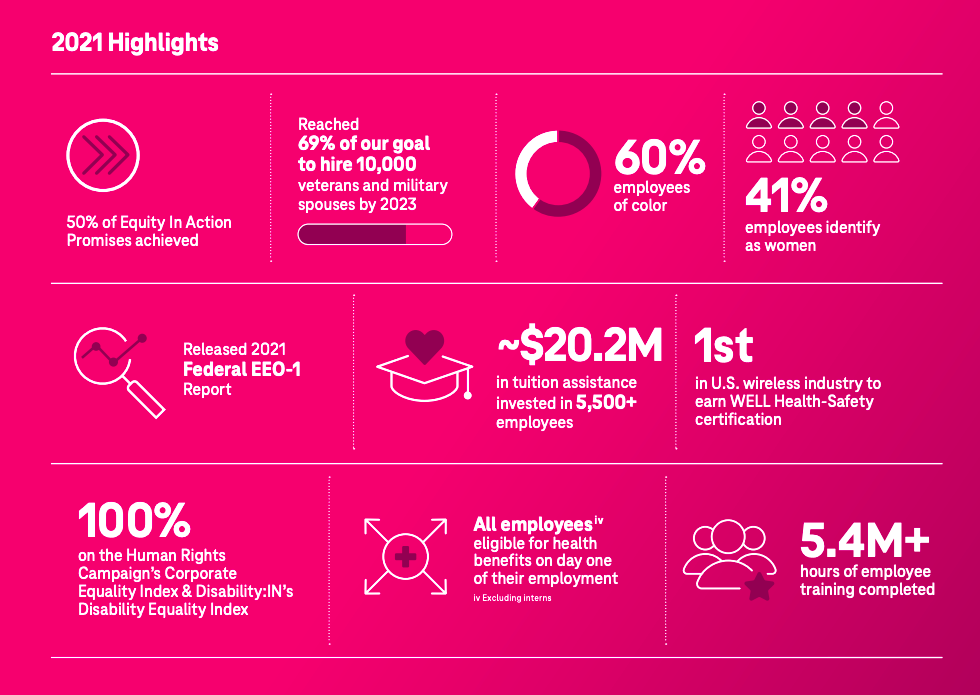 Originally published in T-Mobile's 2021 Corporate Responsibility Report
Our diverse workforce reflects the communities we serve and positions us to deliver incredible experiences for our customers. It's not enough to say we support DE&I—we have a responsibility to put our words into action every day. Following our merger with Sprint, we deepened our commitment by launching our five-year Equity In Action (EIA) plan. This bold plan puts DE&I at the center of everything we do for our employees, our customers, and our communities.
We built EIA by listening to our employees. Their feedback offered a wealth of insight that helped map out a plan to address where we needed to evolve, shift, and align as an organization. This led to three focus areas that anchor our EIA plan.
The Three Pillars of Equity In Action
TALENT: We will recruit, retain, and develop the best team in the history of our industry and increase the diversity in our leadership at every level of our company. Strengthening the pipeline of diverse talent up to the executive level makes us a stronger, smarter, and better company.
CULTURE: We will maintain a company culture of respect and inclusion, where each individual can contribute and innovate to deliver the best customer experience.
BRAND: We seek to remain steadfast in advocating for all communities by doing our part to eradicate the homework gap for students and helping enable everyone to have access to connectivity. We also support educational and upskilling opportunities that will help make the 5G era, and the digital economy, more equitable.
Delivering on Our DE&I Promises
As part of our EIA plan, we made 54 DE&I Promises that span the investments we make in our employees, the products and services we offer, the suppliers we do business with, and the communities we advocate for. We're proud to have achieved 27 Promises so far and are on track with several actions and efforts to deliver on the remaining 27.
Some examples of the promises we've delivered on include:
Established an External Diversity & Inclusion Council and a California Council
Added diverse representation to T-Mobile's Board of Directors
Expanded access to wireless service through organizations serving underserved communities
Established partnerships with minority-owned banks
Increased procurement activities with diverse businesses
Establishing Key Partnerships
Our commitment to embed DE&I into every aspect of our company is ambitious, and we know that we can't do it alone, which is why we leverage partners inside and outside of T-Mobile to help us achieve our goals.
Our External Diversity & Inclusion Council is one of our most important allies and partners in our DE&I journey. Made up of leading thinkers and advocates in the space, the Council helps us identify ways to support our goals and provides important context and feedback as we implement our EIA plan.
Internally, we have an Inclusion Council comprised of leaders from across T-Mobile working to drive awareness, spark conversation, host community events, and encourage all employees to be exactly who or what they want to be. We also have a Leadership Task Force and an Internal Oversight Committee that provide strategic input and connect actions across the company that help drive our EIA plan.
Programs Driving Progress
Creating impactful programs for our employees and communities is central to our EIA plan.
Our award-winning Talking with Trailblazers speaker series fosters courageous conversations with employees on topics impacting society by elevating the voices of diverse leaders from both inside and outside our company.
In 2021, we hosted 11 conversations that included Black history and Black excellence with artist and activist Common, authenticity in the face of discrimination with former NFL Coach Katie Sowers, taking a stand on racism with actor and producer Daniel Dae Kim, prioritizing mental health with psychiatrist Dr. Jess Clemons, and elevating LGBTQ+ voices and experiences with Laverne Cox, to name a few. In total, more than 24,000 employees engaged with our Talking with Trailblazers series throughout the year.
We also launched an enterprise-wide training called the One Team, Together Learning Journey which takes employees through an expansive, multi-year experience to help them form more inclusive habits in the workplace. The training was developed with the NeuroLeadership Institute and infuses DE&I into how we work at T-Mobile.
It's designed to strengthen the habits and behaviors we need to empower each other, build connections and belonging, and inspire winning, together.
Last but not least, we launched our Magenta Scholars program in 2021 in partnership with the Thurgood Marshall College Fund (TMCF) to provide educational opportunities to students attending historically Black colleges and universities (HBCUs). This collaboration, which started with an investment of $500,000 for 18 scholarships, has grown to $3 million in support from T-Mobile, spanning both scholarships and the new National Black Talent Bank program. TMCF's Magenta Scholars have an impressive 85% graduation rate— more than double the national graduation rate for Black students overall. Scholarship recipients will also have an opportunity to join the Un-carrier's signature summer internship program and receive mentorship and professional development opportunities.
Read more in T-Mobile's 2021 Corporate Responsibility Report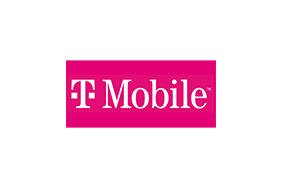 T-Mobile
T-Mobile
T-Mobile US Inc. (NASDAQ: TMUS) is America's supercharged Un-carrier, delivering an advanced 4G LTE and transformative nationwide 5G network that will offer reliable connectivity for all. T-Mobile's customers benefit from its unmatched combination of value and quality, unwavering obsession with offering them the best possible service experience and undisputable drive for disruption that creates competition and innovation in wireless and beyond. Based in Bellevue, Wash., T-Mobile provides services through its subsidiaries and operates its flagship brands, T-Mobile, Metro by T-Mobile and Sprint. For more information please visit: https://www.t-mobile.com/news.
More from T-Mobile