Published 09-30-22
Submitted by Enbridge Inc.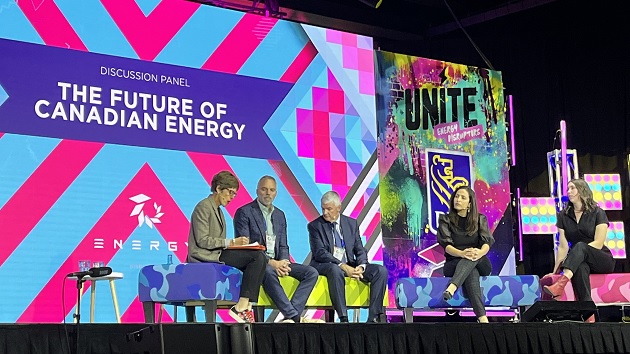 When it comes to energy and to the energy transition, Canada has yet to embrace its vast potential to lead.
This observation was offered up by panelists on Tuesday evening at the Energy Disruptors Summit in Calgary, during a mainstage discussion entitled The Future of Canadian Energy. The panel of four included Colin Gruending, Enbridge's Executive Vice President and President, Liquids Pipelines.
"Canada has everything it needs to meet the world's energy needs," said Gruending. "We have more energy than we need, we produce it cleaner than everyone else, and others want it, so let's go!"
Simply put, Canada's bounty of natural gas—which is among the world's cleanest—could be turned into liquified natural gas for export, which would go a long way towards displacing dirtier fuels such as coal, particularly in the generation of electricity.
Greunding noted that Canada's struggle to get its clean energy to market goes even further than lost opportunity. The country—with its many advantages—has a "duty" to the world in the battle against climate change, he said.
Fellow panelist Mike Rose, President and CEO of Tourmaline, a Calgary-based producer, also encouraged Canadians to embrace the country's advantages as an energy provider.
"We've got amongst the lowest-emissions, largest natural gas supplies and conventional oil in the world," Rose said. "If we can't get our lowest-emission natural gas to the world, higher-emission sources will replace us—there is no doubt about that."
Panelist Nagwan Al-Guneid, director at the Business Renewables Centre-Canada, a Calgary-based non-profit working to grow Canada's renewables industry, identified Canada's patchwork federal and provincial environmental policy, especially around emissions targets, as sending the wrong message to investors. The inconsistency and antagonism between jurisdictions inside Canada are hindering considerable wind and solar potential in Alberta and other provinces, she said.
"Canada needs certainty. When a province like Alberta is not showing up as a partner in the national commitment to decarbonize, and there's fighting against the feds . . . against the environmental community, it's a narrative that's not helpful. It's creating big investment risk," Al-Guneid said.
This marks the third Energy Disruptors conference and the first in-person event since 2019. The conference continues through Thursday, Sept. 22.
Michelle George, Enbridge's Vice President of New Energy Technologies, was part of a panel discussion Wednesday entitled Hydrogen, The Decarbonization Hero, while Vern Yu, Enbridge's Executive Vice President and Chief Financial Officer, joined a Wednesday panel entitled Smashing the Energy Echo Chamber.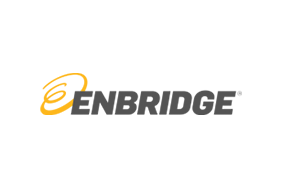 Enbridge Inc.
Enbridge Inc.
About Enbridge
At Enbridge, our name spells out our mission: a bridge to a sustainable energy future. That bridge safely connects millions of people around the world to the energy they rely on every day, fueling quality of life. Whether it's natural gas, oil or renewable power, the energy we deliver through networks spanning North America and our growing European offshore wind portfolio helps to heat homes, feed families, fuel vehicles and power industry. We're investing in modern energy infrastructure to sustain access to secure, affordable energy. We're also building on two decades of experience in renewable energy to advance new low-carbon energy technologies including hydrogen, renewable natural gas and carbon capture and storage. We're committed to reducing the carbon footprint of the energy we deliver, and to achieving net zero greenhouse gas emissions by 2050.
Headquartered in Calgary, Alberta, Enbridge's common shares trade under the symbol ENB on the Toronto (TSX) and New York (NYSE) stock exchanges. To learn more, visit us at Enbridge.com
More from Enbridge Inc.