Published 09-26-22
Submitted by DICK'S Sporting Goods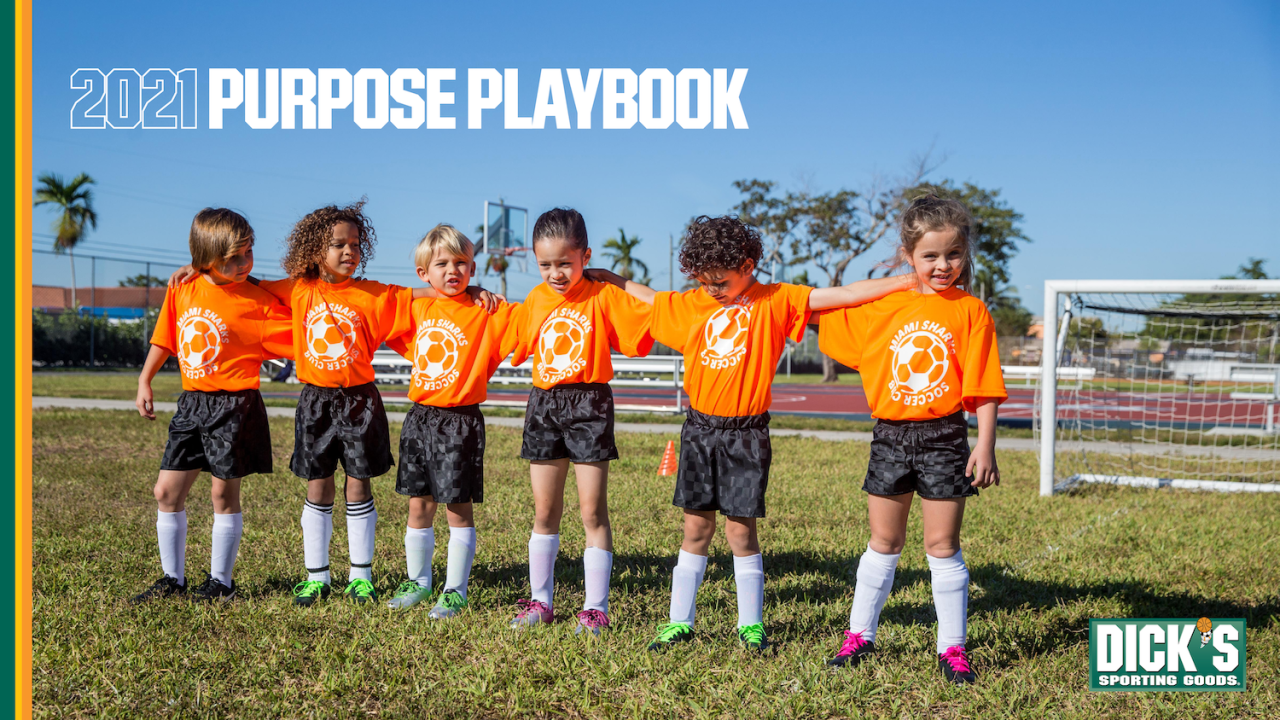 Originally published on DICK'S Sporting Goods Sideline Report
Great teams are driven by core values that inspire individual responsibilities and collective goals. That's the philosophy guiding our Environmental, Social and Governance (ESG) strategy, and we're proud to say that our teammates and our values have led us to new goals, continued progress and a shared vision of a better future.
Today, we are pleased to announce the publication of our Purpose Playbook, our annual sustainability report, which highlights the incredible work done by our 50,000 teammates in 2021 across our four major pillars and introduces two new goals.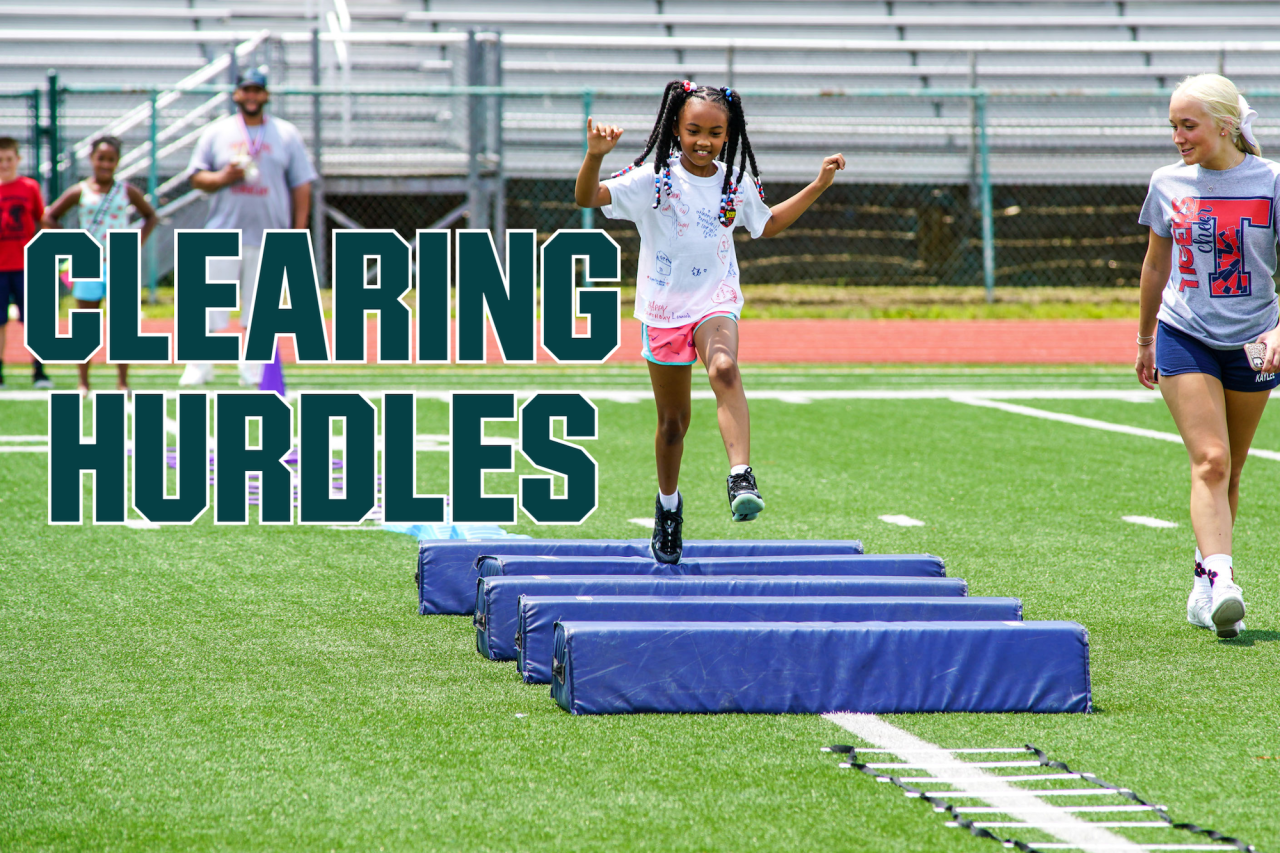 What do we do when we achieve a goal well ahead of schedule? Go even bigger! We've committed to giving another 1 million kids the chance to play by 2025, doubling our initial goal of supporting 1 million under-resourced youth athletes by 2024, which we achieved two years ahead of schedule. To do so, we're starting in our own backyard through our continued support of UNITED at Twin Rivers school and the McKeesport Area School District in the Pittsburgh area. That's in addition to criss-crossing the country on Sports Matter Giving Truck Tours, partnering with numerous organizations that build up communities and support athletes, and so much more. Since 2014, we've committed more than $150 million to youth athletes through our Sports Matter initiative.

We've also committed to our first-ever supplier diversity goal. We plan to achieve this goal ($300MM in annual spend by 2025) by partnering with diverse-owned businesses owned by minorities, women, veterans, individuals with disabilities and members of the LGBTQ+ community. It's an important move to ensure that our products and services best reflect our athletes and communities that we serve.
​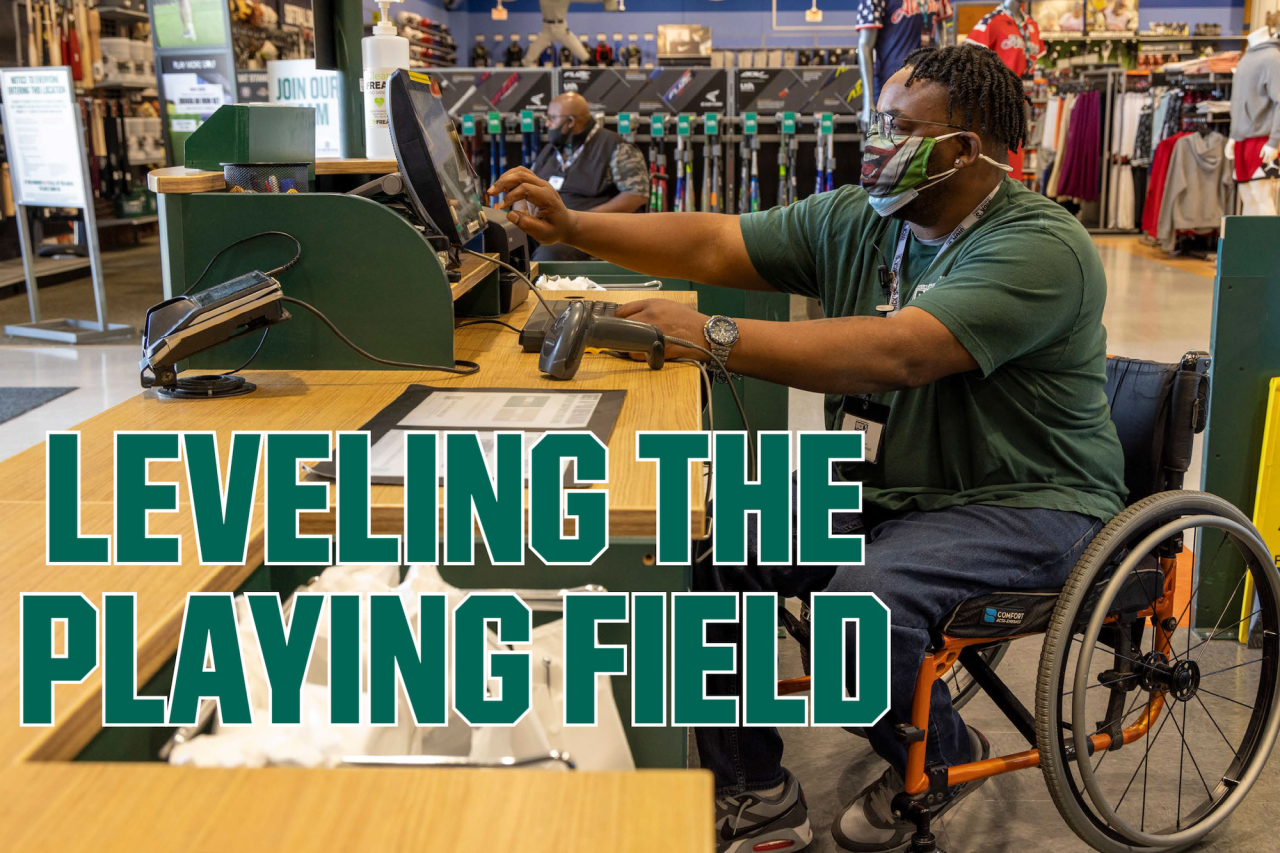 Our work in creating an inclusive and diverse workplace continues to thrive. New players are added to our roster every day. As an example, we see an opportunity to grow our technology team by creating career pathways and entry-level opportunities for under-represented groups. We're committed to ensuring a sense of belonging for all teammates while working to fill 30% of leadership roles throughout the company to include under-represented groups by 2025.
​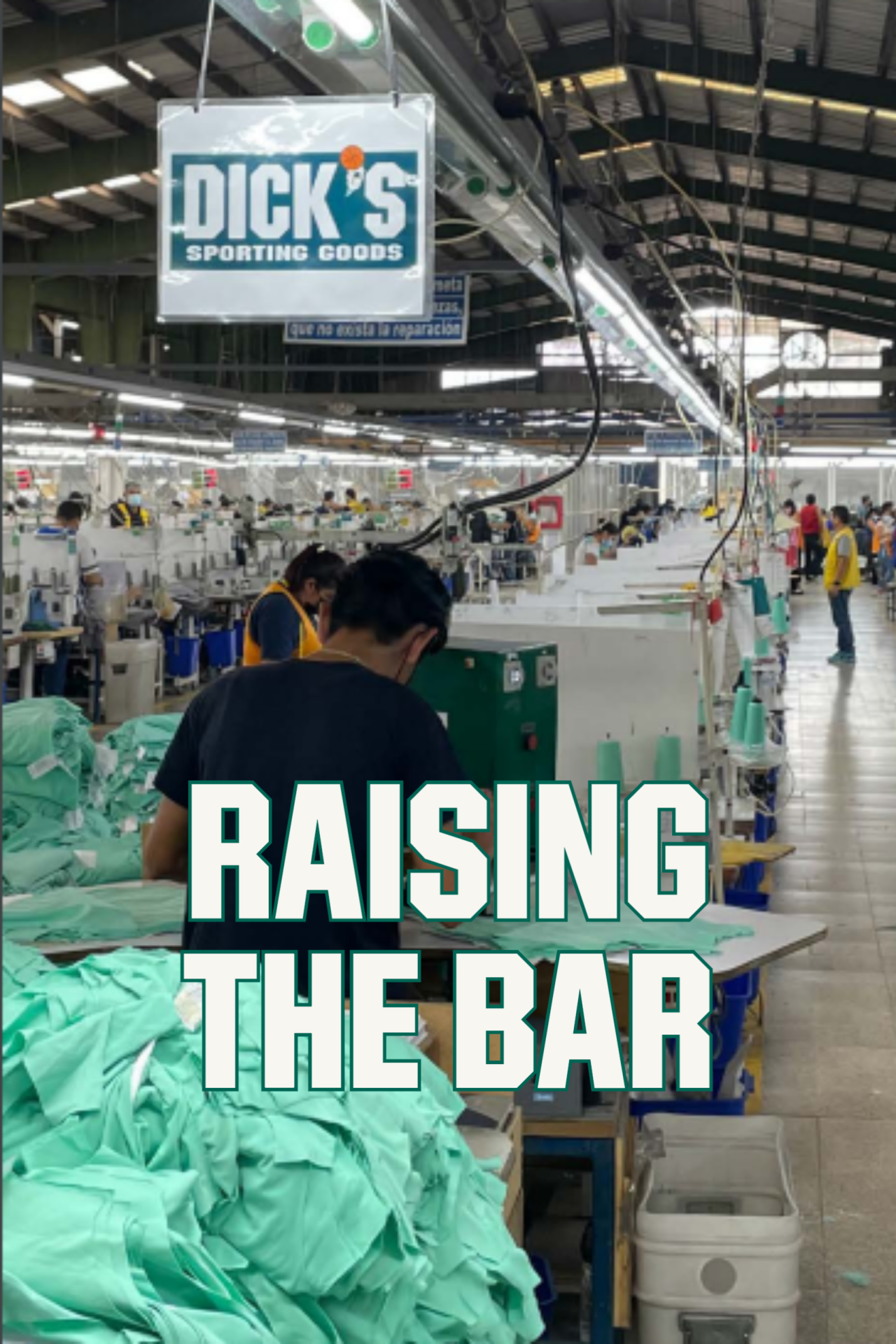 In 2021, we launched a social compliance campaign to protect the health, safety and rights of our teammates. As our vertical brands continue to grow, we're also committed to 100% participation in the Higg FEM for these brands by 2025. Little things can also make big differences, such as rethinking the products and processes of our product tags.
​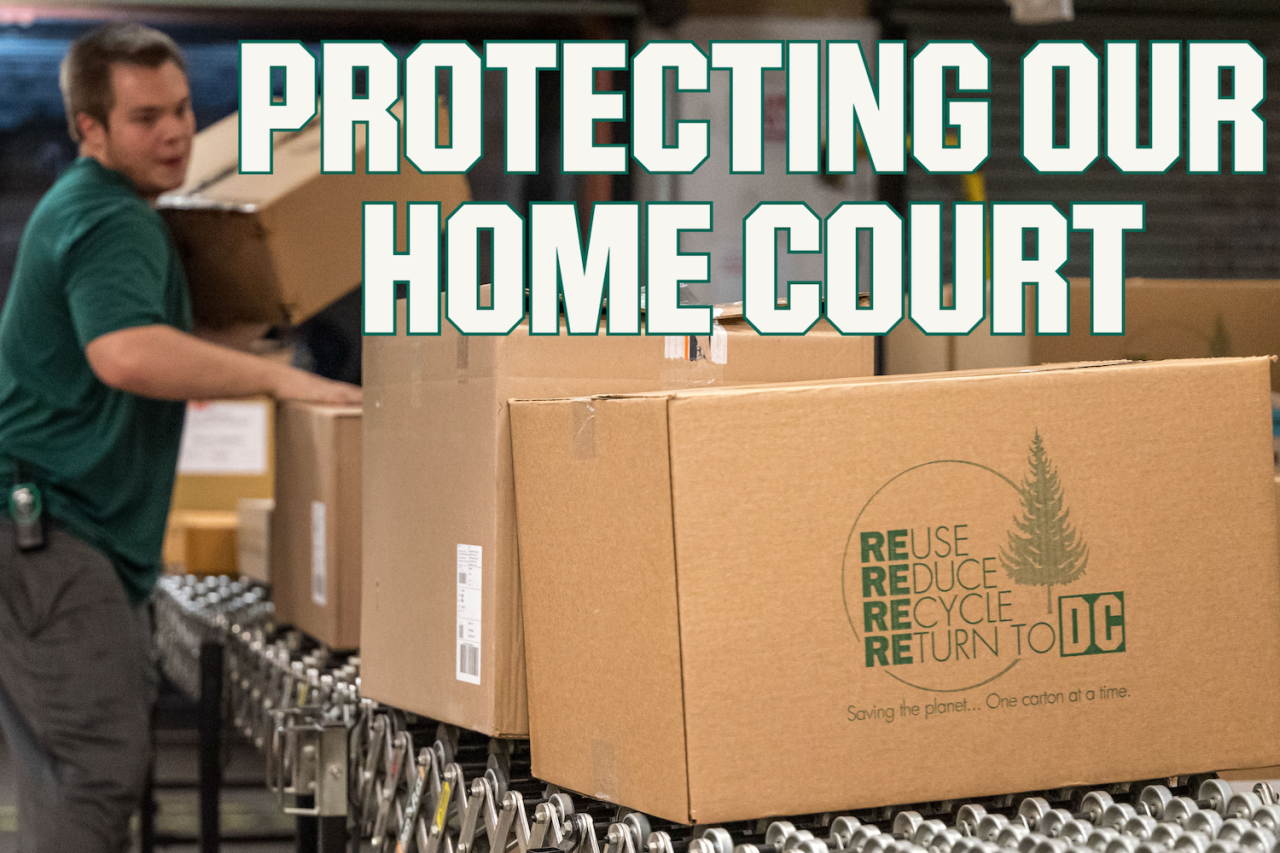 Less is more. We reduced our kWh consumption by 29% – even as our physical footprint expanded by 7% – by retrofitting our stores with LED lights. We recycled more than 44,000 tons of cardboard, paper, plastic and metal from our stores in 2021 – good for a diversion rate of 70%. Our partnership with Sideline Swap allowed athletes to trade-in old gear and keep it out of landfills. Plus, we're still committed to removing single-use plastic bags from stores by 2025 (stores that opened in 2021 are paper-only), and we're on track to reduce greenhouse gas emissions 30% by 2030.
There's so much more in our Purpose Playbook. Be sure to check it out for an in-depth look at how we serve our athletes, support our teammates and protect our planet.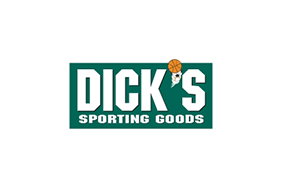 DICK'S Sporting Goods
DICK'S Sporting Goods
Founded in 1948, DICK'S Sporting Goods is a leading omni-channel sporting goods retailer offering an extensive assortment of authentic, high-quality sports equipment, apparel, footwear and accessories. As of October 30, 2021, the Company operated 734 DICK'S Sporting Goods locations across the United States, serving and inspiring athletes and outdoor enthusiasts to achieve their personal best through a combination of its dedicated teammates, in-store services and unique specialty shop-in-shops dedicated to Team Sports, Athletic Apparel, Golf, Outdoor, Fitness and Footwear.
Headquartered in Pittsburgh, DICK'S also owns and operates Golf Galaxy, Field & Stream and Public Lands specialty stores, as well as GameChanger, a youth sports mobile app for scheduling, communications, live scorekeeping and video streaming. DICK'S offers its products through a dynamic eCommerce platform that is integrated with its store network and provides athletes with the convenience and expertise of a 24-hour storefront.
For more information, visit the Investor Relations page at dicks.com.
More from DICK'S Sporting Goods