Published 09-26-22
Submitted by Yum China
As the largest restaurant company in China, Yum China provides over 450,000 jobs across the country and actively invests in each and every one of its employees along their journey with the Company. Providing targeted development opportunities for employees to realize their career aspiration has been key to ensuring long-term organizational sustainability. Notably, nearly 100% of the operations positions are filled by promotion from within. Only last year, Yum China invested a total of RMB 456,000,000 in a variety of initiatives designed to unlock career and personal development opportunities for employees at every level.
One of the most crucial systems put in place by Yum China in order to manifest the full potential of their employees is the Innovative and Comprehensive Training System. This set of advanced training regimes is structured in such a way as to better facilitate promotion from within the Company itself by offering in-depth and comprehensive training for a myriad of management positions, such as Market General Manager and Brand Operations Manager. The boon brought forth by this industry-leading training system is that Yum China can strive to achieve 100% of promoted positions from within the Company itself, truly establishing a path towards greater upper mobility for countless people.
Building off of the Innovative and Comprehensive Training System, Yum China offers programs that can enhance the growth of those employees who wish to ascend the managerial ladder, such as the "KFC Business School and Pizza Hut Management Institute." These two signature programs afford employees who have just graduated college the opportunity to advance from a restaurant management trainee to a restaurant general manager (RGM) in as short as 18 months, with participants acquiring the operational, financial, and managerial skills required for operating a restaurant. Furthermore, Yum China has sought to assist employees in continuing their university studies as well, offering sponsorships and scholarships through the YUMC College program.
In December 2021, KFC officially launched the YUMC Angel College Program in Guangzhou and Shenzhen. This program ensures that employees with disabilities are able to receive continuing education and improve their vocational skills through the Open University of China. This clearly demonstrates the commitment Yum China has towards their employees and their specifically tailored needs as the Company actively pushes to provide them with a variety of opportunities for whichever path they wish to take.
Led by a 'People First' core value, Yum China is committed to enabling a fair and transparent career development path and access to learning and coaching opportunities for employees at each stage of their career.
To learn more about Yum China's people strategy and progress towards its sustainability goals, read the 2021 Sustainability report here.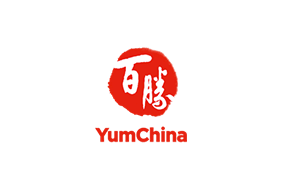 Yum China
Yum China
About Yum China Holdings, Inc.
Yum China Holdings, Inc. is a licensee of Yum! Brands in mainland China. It has exclusive rights in mainland China to KFC, China's leading quick-service restaurant brand, Pizza Hut, the leading casual dining restaurant brand in China, and Taco Bell, a California-based restaurant chain serving innovative Mexican-inspired food. Yum China also owns the Little Sheep, Huang Ji Huang, East Dawning and COFFii & JOY concepts outright. In addition, Yum China has partnered with Lavazza to explore and develop the Lavazza coffee shop concept in China. The Company had over 12,000 restaurants in over 1,700 cities at the end of February 2022.
In 2021, Yum China ranked # 363 on the Fortune 500 list and was named to TIME100 Most Influential Companies list. Yum China has also been selected as member of both Dow Jones Sustainability Indices (DJSI): World Index and Emerging Market Index. In 2022, the Company was named to the Bloomberg Gender-Equality Index and was certified as a Top Employer 2022 in China by the Top Employers Institute, both for the fourth consecutive year. For more information, please visit http://ir.yumchina.com.
More from Yum China