Published 09-22-22
Submitted by Schneider Electric
Summary
Altivar variable speed drives named The Most Climate-positive Carbon Handprint Product

AirSeT medium-voltage switchgear (MV) awarded an honorary certificate for High Potential Carbon Handprint Innovation
RUEIL-MALMAISON, France, September 22, 2022 /CSRwire/ - Schneider Electric, the global leader in the digital transformation of energy management and industrial automation, has been doubly recognized by the Vancouver Economic Commission and Climate Leadership Coalition during the inaugural International Global Handprint Awards at Climate Week NYC 2022. Schneider Electric took first place in the Most Climate-positive Carbon Handprint Product category and secured an honorary certificate in the High Potential Carbon Handprint Innovation category.
The top honors for Most Climate-positive Carbon Handprint Product were awarded in recognition of the verifiable carbon footprint reductions enabled by the company's Altivar variable speed drives (VSDs). Altivar VSDs reduce the energy consumption of motor applications and increase energy efficiency by ensuring motors operate at optimal speed for every load condition, helping to generate up to a 30% reduction in energy consumption of industrial processes. Based on a transparent and rigorous methodology, the drives sold between 2018 and 2021 are estimated to deliver emissions savings for customers equivalent to over 140 million tons of CO2 during the equipment lifecycle.
The honorary certificate for High Potential Carbon Handprint Innovation recognized Schneider's SF6-free AirSeT medium voltage technology. The AirSeT MV switchgear is completely free of SF6, a potent greenhouse gas. The average RM AirSeT switchgear installation removes the need for up to 3 kg of SF6 gas, the equivalent of over 75,000 kg of CO2.
"Electricity consumption of industrial plants can represent as much as half of their carbon footprint, with motors consuming the majority of that energy", says Gwenaelle Avice-Huet, Chief Strategy and Sustainability Officer at Schneider Electric. "Meanwhile, the use of sulfur hexafluoride (SF6) is one of the biggest environmental issues associated with electric grids. Our innovative Altivar VSDs and RM AirSeT solutions help solve these respective dilemmas, enabling our customers to avoid emissions equivalent to hundreds of millions of metric tons of carbon dioxide"
The International Carbon Handprint Award is a collaboration between the Vancouver Economic Commission and Climate Leadership Coalition. Unlike carbon footprint—which measures the negative environmental impact of greenhouse gas emissions—carbon handprint refers to the positive climate impact a product creates through GHG reduction.
First announced in March of this year at the GLOBE Forum in Vancouver, the awards are being presented as part of Climate Week NYC 2022, the largest global climate event of its kind. Receiving the award is Chief Strategy and Sustainability Officer Gwenaelle Avice-Huet, who is attending Climate week with other leading voices from the business, government and climate communities to encourage climate action on the demand-side of the energy transition.
These joint honors — following the recent AirSeT recognition at the Greek Energy Mastering Awards — further underscore Schneider Electric's company-wide commitment to sustainability and its efforts to deliver green and digital next generation technologies.
About Schneider Electric
Schneider's purpose is to empower all to make the most of our energy and resources, bridging progress and sustainability for all. We call this Life Is On.
Our mission is to be your digital partner for Sustainability and Efficiency.
We drive digital transformation by integrating world-leading process and energy technologies, end-point to cloud connecting products, controls, software and services, across the entire lifecycle, enabling integrated company management, for homes, buildings, data centers, infrastructure and industries.
We are the most local of global companies. We are advocates of open standards and partnership ecosystems that are passionate about our shared Meaningful Purpose, Inclusive and Empowered values.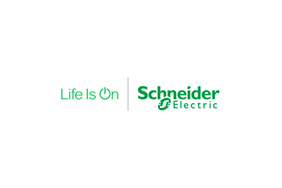 Schneider Electric
Schneider Electric
Schneider Electric is a European multinational company providing energy and automation digital solutions for efficiency and sustainability.
More from Schneider Electric