Published 09-20-22
Submitted by Yum! Brands
Yum! Brands is committed to growing sustainably by addressing climate change, making progress on renewable energy and emissions reduction in our restaurants and investing in circularity.
Over the past several years, we have further prioritized our work on climate. In 2021, we set our first science-based targets (SBTs) and pledged our ambition to achieve net-zero emissions by 2050. We will reduce Scope 1 and 2 GHG emissions at our corporate restaurants and offices 46% below 2019 levels and will work across our value chain to reduce Scope 3 emissions 46% below 2019 levels by 2030 on an intensity basis.
To arrive at this target, we conducted an in-depth assessment of each area of our GHG impact, as well as options for abatement. This includes impact areas both within our business, such as the efficiency of offices and restaurants, and within our supply chain, such as the agricultural and land use practices employed when raising animals. Within our Scope 1 and 2 emissions, 89% are attributable to our company-owned restaurants, and 11% are associated with our offices. Through this exercise, we also learned that 76% of our supply chain emissions from purchased food come from poultry, beef and dairy. We are working closely with brands, franchisees, suppliers and producers to cut emissions from franchisee restaurants on a per-restaurant basis and on a per-metric ton basis for poultry, beef, dairy and packaging.
Highlights from our 2021 Recipe for Good Report
Following a multiyear process of data collection and analyzing impacts across our value chain, we announced our first SBTs in 2021.
Yum! initiated a global study on renewable energy markets in 2022 to identify and invest in low carbon solutions at restaurants across the globe.
To educate and engage with suppliers on the subject of GHG, we joined Supplier LoCT, a training program, where our focus is on beef, poultry and dairy emission reductions in support of our science-based targets.
A variety of partnerships and programs with suppliers, NGOs, governments and industry are underway to address deforestation and related risks.
A harmonized packaging policy has been created for all brands, with a focus on eliminating unnecessary packaging, shifting materials, supporting better recovery and recycling systems, and investing in circularity.
Less than 1% of reported plastic packaging is EPS as we move toward achieving our target to remove 100% of EPS by the end of 2022.
Learn more about how we're driving change to build a better future here
Read our latest Global Citizenship & Sustainability Report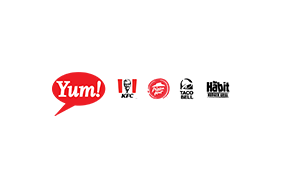 Yum! Brands
Yum! Brands
Yum! Brands, Inc., based in Louisville, Kentucky, has over 54,000 restaurants in more than 155 countries and territories, operating the Company's brands – KFC, Pizza Hut and Taco Bell – global leaders of the chicken, pizza and Mexican-style food categories. The Company's family of brands also includes The Habit Burger Grill, a fast-casual restaurant concept specializing in made-to-order chargrilled burgers, sandwiches and more. Yum! Brands was named to the 2021 Dow Jones Sustainability Index North America and was ranked on Newsweek's list of 2021 America's Most Responsible Companies. In 2022, Yum! Brands was named to 3BL Media's 100 Best Corporate Citizens.
More from Yum! Brands