Published 09-16-22
Submitted by Whirlpool Corporation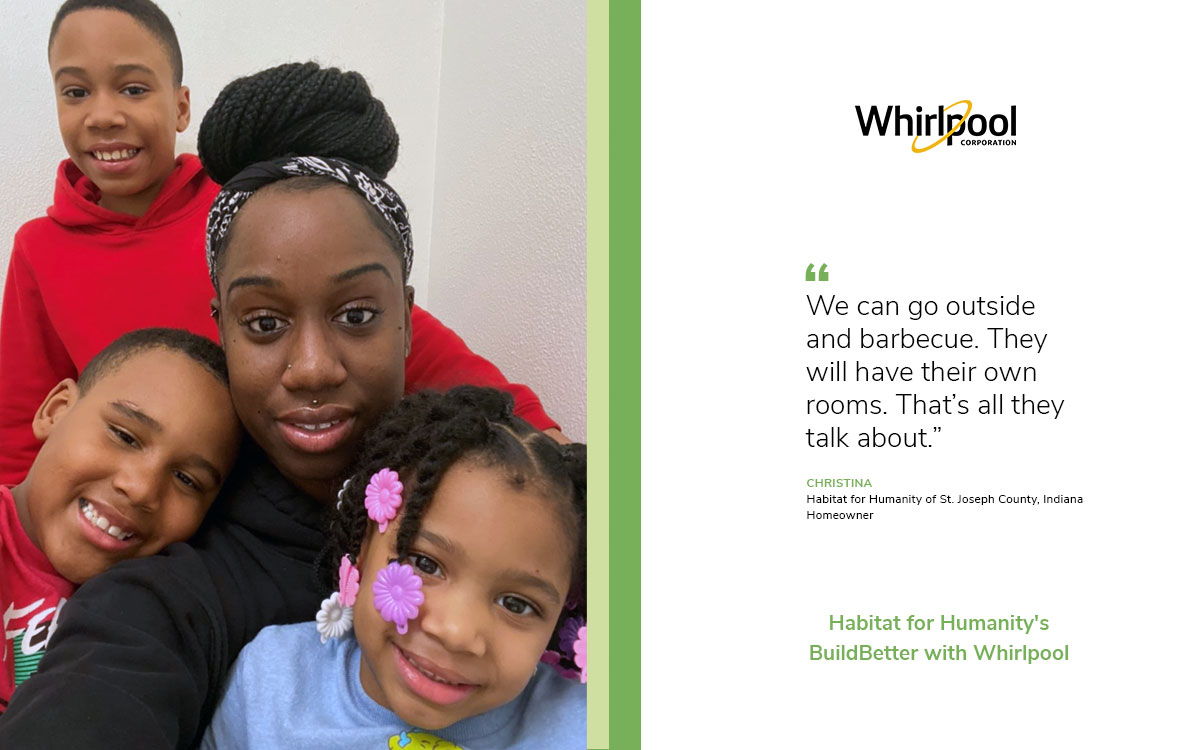 Christina thought about being a homeowner for eight years — as long as she has been renting — but the idea of being her own landlord was too daunting. "I wanted to stop being scared and just do it, but I'd heard good and bad things about owning a home," she says. "I'm a single mom of three, and I thought it would be a lot to handle."
However, the frustration of living in the two-bedroom apartment that she currently rents with her children: Robert, 10; Elijah, 7; and Ilionna, 3 continued to grow. Her neighbors play loud music and the apartment managers either refuse to fix things, or take a long time for repairs and maintenance. Her children often want to go outside and play in the grass or sit on the porch safely "without someone being in their space," she said. "They don't like it."
One day while at her job, Christina was intrigued by a flyer she saw about Habitat for Humanity of St. Joseph County, Indiana's homeownership program. A co-worker who was already in the program strongly encouraged her to apply. She did, and Christina was approved.
The family is close to moving in to their new home. Their house is being built as part of Habitat for Humanity's BuildBetter with Whirlpool, an expansion of Habitat's existing BuildBetter initiative that will build more than 250 climate-resilient and energy-efficient homes over the next three years in partnership with hundreds of families in need of affordable housing.
Christina's new three-bedroom home has a 95 percent-efficient furnace, a high-efficiency gas water heater, resilient flooring throughout, all LED lighting, low-flow WaterSense Bath faucets and toilets, and energy-efficient windows. The family also received an energy-efficient refrigerator and range, which are donated by Whirlpool Corp. to every Habitat-built home in North America.
Having her own home means two things to Christina: independence and an opportunity for her kids to enjoy their lives. "Independence means I will be able to do whatever I want," she says. "Now I can raise my kids in something that's ours. We can go outside and barbecue. They will have their own rooms. That's all they talk about."
Now that she has overcome her fears and owns her own home, her next goal is to learn how to maintain her home. "I want to learn more about taking care of my house," she says. "I want to be able to fix minor things in my home and not have to call someone to fix it."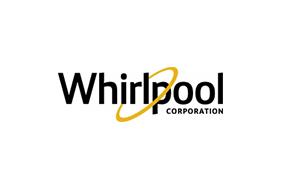 Whirlpool Corporation
Whirlpool Corporation
About Whirlpool Corporation: 
Whirlpool Corporation (NYSE: WHR) is committed to being the best global kitchen and laundry company, in constant pursuit of improving life at home. In an increasingly digital world, the company is driving purposeful innovation to meet the evolving needs of consumers through its iconic brand portfolio, including Whirlpool, KitchenAid, Maytag, Consul, Brastemp, Amana, Bauknecht, JennAir, Indesit and Yummly. In 2021, the company reported approximately $22 billion in annual sales, 69,000 employees and 54 manufacturing and technology research centers. Additional information about the company can be found at WhirlpoolCorp.com.
More from Whirlpool Corporation