Published 09-13-22
Submitted by Nasdaq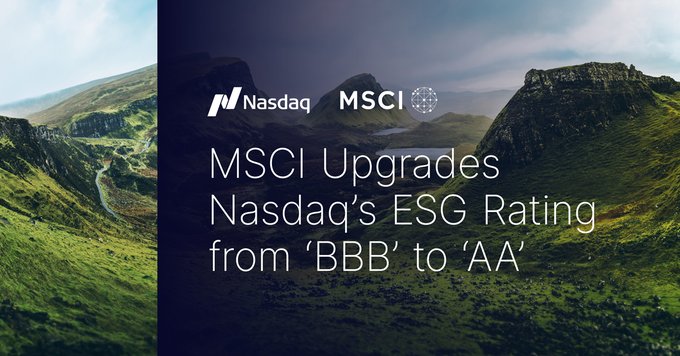 Nasdaq, Inc. received a significant upgrade in its latest ESG Ratings score published in the 2022 MSCI ESG Ratings, jumping from BBB to AA. This places the company the annual ratings' "Leaders" category alongside peer organizations that show strong management of their most significant ESG risks and opportunities.
MSCI, a provider of critical decision support tools and services for the global investment community, uses a "AAA" to "CCC" ratings scale to measure over 8,500 companies according to their exposure to industry-specific and financially material ESG risks, and their ability to manage those risks relative to peers. MSCI's ESG ratings reports help institutional investors identify companies' ESG risks and opportunities.
"Moving the needle with MSCI is one of corporate ESG's toughest challenges," said Nina Eisenman, Vice President and Head of Corporate ESG Strategy at Nasdaq. "Jumping two tiers, from BBB to AA, is a significant accomplishment and testament to the care and dedication of many people across Nasdaq. The AA rating recognizes both the quality of Nasdaq's ESG disclosures and, importantly, the company's industry leading ESG initiatives."
In 2017, Nasdaq launched an evaluation of its environmental, social and governance policies, programs, and disclosures. In the years since, the company has made marked improvement on a range of ESG-related reporting areas.
To achieve its recent, two-tier ratings jump in under two years, Nasdaq's investor relations and corporate ESG strategy and reporting teams conducted a gap analysis of the company's MSCI score to identify areas for improvement. The ESG team then partnered with subject matter experts from around the company to strategically expand ESG initiatives and enhance ESG disclosures in its 2021 Sustainability Report and other documents. In addition, the Nasdaq team worked to maximize the MSCI team's understanding of both existing and updated Nasdaq practices and fundamentals through increased engagement.
"During our gap analysis, we noticed that while our whistleblower program employed best in class protections for employees, we had an opportunity to describe it in more detail to ensure the MSCI analysts understood it better," added Eisenman. "We expanded our descriptions in our Code of Ethics and other public documents, and those enhanced disclosures led to "best practice" status for Business Ethics Policies & Practices."
According to MSCI's latest ESG ratings report, Nasdaq now falls "into the highest scoring range relative to global peers, reflecting governance practices that appear to be generally well aligned with investor interests." MSCI also highlighted the company's best-in-class policies on business ethics and corruption relative to peers – placing Nasdaq in the 99th Global and Home Market Percentile Rank.
Human Capital Management and Employee Satisfaction are two of Nasdaq's most material areas. The company relies on a skilled workforce to integrate technologies to automate communication and business-critical processes. The MSCI ESG Ratings report noted that the Company's formal talent pipeline development strategy is best-in-class, as is the "sector-leading" scope of Nasdaq's employee stock purchasing plan (ESPP).
For more information on Nasdaq's commitment to sustainability, visit here.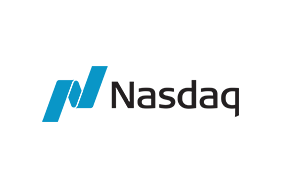 Nasdaq
Nasdaq
Nasdaq (Nasdaq: NDAQ) is a global technology company serving the capital markets and other industries. Our diverse offering of data, analytics, software and services enables clients to optimize and execute their business vision with confidence. To learn more about the company, technology solutions and career opportunities, visit us on LinkedIn, on Twitter @Nasdaq, or at www.nasdaq.com.
More from Nasdaq