Published 09-12-22
Submitted by Yum China
The use of disposable packaging represents one of the biggest challenges faced by the restaurant industry. Guided by the 4R Principles for proper plastic use—which refer to reducing, reusing, recycling, and recovering waste—Yum China released its official packaging strategy in 2021. Through several initiatives, such as design optimization, material replacement, and innovative solutions for multiple-use packaging, Yum China have optimized a total of 91 packaging items. These breakthroughs effectively minimize environmental impacts and empower its customers to pursue a sustainable lifestyle.
Today, 100% of Yum China's customer-facing plastic-based packaging is recyclable, in line with the company's sustainable packaging commitments. By 2025, Yum China aims to reach 100% FSC-certified paper packaging, and a 30% reduction in non-degradable plastic packaging weight, compared to the 2019 baseline. In 2021, Yum China reduced the use of paper and non-degradable plastic by applying new packaging solutions, new materials, and innovative technologies. Yum China replaced disposable non-degradable plastic packaging with more eco-friendly materials and designed recyclable packaging products, such as reusable serving baskets.
Managing and reducing plastic pollution has emerged as a global concern. Yum China has always been committed to reducing single-use plastic packaging through innovative design and actively applying eco-friendly materials to fulfill the company's commitment to sustainable packaging. As of the end of 2021, over 90% of KFC restaurants in mainland China have replaced disposable plastic cutlery with wooden cutlery. Moreover, all Yum China restaurants have eliminated plastic straw use and adopted paper straws. Furthermore, approximately 70% of KFC and Pizza Hut restaurants in mainland China have removed non-degradable plastic bags and adopted paper bags or fully biodegradable plastic bags. Thanks to Yum China's optimized designs, the company has reduced its footprint by approximately 1,200 tons of disposable plastics in 2021 alone.
In 2021, Yum China further optimized its paper packaging through design simplification and the utilization of lightweight materials. The company also launched eco-friendly packaging items, such as napkins and paper bags. Yum China continues to promote the Reusable Serving Basket Program across its brands to significantly reduce the use of paper packaging. In 2021, the program covered 7,300 stores nationwide. As the world transitions toward a circular economy, Yum China will continue enhancing its waste management strategy, reducing over-reliance on limited resources, and minimizing the environmental impact of its business operations.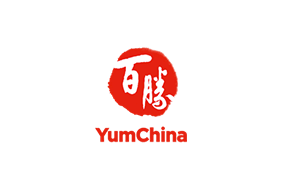 Yum China
Yum China
About Yum China Holdings, Inc.
Yum China Holdings, Inc. is a licensee of Yum! Brands in mainland China. It has exclusive rights in mainland China to KFC, China's leading quick-service restaurant brand, Pizza Hut, the leading casual dining restaurant brand in China, and Taco Bell, a California-based restaurant chain serving innovative Mexican-inspired food. Yum China also owns the Little Sheep, Huang Ji Huang, East Dawning and COFFii & JOY concepts outright. In addition, Yum China has partnered with Lavazza to explore and develop the Lavazza coffee shop concept in China. The Company had over 12,000 restaurants in over 1,700 cities at the end of February 2022.
In 2021, Yum China ranked # 363 on the Fortune 500 list and was named to TIME100 Most Influential Companies list. Yum China has also been selected as member of both Dow Jones Sustainability Indices (DJSI): World Index and Emerging Market Index. In 2022, the Company was named to the Bloomberg Gender-Equality Index and was certified as a Top Employer 2022 in China by the Top Employers Institute, both for the fourth consecutive year. For more information, please visit http://ir.yumchina.com.
More from Yum China