Published 09-02-22
Submitted by Tapestry, Inc.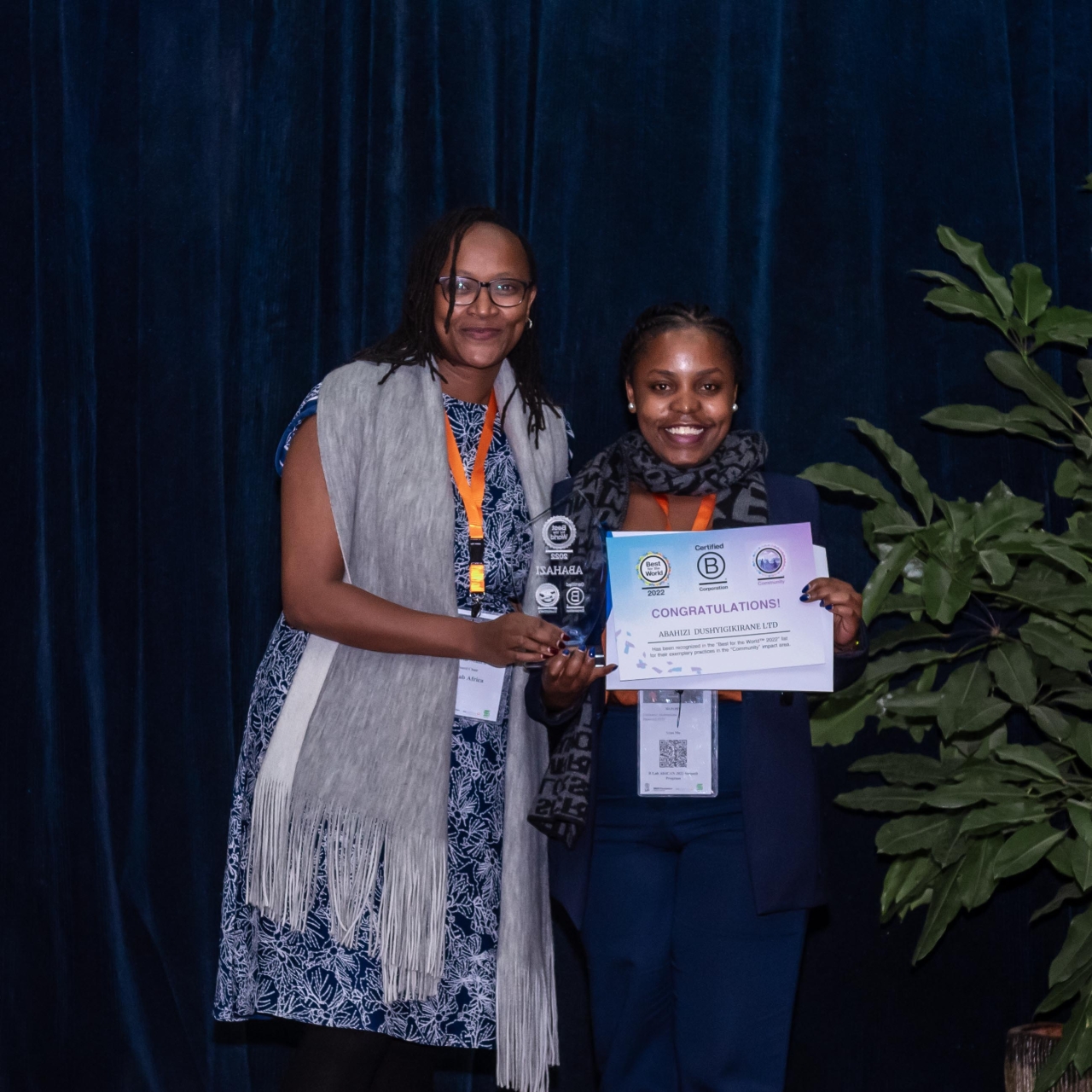 kate spade new york's social impact mission is to empower women and girls around the world by putting mental health at the heart of our social impact work. For over a decade kate spade new york has been funding women's empowerment work around the world. This journey began in 2014 through the brand's work in Rwanda with On Purpose, a program developed with a local handbag production facility, Abahizi Rwanda, to empower women who create kate spade new york handbags at the facility. Abahizi Rwanda is a b-corp certified, employee-owned, social enterprise handbag manufacturer in Masoro, Rwanda. kate spade new york invests in and sources from Abahizi, and in turn, Abahizi empowers the 250+ women who work there through full-time employment, mental health and wellbeing support, trainings and counseling, plus healthcare for each employee and her family.
We are proud to announce that out of over 4,000 Certified B Corps worldwide, Abahizi Rwanda has been named 2022 Best for the World™ B Corp™ in recognition of its exceptional positive impact on its Workers and Community areas. This is the second year Abahizi Rwanda has been nominated for Workers and the first year for Community.
For context, Best for the World recognizes the top-performing B Corps creating the greatest positive impact through their businesses. More than a badge of honor, Best for the World provides an opportunity for recognized companies to share knowledge, learnings, and best practices with the B Corp community and businesses outside of the community to encourage innovation and transformation across the business sector.
Abahizi Rwanda's Social Impact Manager, Alice Kubwinana (photograph attached), attended the Best for the World event in Nairobi, Kenya alongside other B-Corp members, impact investors, development finance institutions and others for thoughtful conversation and to accept the awards. She says,
"It was an honor to represent Abahizi Rwanda at the B Lab African 2022 Summit! We were awarded as the Best for the World in two impact areas: Workers and Community. This is the second time that we have been awarded in the Workers' impact area, but it was our first time to attend the award ceremony, and I can say that it was worth it! We received two awards! During the summit, I was able to meet other B Corp companies across Africa, and we were able to discuss how we can all work together toward achieving social development goals (SDGs) and becoming the driving force of a more sustainable Africa. I'm looking forward to building our Social Impact Program so that we can be there again next year!"
To learn more about kate spade new york's social impact, click here.
To learn more about Abahizi Rwanda, click here. To follow their Instagram, click here.

Tapestry, Inc.
Tapestry, Inc.
Tapestry, Inc. is a New York -based house of modern luxury lifestyle brands. The Company's portfolio includes Coach, Kate Spade and Stuart Weitzman . Our Company and our brands are founded upon a creative and consumer-led view of luxury that stands for inclusivity and approachability. Each of our brands are unique and independent, while sharing a commitment to innovation and authenticity defined by distinctive products and differentiated customer experiences across channels and geographies. To learn more about Tapestry, please visit www.tapestry.com. The Company's common stock is traded on the New York Stock Exchange under the symbol TPR.
More from Tapestry, Inc.