Published 09-06-22
Submitted by JEM
NOVATO, Calif., September 6, 2022 /CSRwire/ – JEM, publisher of Biznology, and Interplicity announced a partnership today to offer transformative leadership and professional development to individuals and organizations, including a new, breakthrough program to advance equity in the workplace using the latest diversity and inclusion research and methods. The goal of this partnership is to provide today's leaders the latest science-based knowledge, skills and tools needed to address team dysfunction and discontent and amplify performance, equity, satisfaction and wellbeing across the enterprise.
Through this new affiliate partnership, JEM will feature Interplicity's branded InnerProfessional catalog of online engagement programs via JEM'S digital magazine and learning platform Biznology. The InnerProfessional catalog offers state-of-the-art online education, coaching and team facilitation.
"This affiliate partnership with Interplicity will enhance the value of Biznology to our audience and further our mission to be a valuable resource for leaders who are dedicated to improving, changing and ultimately transforming their organizations for the future," said Jennifer McClure, founder, JEM and publisher of Biznology. "It also aligns with our mission to help organizations innovate, change and improve to successfully shape the future and ultimately make the world a better place."
"Biznology subscribers and JEM's network of business leaders will now have easier access to our InnerProfessional catalog,"said Curt Dowdy, CEO, Interplicity. "Leaders, teams and individuals will benefit from breakthrough facilitation methods that are highly engaging, massively scalable and inherently cost-effective for organizations aspiring to attract, inspire and retain the best talent."
To kick off this partnership, JEM and Interplicity are offering a special promotion on Interplicity's latest online team facilitation program, Disrupting Workplace Inequity. Teams will learn how and why, after decades of investment in diversity and inclusion, even the most well-respected organizations still suffer from systemic inequities. Participants will further strengthen and practice their knowledge, skills, and influence for circumventing hidden inequities, toward advancing equity as a key result of diversity and inclusion actions. The program combines online social participation, practice partners, direct interactive facilitation with the expert, and self-paced engagement in bite-sized, on-demand content and exercises. Over the three-week session, participants engage in just under two hours per week of programmed learning, practice and interactivity.
The three-week program will begin with a live, online kickoff/orientation event on October 20, and access to the course material opens on October 24th. Teams can register here with up to a 55% discount depending on team size.
About Interplicity
Interplicity, via its InnerProfessional brand, offers a catalog of transformative leadership and team development engagements designed to elevate individual and group focus, teamwork, equity, and long-term satisfying results. Experiences are built upon the latest discoveries in psychological, neural, and behavioral sciences. The massively scalable and cost-effective online facilitation methodologies include dynamic peer-group learning and practice, direct engagement with an instructor/coach, and compelling, short-topic on-demand resources and exercises. Participants testify that these online experiences and the results they produce are unparalleled by any they've experienced before. Interplicity.com
About Biznology
Biznology is JEM's digital magazine and online learning platform for 21st century leaders dedicated to improving, changing and ultimately transforming their organizations for the future. Biznology is focused on a range of topics that are top of mind for today's leaders and features insights and expertise of the 2GO Advisory Group. https://biznology.com/
About JEM
JEM publishes Biznology, a digital magazine and online learning platform for 21st century leaders. The world of work is changing. We make change work. https://www.JEM.LLC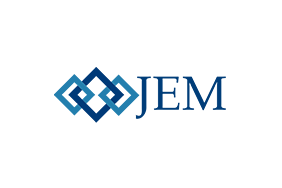 JEM
JEM
JEM is a global management consultancy, research and publishing group that connects executives, innovators, experts and thought leaders from around the globe through its consulting and advisory services division, Consultants Collective, and its digital magazine, Biznology. Recognized as a "Power Player" by Business Insider as a top disruptor in management consulting, JEM was certified as a Women-Owned Small Business (WOSB) in 2019.
More from JEM