Published 09-01-22
Submitted by Duke Energy

The city of Charlotte plans to electrify its vehicle fleet by 2030 – but how will it get there?
"We think of fleet electrification as a journey," said Greg Fields, managing director of Duke Energy's eTransEnergy subsidiary, which is helping the Charlotte transit system with a new battery-electric bus (BEB) pilot program. "You don't just say, 'We're electrifying' – it's a long journey with a lot of nuances. We started because, as a company, we knew that this was complex and that customers are going to need help."
Charlotte's Strategic Energy Action Plan calls for all fleets and facilities to be powered by zero-carbon sources by 2030. By that same time, Duke Energy aims to reduce carbon emissions by at least 50%. By 2050, the company plans to reach net-zero carbon emissions by generating at least half of its electricity from carbon-free sources.
To fully electrify the Charlotte Area Transit System (CATS) fleet, the transition will take time.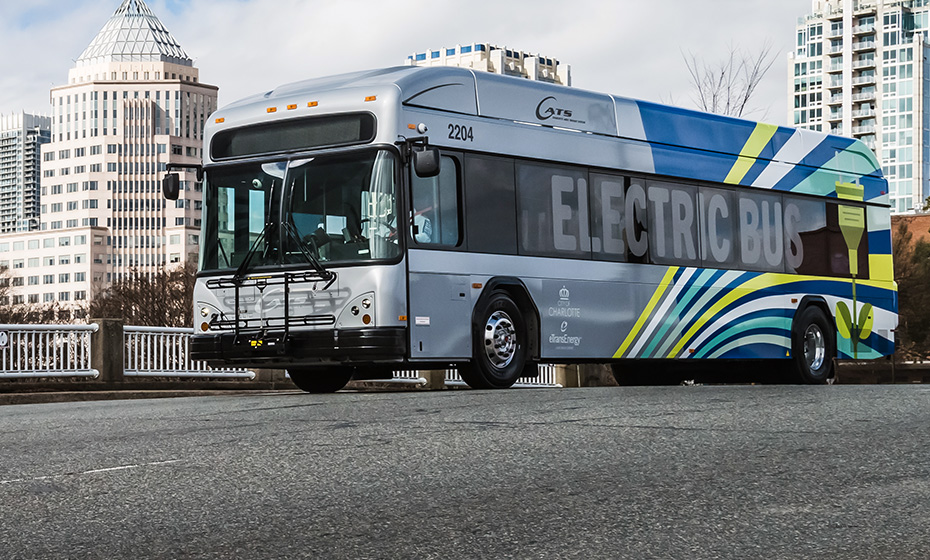 CATS operates more than 300 buses. Over the course of the pilot program with eTransEnergy, the transit authority will receive workforce development training and 18 BEB vehicles from two manufacturers – Gillig and New Flyer – plus charging infrastructure from ABB and Siemens.
For the first six BEBs, CATS was awarded a federal Low or No Emissions Grant. The other 12 buses are funded through CATS' Capital Investment Program.
Fields pointed to several challenges that come with electrifying fleets. "One is the upfront cost of the vehicle," he said. "Electric buses cost anywhere from two to two-and-a-half times the cost of a traditional internal-combustion engine bus."
They also face timing challenges, given how quickly an entity wants to scale. "Some companies may not have enough power on-site or publicly, so how will they fuel? We conduct an assessment to help them figure that out."
And operations, including range and ease of charging equipment, must be planned.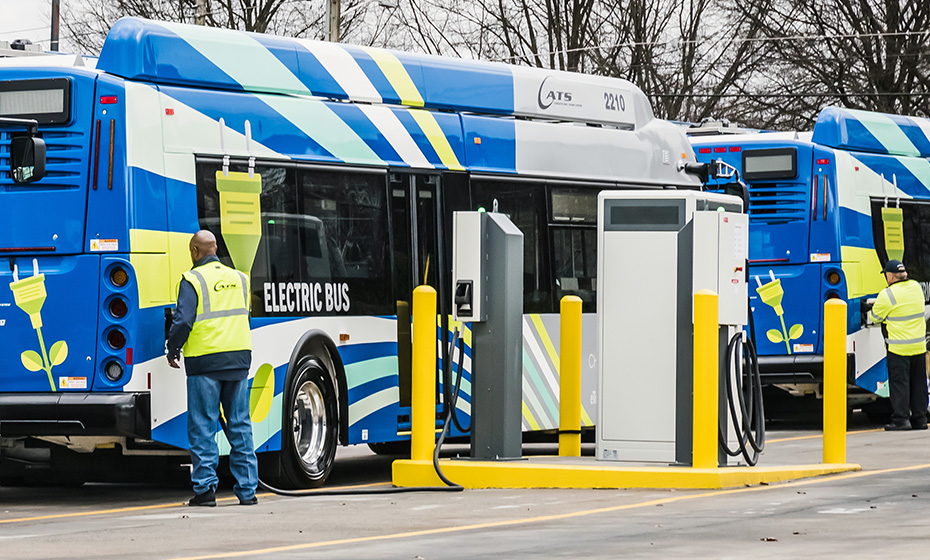 Launched in February 2021, eTransEnergy works with cities, transit agencies, school districts and public authorities, among others, to assist with all aspects of electrifying vehicle fleets, from financing and charging infrastructure to strategy, operations and maintenance.
In addition to CATS, eTransEnergy is working with clients to help deploy Infrastructure Investment and Jobs Act funds for their first electric school or transit bus. The company is a preferred provider to help General Motors fleet and BrightDrop customers transition to electric vehicles through the GM Ultium Charge 360 service.
"eTransEnergy has given us an upper hand on energy management," said Catherine Kummer, sustainability, resiliency and governmental affairs officer with CATS. "They've guided us on use of energy at peak and off-peak times and understanding what's the best time to charge the buses, down to what it's going to cost and how to forecast energy changes."
As for the CATS fleet, a few differences are noticeable. "On electric buses, they install noisemakers to have some white noise, because they're so quiet," Fields said. (Kummer noted that helps visually impaired riders know when the bus is near, too.)
"And you don't get the big puff of diesel exhaust when you walk behind them."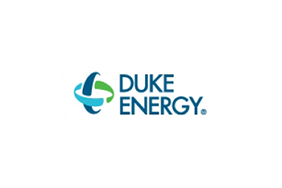 Duke Energy
Duke Energy
Duke Energy (NYSE: DUK), a Fortune 150 company headquartered in Charlotte, N.C., is one of America's largest energy holding companies. Its electric utilities serve 8.2 million customers in North Carolina, South Carolina, Florida, Indiana, Ohio and Kentucky, and collectively own 50,000 megawatts of energy capacity. Its natural gas unit serves 1.6 million customers in North Carolina, South Carolina, Tennessee, Ohio and Kentucky. The company employs 27,600 people.
Duke Energy is executing an ambitious clean energy transition to achieve its goals of net-zero methane emissions from its natural gas business by 2030 and net-zero carbon emissions from electricity generation by 2050. The company has interim carbon emission targets of at least 50% reduction from electric generation by 2030, 50% for Scope 2 and certain Scope 3 upstream and downstream emissions by 2035, and 80% from electric generation by 2040. In addition, the company is investing in major electric grid enhancements and energy storage, and exploring zero-emission power generation technologies such as hydrogen and advanced nuclear.
Duke Energy was named to Fortune's 2023 "World's Most Admired Companies" list and Forbes' "World's Best Employers" list. More information is available at duke-energy.com. The Duke Energy News Center contains news releases, fact sheets, photos and videos. Duke Energy's illumination features stories about people, innovations, community topics and environmental issues. Follow Duke Energy on Twitter, LinkedIn, Instagram and Facebook.
More from Duke Energy