Published 08-31-22
Submitted by Tapestry, Inc.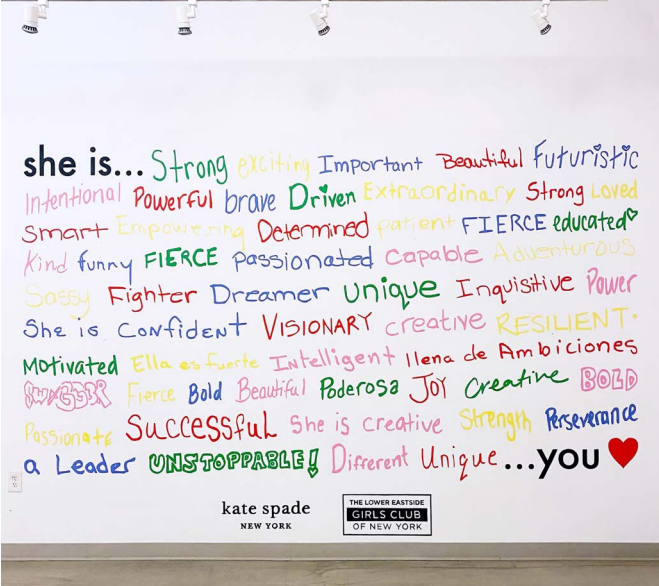 Originally published in Tapestry's 2021 Corporate Responsibility Report
As a brand for and by women, kate spade new york, along with its Foundation, has focused its social impact mission on empowering women and girls with a focus on mental health for over a decade. Together, the brand and Foundation supported more than 20 organizations reaching more than 12,000 women and girls in FY2021. kate spade new york has made a commitment to reach 100,000 women and girls by 2025 with access to empowerment and mental health resources, as well as to decrease mental health stigma and increase awareness. To reach this commitment, in FY2021, kate spade new york participated in the Born This Way Foundation's annual #bekind21 campaign which practices 21 days of kindness to foster mental wellness. 8,443 people participated from the brand's kindness team, offering a total of 178,000 acts of kindness.
On Purpose
Now in its eighth year, on purpose is the Kate Spade New York brand's social enterprise initiative that works to empower women and invest in their families and communities through its supply chain. kate spade new york partners with a women-owned, certified B Corp handbag manufacturer, Abahizi Rwanda, to create the on purpose collection. Based in Masoro, Rwanda, Abahizi Rwanda works to empower employees through full-time employment and life skills programming including counseling, health education, financial literacy and healthcare for themselves and their families. In FY2021, Abahizi Rwanda employed 230 women (90% of its workforce) and produced 20,000 handbags. The kate spade new york Foundation provides grants to women and girls' empowerment organizations such as The Grace Institute, Per Scholas and Rising Tide Capital to provide women with technical training and mental health and resiliency tools and resources.
Partnering with the Lower East Side Girls Club
In FY2021, the kate spade new york Foundation gave a grant to the Lower East Side Girls Club's Lower East Side Girls Club Center for Wellness and Happiness. This center provides wellness services to the local community and the families of the girls they serve. In March 2021, the kate spade new york brand celebrated International Women's Day by partnering to create a "She Is" mural featuring the girls' words. This mural was painted at the school, shared across our social media channels and also shared throughout New York City.

Tapestry, Inc.
Tapestry, Inc.
Tapestry, Inc. is a New York -based house of modern luxury lifestyle brands. The Company's portfolio includes Coach, Kate Spade and Stuart Weitzman . Our Company and our brands are founded upon a creative and consumer-led view of luxury that stands for inclusivity and approachability. Each of our brands are unique and independent, while sharing a commitment to innovation and authenticity defined by distinctive products and differentiated customer experiences across channels and geographies. To learn more about Tapestry, please visit www.tapestry.com. The Company's common stock is traded on the New York Stock Exchange under the symbol TPR.
More from Tapestry, Inc.