Published 08-09-22
Submitted by Enbridge Inc.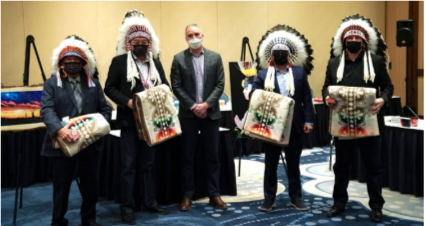 Originally published in Enbridge's 2021 Sustainability Report
Enbridge and the First Nation Capital Investment Partnership (FNCIP) reached an agreement in February 2022 to advance the proposed Open Access Wabamun Carbon Hub (the Hub) west of Edmonton, Alberta. The Hub is being developed as an innovative combination of carbon transportation and storage solutions to support recently announced carbon capture projects in the region.
Four Treaty 6 Nations—Alexander First Nation, Alexis Nakota Sioux Nation, Enoch Cree Nation and Paul First Nation—formed the FNCIP to pursue ownership in major infrastructure projects with commercial partners who share Indigenous values. The Hub is the FNCIP's first partnership. The Lac Ste. Anne Metis Community will also have an opportunity to pursue ownership in future carbon transportation and storage projects associated with the Hub. Once built, it has the potential to sequester nearly 4 million tonnes of CO2 emissions annually.
"This path creates an opportunity to generate wealth, but more importantly it allows sustainable economic sovereignty for our communities. We are creating a healthy future for the next seven generations to thrive. We're looking forward to working with industry leaders who share our values of environmental stewardship and to collaborate with Enbridge on worldscale carbon transportation and storage infrastructure investments." Chief George Arcand Jr., Alexander First Nation.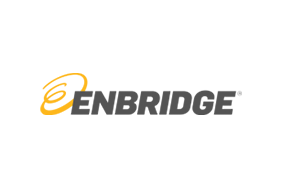 Enbridge Inc.
Enbridge Inc.
About Enbridge
At Enbridge, our name spells out our mission: a bridge to a sustainable energy future. That bridge safely connects millions of people around the world to the energy they rely on every day, fueling quality of life. Whether it's natural gas, oil or renewable power, the energy we deliver through networks spanning North America and our growing European offshore wind portfolio helps to heat homes, feed families, fuel vehicles and power industry. We're investing in modern energy infrastructure to sustain access to secure, affordable energy. We're also building on two decades of experience in renewable energy to advance new low-carbon energy technologies including hydrogen, renewable natural gas and carbon capture and storage. We're committed to reducing the carbon footprint of the energy we deliver, and to achieving net zero greenhouse gas emissions by 2050.
Headquartered in Calgary, Alberta, Enbridge's common shares trade under the symbol ENB on the Toronto (TSX) and New York (NYSE) stock exchanges. To learn more, visit us at Enbridge.com
More from Enbridge Inc.