Published 08-05-22
Submitted by Boeing
Boeing unveiled its 2022 ecoDemonstrator airplane, marking 10 years of testing technologies through the program.
The Boeing-owned 777-200 Extended Range will serve as test bed for 30 new technologies, including a water and weight conservation system and utilizing new additive manufacturing (or 3D printing) parts that help reduce fuel consumption and weight. The team will also test new methods of using of ultraviolet (UV) light for disinfecting, an environmentally-preferred refrigerant, and new tools to improve operational efficiency.
"Everything we do is in the legacy of Boeing's engineering excellence with safety and quality as the cornerstones over a hundred years and beyond," said Ricole Johnson, a project engineer and technology integration leader for the ecoDemonstrator Program.
The team plans to power the 777-200ER throughout its test period using a 30/70 blend of sustainable aviation fuel and conventional jet fuel. The program is continuing its multi-year partnership with National Aeronautics and Space Administration to study the emission improvements of sustainable aviation fuel.
"When the industry talks about 2050 goals for getting to net zero carbon emissions – 2050 isn't really an abstract idea to me," said Addison Salzman, an airplane platform leader with the program who has been at Boeing for five years. "That's going to happen well before I retire. So when I think about 2050 goals, I think about what are the goals for my career. It's really all of our jobs to think about sustainability and how it affects our work so that we can make the right choices."
Throughout the next year, Boeing will highlight some of the technologies now in use that were proven with the ecoDemonstrator program. Some of those include testing of a split-tipped winglet that is now on the 737 MAX family, touchscreens now on the 777X family and continuous testing that has already led to better understanding of how to eliminate noise from airplanes.
"Since 2012, we've tested more than 200 technologies, and we have found that a third of those technologies have it made it into our products and services, and those technologies aid in reduction of noise, reduction of fuel, cleaner emissions, safety of the passengers and environmental impacts," said Rae Lutters, the EcoDemonstrator Program Manager. "Our ecoDemonstrator motto is: Innovate, collaborate and accelerate, and we've held to that motto since we started in 2012."
By Josh Green and Elisa Hahn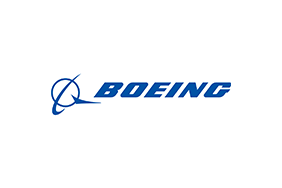 Boeing
Boeing
The Boeing Company Boeing is the world's leading aerospace company and the largest manufacturer of commercial jetliners and military aircraft combined. Additionally, Boeing designs and manufactures rotorcraft, electronic and defense systems, missiles, satellites, launch vehicles and advanced information and communication systems. As a major service provider to NASA, Boeing operates the Space Shuttle and International Space Station. The company also provides numerous military and commercial airline support services. Boeing has customers in more than 90 countries around the world and is one of the largest U.S. exporters in terms of sales. Boeing has a long tradition of aerospace leadership and innovation. We continue to expand our product line and services to meet emerging customer needs. Our broad range of capabilities includes creating new, more efficient members of our commercial airplane family; integrating military platforms, defense systems and the warfighter through network-centric operations; creating advanced technology solutions that reach across business units; e-enabling airplanes and providing connectivity on moving platforms; and arranging financing solutions for our customers. Headquartered in Chicago, Boeing employs more than 157,000 people across the United States and in 70 countries. This represents one of the most diverse, talented and innovative workforces anywhere. More than 90,000 of our people hold college degrees -- including nearly 29,000 advanced degrees -- in virtually every business and technical field from approximately 2,700 colleges and universities worldwide. Our enterprise also leverages the talents of hundreds of thousands more skilled people working for Boeing suppliers worldwide. Boeing is an equal opportunity employer supporting diversity in the workplace.
More from Boeing