Published 08-04-22
Submitted by Carol Cone ON PURPOSE
Listen: Reimagining the Possible with PwC
"We are about our people, but we are a people business. That's what we do. We don't sell widgets. We are people and people have changed. What people desire has changed over the course of time. We have needed to dig into that to have an appreciation of what people wanted and the way in which they worked. And the motivations for working a hundred years ago are different than they are now."
Shannon Schuyler, PwC's U.S. Chief Purpose and Inclusion Officer, leads the professional services firm's efforts to deliver and embed purpose throughout culture and operations. Her work enables employees to be stewards of organizational purpose and embrace social transformation both internally and externally through coalitions and skills development.
We invited Schuyler to share how PwC has aligned its purpose with all 295,000 employees to upskill talent for a global, digital economy; engage authentically with social issues; and have honest conversations about inclusion and diversity.
Listen for Shannon's insights on:
How PwC approaches each employee as an individual when it comes to their purpose, experiences, background, and skills.

How PwC is building trust with stakeholders, clients, and society to deliver sustained outcomes through the New Equation strategy.

How to collaborate with competitors in order to address industry-wide issues while amplifying societal impact.

How PwC changed the way it approached topics of diversity and inclusion.
Listen to the full episode and others here.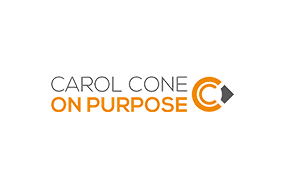 Carol Cone ON PURPOSE
Carol Cone ON PURPOSE
Carol Cone ON PURPOSE is a pioneering consultancy helping companies, brands, and organizations harness the power of social purpose to advance their business and social impact. CCOP's proven approach meets clients at any point on their  purpose journey to unlock opportunities to build reputation, inspire employees, exceed financial targets, and support the greater good. The consultancy is led by Carol Cone, regarded as one of the founders of the purpose movement in the early 1980s and has been internationally recognized for her work.
More from Carol Cone ON PURPOSE