Published 07-29-22
Submitted by United Rentals, Inc.

In good times and bad, United Rentals employees come together to support each other and their communities.
When the pandemic stressed working parents and caregivers throughout the nation to the limit, Women United, an employee resource group (ERG), hosted a virtual event to give employees a chance to voice their frustrations — and voice them they did! Four panelists shared their own experiences and fielded comments and questions from roughly 275 participants. After an hour, the group exhausted their time, but not the topic. Smaller group conversations followed.
"I became a new parent just before the pandemic, and I've leaned on the supportive network of my immediate colleagues," said Kassondra Purcell, manager of legal affairs and one of the leaders of Women United. "Hearing the stories of panelists, I connected with the struggles they shared and walked away feeling empowered to raise my hand when I need help."
Recognizing and responding to the needs of fellow employees is the reason behind all four of United Rentals' ERGs, which also include Together United, Veterans United and Planet United.
"We know that a key to maximizing diversity is ensuring all team members feel included, supported, valued and respected, and this is where our employee resource groups come into play," said Kacie Peltier, director of inclusion and diversity.
The ERGs are emblematic of the special culture at United Rentals. They emerged out of real, grassroots needs and are led by employees, with the help of executive champions. Any employee is welcome to participate in any ERG.
Here's a glimpse at each ERG and how they contribute to a sense of belonging across diverse groups and help employees support each other and the causes they care about.
Together United: Fostering inclusion
Together United organizes events to help employees forge personal relationships, with the goal of building a more diverse, inclusive and empowered workforce.
A key component is the Ally Program — "ally" meaning someone who supports and encourages. Currently, four ally groups promote understanding and respect for Black and African American, LGBTQ+, Hispanic and Latina employees and mental wellness advocates.
"The Ally Programs encourage a safe space to talk about more difficult things that none of us are really good at talking about," said Peltier.
They dig deep into topics such as generational bias, disability awareness and family diversity. In June, the LGBTQ+ group organized events and discussions to celebrate Pride Month to increase awareness around barriers LGBTQ+ employees have experienced. Members promoted one small, but significant, way allies could show their support for their LGBTQ+ colleagues: including pronouns in their email signatures.
Following the social unrest of 2020 and calls for racial justice across the U.S. and around the world, Together United developed a series of hour-long virtual discussions on racism, prejudice, fear and injustice. These roundtables gave employees the chance to speak, listen and learn from the diverse voices of fellow employees. They also served as a forum to collectively create next steps. Ultimately, they led to a company-wide conversation involving almost all employees throughout the U.S., Canada and Europe led by senior leadership.
Women United: Championing women on the road to success
Women United aims to lead the transformation of the construction industry's gender diversity. Members — both male and female — work to promote the rapid professional development of women, including through educational opportunities and by strengthening mentor relationships and peer-to-peer relationships.
"We actually encourage men to be a part of Women United because we really can't do it without them," said Peltier.
Events have included leadership summits and Go for the Goal, a workshop designed to help women support each other in achieving both professional and personal goals. Participants shared aspirations that ranged from winning a job promotion to running a marathon and brainstormed ways to achieve them. They pledged to keep each other accountable and have continued to support each other's pursuits.
Women United also promotes observances such as Go Red for Women (designed to increase awareness of women's heart health issues), Breast Cancer Awareness Month and Women in Construction Week.
Veterans United: Recognizing and supporting service members and their families
Veterans United is committed to recruiting veterans and promoting the career development of current and former service members and their spouses, as well as giving back to the military community.
Members participate in fundraising events and donate days of service to Fisher House Foundation, Valour Place and other veteran-supporting organizations.
To help employees show their pride in past and present military service, the ERG has made available special stickers for work vehicles and hard hats, badges for work clothes and identifiers for email signatures.
The ERG also helps educate the broader United Rentals team about unique circumstances veterans face, such as long waits for medical appointments at the Veterans Administration, and provides a safe space for veterans to share challenges. After the U.S. withdrawal from Afghanistan in 2021, for example, it hosted a virtual meeting in which more than 60 veterans discussed how the event made them feel.
Veterans United warmly greets all new veterans to United Rentals with a video call and mailed welcome package. The ERG also hosts a Veterans Day/Remembrance Day call in November for all veterans and mails thank you cards and ribbons to recognize their military service.
Planet United: Working toward a more sustainable future
United Rentals has set sustainability goals, including reducing its greenhouse gas emissions intensity by 35% by 2030. The newest ERG, Planet United, fosters environmental awareness and engagement and creates a space for promoting more sustainable practices within the company.
Members share their passion for helping the planet, and their actionable ideas, both large and small. Employees at one United Rentals branch lobbied to bring in a filtered water cooler and biodegradable cups to reduce the use of single-use plastic bottles, and they are helping other branches follow suit.
Walking the talk
ERGs are one way United Rentals works to ensure that diversity and inclusion are realities, not just talking points.
"Customers, suppliers and investors — they are all expressing interest in diversity and inclusion efforts and want to know what United Rentals is doing," said Peltier. "They want to work with companies who are focused on doing more in this space."
The ERGs contribute to a culture that has earned United Rentals public recognition, including being named one of America's Most Responsible Companies 2022 by Newsweek and earning a spot on the Forbes list of America's Best Employers 2022.
"What makes me most proud," said Peltier, "is that the ERGs are a living, breathing part of our culture. It's our employees coming together to create these new ideas, to share their experiences, and to collaborate to make United Rentals a better place."
Learn more about United Rentals' culture of support, value and respect, including the employee resource groups, on our Diversity & Inclusion page.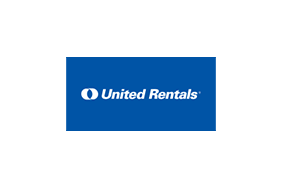 United Rentals, Inc.
United Rentals, Inc.
United Rentals, Inc. is the largest equipment rental company in the world. The company has an integrated network of 1,288 rental locations in North America, 11 in Europe, 28 in Australia and 18 in New Zealand. In North America, the company operates in 49 states and every Canadian province. The company's approximately 20,400 employees serve construction and industrial customers, utilities, municipalities, homeowners and others. The company offers approximately 4,300 classes of equipment for rent with a total original cost of $15.79 billion. United Rentals is a member of the Standard & Poor's 500 Index, the Barron's 400 Index and the Russell 3000 Index® and is headquartered in Stamford, Conn. Additional information about United Rentals is available at unitedrentals.com.
More from United Rentals, Inc.