Published 07-21-22
Submitted by Musim Mas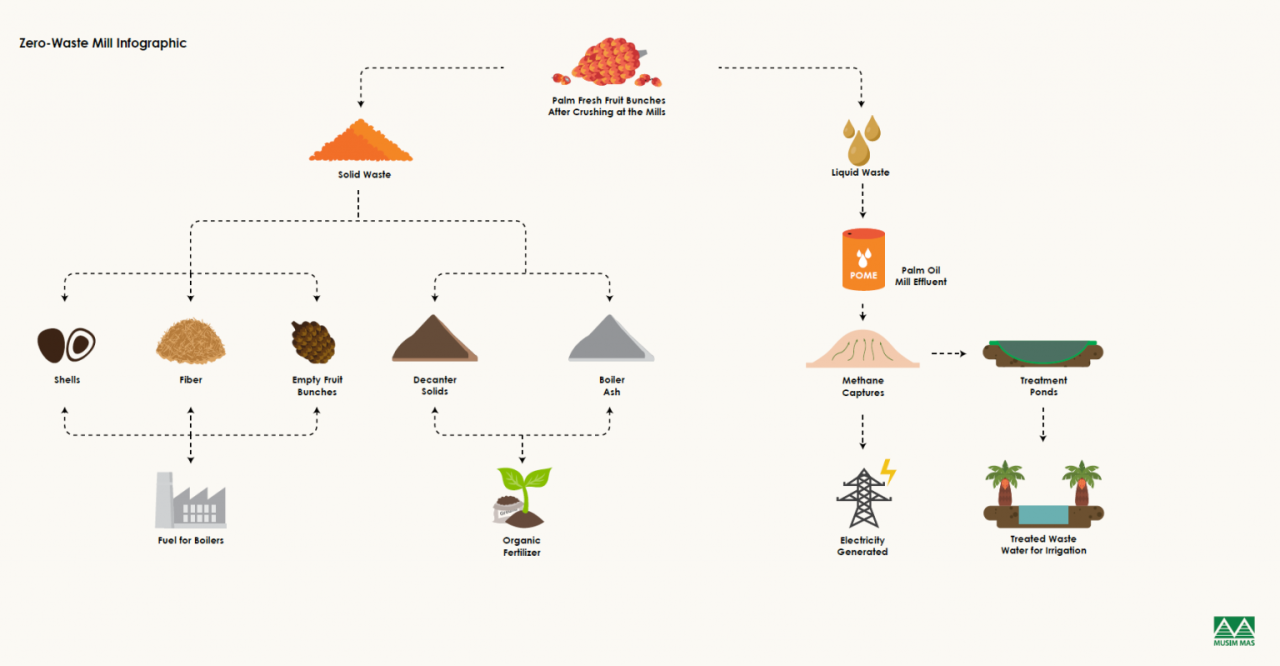 As one of the most significant industrial sectors, particularly in the Indonesian economy, it's crucial that the palm oil industry incorporates sustainability into its operations. In every step of Musim Mas' vertically integrated production, we continuously look into ways to sustainably meet the world's palm oil demand. At our 15 mills with plantations, we effectively reuse, recover, and recycle all materials during production, effectively operating 100% zero-waste mills.
By-Products of Palm Oil Production
At our palm oil mills, we work around the concept of "Zero Waste." This means that by-products are recycled back into the process, converted into an innocuous material that can be reused or converted to a material used elsewhere. Understanding what this means and how it's sometimes tricky to accomplish requires us to look at the typical by-products of palm oil production.
When palm fruits are crushed and processed to produce Crude Palm Oil and Palm Kernel Oil, it produces four main by-products:
Decanter solids
Boiler ash
Empty fruit bunches, fibers, and shells
POME and methane
Of these, methane can be especially problematic from a sustainability standpoint. Compared to carbon dioxide, methane has a warming potential of 80 times higher over a 20-year period(1).
At Musim Mas, tackling methane emissions has been a part of our strategy to support our commitment to sustainable palm oil production. However, we take these efforts much further by recycling and repurposing the other by-products so that our mills are 100% zero-waste.

What We Do: 100% Zero-Waste Mills
Over the past decade, we've looked into innovations around three types of waste at our mills: solid, liquid, and gaseous. Let's take a deeper look at how our mills reuse palm oil by-products.
Solid Waste: Decanter Solids and Boiler Ash
When fresh fruit bunches are crushed, we're left with empty fruit bunches, kernel shells, and fiber. These can easily be used as fuel for the mills' heat and electricity generation.
Other types of solid waste at our mills are decanter solids and boiler ash which are by-products of the decanter process.
Boiler ash is a more difficult waste to process. After years of study and process implementation, Musim Mas has been able to apply the boiler ash back to the plantation. The heat generated from the boiler flue gas is used to dry the boiler ash, turning it into organic fertilizer. It serves as a soil conditioner and can be used in place of chemical-based fertilizers, making it even more sustainable.
Liquid Waste: POME
POME, or Palm Oil Mill Effluent, is an oily wastewater generated by palm oil production that contains suspended solids that arise from production. It cannot be sustainably discharged untreated.
We treat POME in deep ponds where it's anaerobically digested, then treated in facultative and algal lagoons before undergoing final treatment in oxygenated aero flow ponds. Thereafter, it's suitable for irrigation(2).
Gaseous Wastes: Methane
As the specially engineered ponds anaerobically digest the POME, they produce methane. To avoid the release of methane into the atmosphere, all our mills with plantations have been fitted with methane captures. These facilities harness the methane and use it to generate electricity in our mills, estates, and workers' housing. Musim Mas generates such vast amount of electricity that we produce excesses imported to Indonesia's national power grid. In 2020, we supplied almost 32 million kWh of electricity, as reported in our Sustainability Report.
Benefits of Zero-Waste Mills
The benefits of our zero-waste mills cannot be understated. To look at them through a numerical lens, we're happy to report that in 2019, we produced 745,009 MT of palm kernel shells and fiber, which generated more than 5 million gigajoules of energy. In 2020, by capturing methane, Musim Mas avoided the release of over 0.5 million MT of carbon dioxide equivalent2.
The pursuit of Zero Waste is an essential cornerstone of our sustainability policy. Musim Mas is proud to report significant success and mills with plantations that are 100% zero-waste. We hope to continue to be a driver for the sustainable production of palm oil and its countless derivatives along our vertically integrated production.
(1): https://news.un.org/en/story/2021/10/1104492
(2): https://www.musimmas.com/wp-content/uploads/2020/01/Musim-Mas-Sustainability-Journal-Volume-4.pdf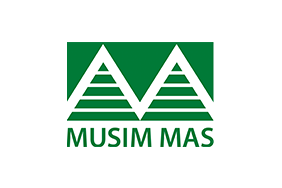 Musim Mas
Musim Mas
Headquartered in Singapore, Musim Mas is one of the world's largest, integrated palm oil corporations with operations in every part of the supply chain across the Americas, Europe and Asia. Our global workforce pursues innovative and sustainable developments, ensuring product quality, safety and efficiency as the industry evolves.
More from Musim Mas